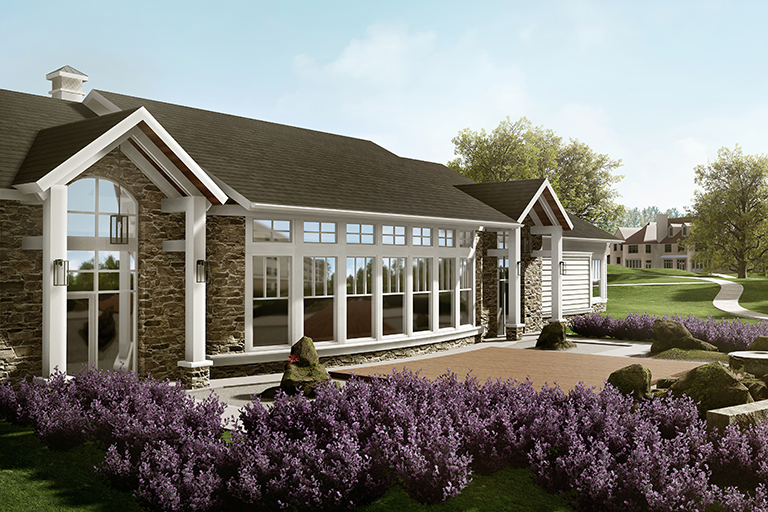 Communities
Broadview – Senior Living at Purchase College Reaches Midway Point to Commence Construction
August 11, 2020
PURCHASE, N.Y.  – Broadview – Senior Living at Purchase College, currently under development at the Purchase College campus, has reached the halfway point to financing to start construction for the 220-resident retirement community for individuals 62 and older.
LCS Development of Des Moines, Iowa is developing the community with Senior Care Development of Harrison, N.Y.
Located on a 40-acre grassy and wooded landscape, Broadview will offer 174 one- and two-bedroom apartment homes with underground reserved parking, and 46 two-bedroom villas with attached two-car garages, distinctively designed in a traditional American and English architecture.
Residents will enjoy first-class services and amenities including a clubhouse with indoor swimming pool and fitness center, movie theatre, spa and salon, multiple dining venues, walking trails, dog park and the Learning Commons — designed for intergenerational learning featuring performance and exhibition areas, a multimedia lab, studios for art and movement and a café.
Offering a new kind of senior living for discovering the cultural and academic benefits of retirement on a college campus, Broadview will feature a dynamic environment where residents will enjoy an independent lifestyle, intergenerational learning and can be involved in the Purchase College community, one of the Top 10 public liberal arts colleges in the country.
Opportunities to attend cultural attractions at Purchase College include theatrical and cultural events at the Performing Arts Center offering world-class music, dance and theatre productions and the Neuberger Museum of Art, world renowned for its collection of modern, contemporary and African art.
Located in Westchester County, recreational parks, beaches, shopping, dining and golf courses can be found nearby in the towns of Rye, Scarsdale, Armonk, Harrison, White Plains and Greenwich. Transportation will be offered to Broadview residents for shopping, appointments and train stations to NYC.
"Purchase College is home to an inspirational community of students, faculty and friends where open-minded engagement with the creative process leads to a lifetime of intellectual growth," said Purchase College past president Thomas J. Schwarz, who remains deeply committed to the development of Broadview. "Having the senior learning community on campus will lead to a creative synergy between youth and experience, fostering an alliance of energy and wisdom that benefits everyone."
Representing an extension of the educational mission of Purchase College, Broadview will also benefit the college, its students and faculty financially. Seventy-five percent of rent proceeds from the Broadview ground lease will be used for student scholarships, and 25 percent will go toward faculty hiring at Purchase College.
An attractive Return-of-Capital financial plan at Broadview will refund 100 percent of the one-time entrance fee during the first four months of occupancy and 90 percent thereafter, no matter the length of residency.
Life Plan Communities help seniors stay independent, relieve them from home upkeep costs and maintenance responsibilities, provide resort-like amenities and access to on-site health care services when needed, and can protect their retirement savings nest egg. These communities are much more than a "downsizing alternative" for older adults. "People benefit from living in a community like Broadview for the lifestyle they provide as well as social interaction, wellness programs, exclusive amenities and on-campus activities in addition to security and a peace of mind," said Ashley Wade, Broadview's Director of Marketing.
Broadview is currently accepting fully refundable, interest-earning 10 percent deposits at pre-construction pricing to reserve residences. Construction of the community is planned to begin in
mid-2021.
Life Care Services of Des Moines, Iowa, a nationally-recognized leader senior living communities nationwide, will manage Broadview – Senior Living at Purchase College.
Broadview is now providing live interactive informational sessions using virtual reality architectural renderings. For more information, call 914-228-1606 and visit broadviewseniorliving.org.