Communities
Elevate Senior Living Breaks Ground on New Senior Living Concept in Clearwater
January 6, 2022
More than 22 percent of those who call Clearwater home have already reached their senior years. That number is expected to climb as the baby boomer population continues to age. Recent studies show that more than 14 million seniors in need of senior living services cannot afford what is currently being offered. In an effort to help enhance the lives of middle-market income seniors and their families, Elevate Senior Living announces an innovative and unique Independent Living, Assisted Living and Memory Care lifestyle option to Pinellas County.
Elevate will celebrate the construction of its 55,000 square foot Clearwater location during a special groundbreaking ceremony at 1 p.m. on Thursday, January 13, at the future site of the community at 1551 Union Street in Clearwater.
"We're all excited to see our vision come to life," said Joseph Jasmon, Elevate Founder and CEO American Healthcare Management Group. "We're proud to offer the first purposefully designed senior living community option to middle-market seniors. Finally, there's an option for the retired police officer, fireman, school teacher and everyday American."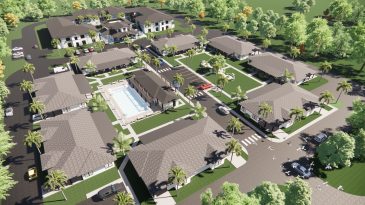 Elevate Senior Living at Clearwater will consist of six unique households that will offer eight Independent Living Suites and 16 Assisted Living and Memory Care suites each. Each household will share a kitchen and meeting spaces. The monthly all-inclusive fee for Assisted Living will start at $3,500 a month. This includes a full calendar of programming and activities to enrich the lives of the residents who call the community home.  All residents and staff of Elevate will remain actively involved in the greater community through volunteerism.
Elevate Senior Living is projected to break ground on 11 communities nationwide over the course of the next five years. The Clearwater location is the first one in development. "We're excited to break ground not just on a building but on a new concept to senior living," said Elevate partner and CEO of Safepoint Senior Living, Bryn Wesch. "Together, we'll develop affordable communities that offer clean air, pure water, good nutrition, safe surroundings and a vibrant approach to aging."
Elevate has partnered with Texas based HKS Architects, and St. Louis based general contractor, ARCO Senior Living Multi-Family, to execute the project. Construction is anticipated to be complete in Spring of 2023 and will bring more than 100 jobs to the area.