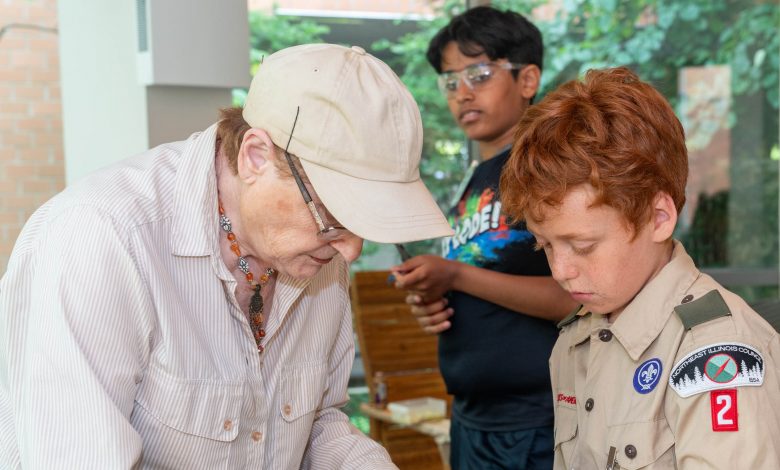 Editorial
Mather and LeadingAge Partner for Something Unique
By Jim Nelson | November 16, 2023
LeadingAge held its Annual Meeting at McCormick Place in Chicago recently. If you were there, before you even made it to your first session or took in the all-new E2 Expo supplier showcases, you couldn't help but notice a few things: 1) the number of attendees (we were unable to independently confirm the rumor that the meeting fell just three people shy of the criteria for becoming its own state); 2) the number of steps (everyone got in their daily requisite of 10,000 steps before they'd reached the first set of escalators; and 3) the mosaic furniture and leather jackets displayed on the way to those escalators and possible statehood.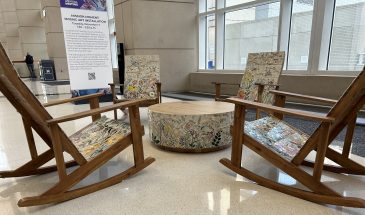 First up was the five-piece seating area made of mosaiced chairs and a table. The one-of-a-kind pieces were thanks to an intergenerational project by Mather Place, a senior living community in the Chicago suburb of Wilmette, Illinois. Mather residents collaborated with a local scout troop and high school volunteers on the project, which features four rocking chairs and a large drum table. According to a press release the furniture made its debut at LeadingAge's Annual Meeting, and they will now enjoy a permanent home within McCormick Place's Public Art Collection (MPEA).
"Even after our conference ends," said Sharon Sullivan, vice president of brand experience and head of conferences at LeadingAge, "this exhibit will remain, exposing the thousands of future McCormick Place visitors to explore the benefits of intergenerational connections. We're thrilled to add these [to] MPEA's collection."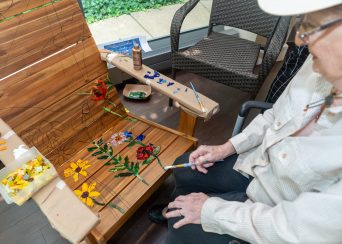 "The addition of these community-crafted mosaic chairs to the McCormick Place Public Art Collection exemplifies our commitment to creating inclusive and meaningful experiences for our visitors," said Larita Clark, CEO of the MPEA, which owns McCormick Place (host to some of the most attended conventions and tradeshows in the world). "These pieces of art will not only enrich our collection but also serve as a symbol of unity and collaboration."
The furniture design, which includes imagery of the Illinois prairie and poses beautiful questions mosaiced onto the table to invite conversation, was intended to play with ideas of aging and inspire intergenerational relationships; the project not only fostered intergenerational compassion and dialogue, but it also created and strengthened those relationships throughout the creation process. Seven young volunteers and 25 adult Mather Place residents worked closely for six months to complete the project.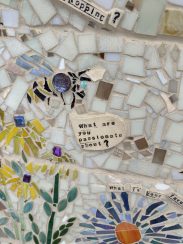 "[Through this project] I learned the importance of intergenerational interaction," said Ruby Pan, a high school volunteer. "It really showed me how valuable that can be. I enjoyed hearing about the residents' life experiences and their stories, and the connections that I made."
"I think you get a different perspective on things when you talk to younger people and I always enjoy that," said Judy Bierbaum, a Mather Place resident.
Conferencegoers would also have noticed several decorated and hand-painted leather jackets. These jackets were part of another collaboration between Mather and LeadingAge.
Inspired by a new book called Radiant Rebellion by Karen Walrond, which encourages readers to embrace aging in a positive way, residents of Mather's senior living communities decked out the leather jackets with motivational messages and artsy designs. After being introduced prior to Walrond's keynote speech, the jackets were auctioned to raise funds for LeadingAge's Larry Minnix Leadership Academy.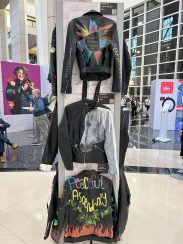 "We hope that through sharing these wearable works of art with the broader community we will inspire others to think differently about aging," said Caroline Edasis, assistant vice president of resident engagement at Mather. "It was an exciting opportunity to express ourselves through fashion, challenge stereotypes around aging, and let go of some of the internalized ageism we experience as we move through life."
Prior to the LeadingAge Annual Meeting, the jackets were also highlighted at The Mather in Evanston, a 15-mile drive up the Lake Michigan shore from McCormick Place. Mather residents and employees even took part in a professional photo shoot to model the jackets, and the images (some of which you can see on this page) were displayed throughout LeadingAge's Annual Meeting.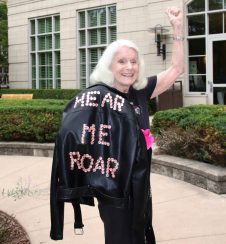 "From our perspective, the goal has been to explore and share stories of what rebellion means to us as we age," Edasis said. "Prior to working on the jackets, we explored questions including: What does it mean to age or live rebelliously? What forms of rebellion do you admire? Are there 'rebels' in your own life you have looked up to? What has rebellion meant to you at various times in your life? What stereotypes can we defy through the way we are in the world?"
Mather, a not-for-profit organization founded in 1941, is dedicated to creating Ways to Age Well. Headquartered in Evanston, in 2024 Mather will open its newest luxury life-plan community in Tysons, Virginia.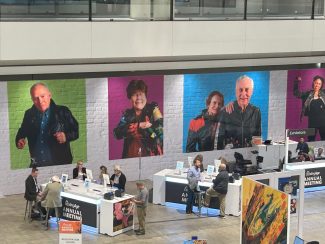 LeadingAge represents more than 5,000 nonprofit aging services providers and other mission-minded organizations that touch millions of lives every day. Alongside its members and 38 state partners, the company uses applied research, advocacy, education, and community-building to make America a better place to grow old. Its membership encompasses the entire continuum of aging services, including skilled nursing, assisted living, memory care, affordable housing, retirement communities, adult-day programs, community-based services, hospice, and home-based care.
The LeadingAge Annual Meeting, hosted by the national association of nonprofit providers of aging services, convenes experts, thousands of mission-driven, nonprofit organizations, providers and vendors committed to serving older adults. Over three days, conference-goers explore the latest in aging services innovations and solutions, share best practices, and network.