Mirabella at ASU Ranked No. 1 for Architecture & Design in 2021
Mirabella at ASU, an intergenerational life plan community located on the Tempe campus of Arizona State University, won first place in the 2021 Senior Housing News Architecture & Design Awards in the Continuing Care Retirement Community/Life Plan Community category.
A sleek, 20-story high-rise retirement community, Mirabella at ASU is the result of an innovative partnership between Pacific Retirement Services and University Realty LLC along with general contractor McCarthy and architectural firm Ankrom Moisan. It opened to residents in December 2020 after a $252-million construction project and planning that began in 2015. Featuring 50 different floor plans of up to 2,700 square feet, it offers an array of luxury, resort-style services and amenities along with personalized access to lifelong learning and engagement opportunities through its integration with ASU.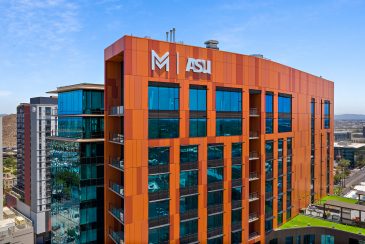 Amenities include aquatic center, fitness center, four restaurants, auditorium, classrooms, library, woodworking shop, art studio, salon and spa, concierge, games room, complimentary town car service and more. In addition, residents who move into one of its 239 independent living residences or 59 health care residences, which provide assisted living, skilled nursing care or memory care, can become ASU students with student IDs and access the many programs and services that make ASU the top-ranked campus for innovation year after year.
"Mirabella at ASU is a very special place. Earning this national recognition is validating for the 200 residents that live here as well as the team that came together to make our community possible," said Tom Dorough, the community's executive director. "After a year of operations, I can confidently say that the quality and caliber of our physical surroundings are matched by the quality and caliber of our residents and the level of engagement that takes place her every moment of every day."
The Senior Housing News annual awards program celebrates projects and companies using innovative design to improve the lives of seniors. Judged by a team of expert panelists from the senior living industry, communities across the U.S. submit new construction and innovation projects in 12 categories to compete for recognition.
Receiving top honor in the Senior Housing News awards comes on the heels of another national win as Mirabella at ASU was also named "Senior Project of the Year" in the 2021 Real Estate & Development (RED) Awards which highlights impressive commercial real estate projects and the owners, developers, architects and contractors responsible for creating them.