Ovation Communities Adds New Community-Based Residential Facility
Ovation Communities announced the addition of a specialized memory care community to its portfolio of services. Construction is underway on the 14,718-square-foot renovation that will add 16 CBRF-C licensed living units and expand the organization's continuum of care options. Designed by Zimmerman Architectural Studios with construction led by VJS Construction Services, the new facility is expected to be completed in summer 2022.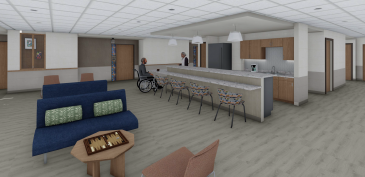 "We're excited to have this project underway and to be able to provide a much-needed service to our community," said Michael Sattell, Ovation Communities president and CEO. "As people are living longer, the rate of new dementia diagnoses is rising. The new space and care plan is another way we can help our residents live full lives with dignity and purpose."
The project reimagines Ovation's Helen Bader Center, located on the second floor of Ovation Jewish Home, into an assisted living environment for people living with Alzheimer's and other memory impairment. A CBRF provides supportive services allowing individuals who don't require 24-hour nursing care to live in a homelike environment, helping them maintain independence while ensuring safety.
"The new facility is a rededication of Helen Bader's original vision, to make people feel at home in a rich, vibrant environment and surround them with the sensory stimulation of art, music and personalized programming," added Sattell.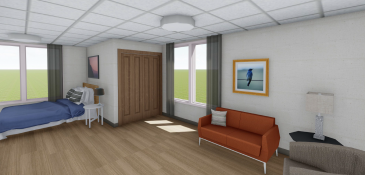 The CBRF will feature enlarged community spaces, apartments and bathrooms, a separate entryway and a new light-filled solarium overlooking Prospect Ave. Monya's Garden, an outdoor space overlooking Lake Michigan, will be for the exclusive use of the residents.  Original works of art and colorful resin art created by Spolar Studios will also be a focus in the new space.