Russellville Park Celebrates Portland's Diversity During Local Event, Fundraiser
For over 100 years, Russellville Park in Portland, Ore., part of Leisure Care LLC, has been celebrated as a community of diversity, culture and creativity. The Leisure Care community hosted its annual Razzle Dazzle Russellville event on October 1st in honor of its storied history and in an effort to raise money for people with Parkinson's Disease through the Brian Grant Foundation.
Guest chefs Sheila Propps-Martin & Ricky Patterson served a soul menu of southern fried chicken, collard greens (two ways), potato salad, Ricky's corn bread, yams, sweet potato pie and sweet tea. There were also wine samples poured from Abbey Creek Vineyard, with proprietor Bertony Faustin as the first recorded Black winemaker in Oregon.
Residents and guests were surprised with a guest appearance and performance by Mel Brown, American jazz drummer and one of the most prominent jazz musicians in Portland.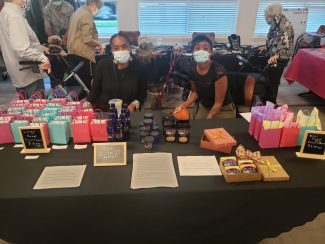 The grand finale performance was by SE Portland's own drag performer Poison Waters, known for providing a one-of-a-kind experience and bringing passion, humor, joy and positive light to audiences. Russellville Park resident of two months, Beverly Terry, heard Poison Waters was performing and gifted her an old piece of Art Deco jewelry, remarking "It has to be given to someone that would have the courage to wear it." She also noted that all the residents had a great time acknowledging Portland's history.
Resident art installations and custom jewelry were displayed and donated to the silent auction. All proceeds of the silent auction benefited the Brian Grant Foundation, which provides tools to improve the well-being of people with Parkinson's. Throughout the evening, $1,200 was raised.