Senior Living Residences Expands to Ridgefield, Conn.
New England-based Senior Living Residences is proud to announce the grand launching of Ridgefield Station Senior Living. The Assisted Living and Memory Support community is replacing Atria Ridgefield, formerly managed by Atria Senior Living, which opened in 2020.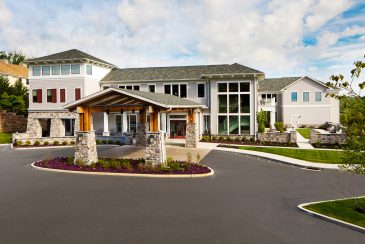 Senior Living Residences (SLR), based in Massachusetts, has been at the forefront of developing and providing service-enriched Independent Living, Assisted Living and Alzheimer's care options for seniors across New England for more than 30 years. SLR is renowned for their innovative programs including the award-winning Brain Healthy Cooking and Compass Memory Support, which aims to treat the symptoms of Alzheimer's disease through research-based programming. Ridgefield Station joins 17 Senior Living Residences communities across New England, including Farmington Station in Farmington, CT.
"Neighbors and eldercare professionals in the area should think of Ridgefield Station as a brand new assisted living and memory support community in town. While it has only been a short time since SLR took on management of the community, we have already made some integral changes," says Tadd Clelland, SLR's President and CEO. "We have significantly improved staff wages across the board, we have brought in a number of new programs for the residents who live here and we are spearheading a public education initiative to make Ridgefield a Dementia Friendly community."
At a recent meeting of Ridgefield Station residents and the community's management team, one resident, Anabel Heffler, shared a poem she wrote for the occasion that detailed how pleased she and her neighbors were at the improvements they were experiencing at the community since SLR came on board. "Moments like that," remarks Clelland, "it's why we do what we do. Want to know how we are doing? Just ask our residents and their families!"
"The smooth transition and attentiveness by SLR has made us all very excited for the future of Ridgefield Station. Both residents and staff are excited for the unique programs and opportunities we have already begun rolling out." says Joseph Simone, who was recently announced as Executive Director. "This organization's passionate focus on promoting the best possible quality of life for each resident, is truly what makes SLR different from other assisted living management companies. Our team is thrilled to be a part of the Senior Living Residences family."
One new innovation that has been a hit with both staff and residents is SLR's award-winning Brain Healthy Cooking program, which incorporates the principles of the well-researched Mediterranean Diet into everyday meals to improve overall brain health. Simone attributes the quick success of this program to the community's new chef and Director of Dining Experience, Jennifer Cerny. "She was really excited to roll this program and has been working with her team to develop new Mediterranean-style recipes that are inspired by our residents' favorite dishes."