Communities
Sunrise Senior Living Announces the Opening of Its Sunrise at East 56th Community in New York City
December 8, 2021
Sunrise Senior Living, a leading provider of personalized senior living services, announced the opening of Sunrise at East 56th (the "Community"), a new 151-unit luxury lifestyle community on East 56th Street and Lexington Avenue.
Partners Hines and Welltower (NYSE: WELL) paired their deep experience in distinctive development and senior housing with Sunrise Senior Living's unparalleled 40-year expertise in delivering the finest senior care and experiences. Sunrise at East 56th offers personalized Assisted Living and Memory Care, tailored to each resident, with more than 200 team members committed to providing a bespoke customer experience. From well-appointed living spaces to enriching activities, locally sourced dining, and sophisticated design, every detail is designed to help residents live life to the fullest. The Community's distinctive program offerings and resident-centered care are bolstered by key partnerships with New York City institutions, the integration of advanced technologies, and a collaboration with New York's largest health system, Northwell Health. The Community also elevates the healthy building construction standard for senior living communities around the world as the first and only building in the sector to receive LEED Silver, WELL Certification at the Silver level, and WELL Health-Safety Rating Seal certifications.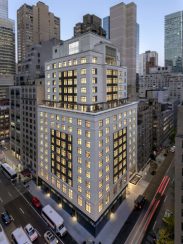 "Sunrise at East 56th is a thoughtfully designed community catered to New Yorkers who want to maintain their refined lifestyles, while their personalized needs are met by a dedicated, skilled team in the city they call home," said Jack Callison, CEO of Sunrise. "We are committed to providing seniors with meaning and purpose each day, which is why we collaborated with innovative partners, best-in-class healthcare providers, and technology leaders to enhance our curated offerings, concierge services and leading evidence-based care."
"Welltower is pleased to announce this first of its kind collaboration and opening of Sunrise at East 56th," said Shankh Mitra, Welltower's CEO and CIO. "Welltower's world class platform, coupled with Sunrise's 40 years of expertise in senior care services, Hines' seasoned experience in luxury development and the outstanding medical expertise available through our partnership with Northwell Health, has produced a state-of-the-art assisted living and memory care community that will serve the specific needs of Manhattan's senior population and their families for many years to come."
"With the grand opening of Sunrise at East 56th, we are not only celebrating an important milestone in this project, but we are also proud to open the doors and welcome the vastly underserved senior population to one of the most modern and technologically advanced senior care buildings in the world," said Sarah Hawkins, CEO of Hines' East Region. "Hines looks forward to continuing our partnership with Sunrise and Welltower, fulfilling our promise of delivering a truly unique senior living experience and providing residents top-of-the-line, quality care in Manhattan."
Sunrise at East 56th's highly trained team fosters each resident's wellness through the delivery of a personalized plan that nurtures their physical and emotional well-being, adjusting as care services may be needed. The new community brings a much-needed resource to New York City seniors, with half of the building dedicated to serving residents with Alzheimer's, dementia, and memory care needs. Through its long participation with the Alzheimer's Association® (AAIC), and as an Authorized Validation® Organization, Sunrise trains its team members in the latest care techniques, emphasizing empathy-based communications, preserving the dignity of the residents, and bringing meaning and purpose to each day.
To complement Sunrise's robust care program, Sunrise and Welltower have collaborated with New York's largest health system, Northwell Health, to offer signature healthcare services to residents of Sunrise at East 56th. The relationship provides a holistic and convenient approach to senior care, allowing residents who choose to enroll with Northwell Health the opportunity to receive expert medical support and guidance from Northwell physicians from the comfort of their home in the Community.
Sunrise at East 56th is located in one of the world's most prestigious neighborhoods, New York's Upper East Side. Its classically attuned exterior by SLCE Architects is inspired by the understated, traditional apartment homes of Park Avenue. Interiors were designed by Champalimaud Design, the award-winning firm known for its global 5-star hotel design. Elegant studio and two-bedroom residences feature sun-splashed interiors, stunning city views, and elements to support seniors' mobility needs while promoting independence. These sophisticated spaces allow for customization to suit residents' needs and are fitted with state-of-the-art technology. The amenities include best-in-class dining experiences, gracious communal spaces, a full-service beauty salon, a wellness suite, an art studio, and a theater. The fourth, 11th, and 15th floors feature beautifully landscaped outdoor terraces and gardens so residents can continue to experience "city living" while enjoying sweeping views of the Manhattan skyline. Additional services include a 24-hour door attendant and concierge, weekly housekeeping, first-class transportation to activities, and more.
The Sunrise at East 56th community is the first and only building in the senior living sector to receive all three LEED Silver, WELL Certification at the Silver level, and WELL Health-Safety Rating Seal certifications, setting the standard for senior living communities around the world.
Sunrise at East 56th is certified LEED Silver for its sustainability achievement and leadership. LEED is the most widely used green building rating system in the world, and provides a framework for healthy, highly efficient, and cost-saving green buildings.
WELL Certification at the Silver level is the premier building standard to focus on enhancing people's health and well-being through the building design, construction and operations. WELL is a performance-based certification system based on seven categories of building performance—Air, Water, Light, Nourishment, Fitness, Comfort and Mind.
In response to the COVID-19 pandemic, the building received an additional rating, the WELL Health-Safety Rating Seal; an evidence-based third-party designation from the IWBI (International Well Building Institute) to verify that a building has taken the necessary steps to prioritize the health and safety of their residents, staff, and visitors. From improved cleaning practices to air and water quality monitoring, these built-in features constantly promote the wellness of those who live, work, and visit the Community.
Each floor at Sunrise at East 56th allows for flexible and adaptable spaces to support the Sunrise Live With Purpose® programming that offers residents with diverse tastes and interests opportunities to express, learn, engage, and grow. Sunrise at East 56th has developed partnerships with key community organizations for programming and off-site excursions including: The Museum of Modern Art, The Metropolitan Museum of Art, The Folk Art Museum, The Intrepid, Carnegie Hall, New York Historical Society, Lincoln Center, Central Synagogue, Sutton Place Synagogue, St. Patrick's Cathedral, and many more to come. They will also harness strategic partnerships with organizations for continued learning for staff, such as SAGE, the country's largest and oldest organization dedicated to improving the lives of LGBT older adults.
Dining choices at Sunrise at East 56th reflect the exceptional dining experiences residents find in the city at large, with an executive chef and professional waitstaff to ensure every detail is attended to. The dining program is crafted for residents to enjoy seasonal fare that nourishes holistic and individual nutritional needs. The menu will also include regional foods and beverage favorites like Balthazar breakfast pastries, Hale & Hearty soup, Carnegie Deli corned beef and pastrami, and Eli's artisan babkas.
Residents of Sunrise at East 56th will find innovative solutions to support independence and well-being through an extensive technology portfolio. Building features include circadian rhythm lighting, which mimics natural light; a vibration isolation system to minimize noise from outside; and induction-loop technology to support individuals with reduced ranges of hearing to provide the utmost in connectivity. Residents will be offered state-of-the-art wearables which offer wellness activity-tracking as well as concierge voice technology services such as Amazon Alexa fitted with Avia, designed to connect residents with key services in-suite.
The building is located with easy access to Manhattan's best shopping, dining, and cultural attractions and within 3 blocks of the 4, 5, 6, N, Q, R, E & M trains. For ongoing information about the Sunrise at East 56th community and senior-related topics, families can learn more from the website and follow the Community on Instagram.