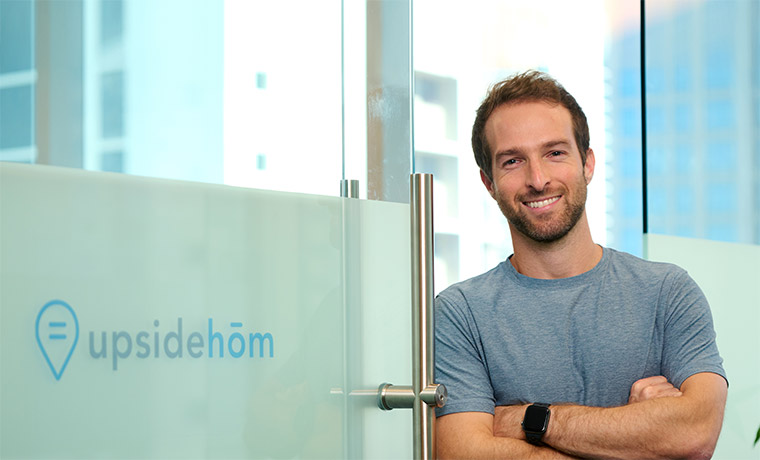 By Kerry | January 25, 2022
When UpsideHōM launched in 2020, its founders Jake Rothstein and COO Peter Badgley didn't just bring a new senior living community to the market during the Covid-19 Pandemic. They introduced an entirely new type of senior housing to the sector. Instead of a traditional brick-and-mortar senior living community, Rothstein and Badgley are focused exclusively on an independent living option that doesn't require the conventional capital stack to develop and is geographically clustered around popular city hubs.
The company pools available inventory in existing multi-family residences to lease under the UpsideHōM umbrella. Residents don't have access to communal dining rooms, nor the ability to contract for a continuum of care plan. Rather, UpsideHōM rentals include a range of amenities that can be accessed via direct contact with an UpsideHōM manager or via an app that landed the company a spot in the Techstars Future of Longevity Accelerator program, run in partnership with Melinda Gates' Pivotal Ventures, formed to address the unmet needs of older adults and their caregivers.
Residents can communicate via phone, text or the app to request concierge and housekeeping services, included companion visits, transportation and to make reservations for optional activities that give residents the opportunity to socialize with each other while exploring the destination in which they live.
UpsideHōM units also give empty nesters and older adults who do not yet require full time care the option to "age in proximity" when aging in place isn't viable, whether for financial or support reasons. Currently, UpsideHōM is available across South Florida with more in the pipeline for both the Sunshine State as well as the Southeast.
Here, Rothstein speaks in greater detail to this new category of senior living, its respective technology and the impetus for the concept.
Senior Living News: Tell us about the experience of launching a non-traditional senior living community during the Covid-19 Pandemic?
Jake Rothstein: It's been interesting. We started in the middle of 2020, although the planning process took place before the initial outbreak. We actually saw an incredible amount of interest as a result of the Pandemic. Interest really spiked because we're offering an alternative to traditional senior living or group facility environment. Move-ins accelerated as the Pandemic progressed and as people have gotten vaccinated.
We see ourselves as synergistic, rather than competitors, to traditional senior living communities. We act as a traditional living space where people might be living up until the time that they need assisted living or memory care. Our residents' ages range the spectrum; our youngest member is 60 and our oldest is 87.
SLN: How did you market UpsideHōM?
JR: We're constantly refining our message based on what we're learning from customers. We went to market with a co-living message, where residents can live in a two-bed, two-bath single family home with a friend or we can match them with a roommate. Then we received feedback from current and potential members that they loved turn-key living with the traditional benefits of a senior living environment, but they don't need or want a roommate. They want programming similar to what they would get in a traditional senior living community.
With this in mind, we broadened the scope of our marketing from just a co-living option to affordable living with the option of co-living or independent living. Because our solution is so flexible, we can provide value to different profiles of older adults.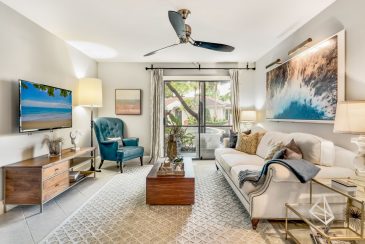 Our co-living units come with furnished common areas to negate any potential conflict between rooms over the shared spaces; however, members can bring their own bedroom furniture and personalize their own individual spaces. We also offer furniture packages because we find members are often downsizing from their previous home and may sell old furniture that's too big for the unit. Those packages come with a la carte pricing because we want to create as much flexibility as possible and offer products only if and when our residents need them.
Additionally, we have found that Facebook and Google work well for us because the adult children searching on behalf of their loved ones find us through Internet-based searching on Google. Older adults are also on platforms like Facebook and Instagram. Throughout the Pandemic, we've seen an increase in older adults adopting these channels.
SLN: How have potential and existing residents responded to UpsideHōM's technology proposition?
JR: Technology is an interesting topic with older adults. From the very beginning, our aim has been to deliver a variety of channels for this demographic to communicate with us. We have always wanted to put a human manager between our technology and our residents, so that they can engage with us however they'd like and we can engage with them seamlessly. They can text us, use the app, call us, email us. We don't want to impose the app no members and force them to use it; we really leave it up to the individual resident to choose what they're most comfortable with. We also allow loved ones to access the app with the resident's permission.
Our value proposition is as good for adult children as it is for the older adults themselves. In some cases, our residents lean on us for all communications, including food delivery, transportation and maintenance requests. But it's the residents themselves contacting us because we've made it so easy for them. Adult children have responded really well to our offerings because they can go about their lives and not manage menial tasks for their loved ones. They can focus on the relationship with their loved one in a meaningful way.
We also have in-person engagement with every one of our residents. Our home mangers are in regular communication with residents. We have check-in visits every two weeks to continuously monitor our residents' health and well-being. If and when it makes sense for someone to move onto a higher level of care that we do not currently provide, we make sure we educate their loved ones and the resident on all of the options available in order to make that an easy transition for them. Moreover, if a resident receives a diagnosis that means it is no longer safe for them to live on their own, we want to make sure that we're the first to capture that.
SLN: What do you project for the future evolution of UpsideHōM?
JR: We want to be the biggest senior living community in the world without laying a brick. We want to fit into that time after people have raised their children, but before they really need assisted living and I believe there's really a place in the market for that.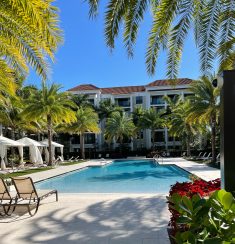 We also see ourselves potentially expanding our offering as our technology evolves. Maybe once we get past the current caregiver shortage, we can deliver more in-home care. As dynamics and populations change, we see the potential to deliver higher acuity care inside the home.
We talk to our operational partners weekly as we develop critical mass in the buildings where we operate. Older adults want to live in a mixed age environment, but they also want to have people around them who have similar interests and are in a similar phase of their lives. We're very thoughtful about clustering communities around centers like JCCs and YMCAs. I also see a future where we secure 30 units in a building, allowing us to create exclusive common spaces dedicated to our residents.
SLN: Given how unique of a product that UpsideHōM is to the senior living space, what do you project for the future of the sector?
JR: I think the key is providing options. The Boomer generation wants what they want and what they want is different in every case. Some want a screened in patio, some want a first-floor unit, some want nine-foot ceilings. It's very specific and there will be a whole spectrum of offerings in the market that will cater to this generation. I think the future is nuanced and will continue to become more nuanced. There will be this gray area between the house where they raised their kids and when they need assisted living. I also believe there's room for other providers in this space. We're filling a gap and I think the future is bright.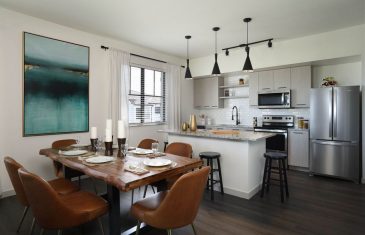 I think the big topic that's on everyone's minds right now is the idea of aging in place; however, aging in the right place is so much more impactful. We encourage people to think about that. Maybe the house where they've raised their kids is the right place for them to continue aging and that's fantastic. Maybe an institutional setting isn't the right place for them. Everyone is different. What it means to each person is more important than this aging in place headline that we continue to see all over.
SLN: How did the concept for UpsideHōM come about?
JR: My cousin and I created the 'Papa" app for our grandfather. We founded the company together based on the needs of our grandfather who was diagnosed with Alzheimer's Disease. Our grandmother needed respite care. She didn't need skilled nursing, but just a companion who could make sure our grandfather was safe.
From there, we wanted to create a new category of senior living. If older adults don't require full-time care, what other options are available? My grandfather moved into memory care. At 87, my grandmother was living alone in a big two-story house. After knee surgery, she couldn't walk up and down the stairs so we rented her a small apartment in the same neighborhood, which allowed her to be near her kids. I essentially acted as her home manager because she needed help grocery shopping and getting to and from family dinners on weekends. Because she needed this bit of extra support, we realized that there's a big opportunity to create a fully managed lifestyle for people like my grandmother.