Ballroom Dance Class at Rose Tree Place Grows Connections Among Seniors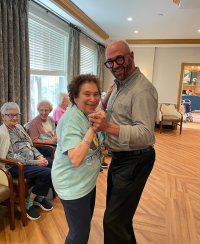 MEDIA, PA — Rose Tree Place resident Bobbie Poppel's love of dance began when she took tap and ballet classes as a young girl. Poppel continued to dance, learning the cha-cha, merengue, alley cat, Israeli and Greek folk dances, and much more. She even met her husband at a dance in 1967. Now 80, Poppel continues to dance regularly and learn new styles at her Watermark Retirement Community.

"Gene, the dance instructor, came over to me, held out his hand, and asked if I wanted to dance," said Poppel of her first class at Rose Tree Place with dance instructor Gene LaPierre. "We were doing the foxtrot and I loved it. I felt like I was soaring; nothing else around me seemed to exist."
As many as 50 residents take LaPierre's ballroom class every month at Rose Tree Place, eager to learn from a professional dancer whose class is part of Watermark University, which offers programs to stimulate the mind, keep the body strong, and expand horizons to residents at Watermark Retirement Communities.

"The ballroom dance class brings back a lot of good memories for our residents, and it really gets the blood flowing," said Rose Tree Place Community Life Director Karen Holahan. "They are using different muscles and getting exercise. Our residents can't wait for the next class each month. Years after starting this, our numbers are stronger than ever!"
"The energy the Rose Tree Place residents bring to class is really fun," said LaPierre. "They are very active, and it's nice to connect with them. We dance, but we also talk about their families and where they grew up. It's just a great group of people."
ALSO: The Watermark at Bellingham Unearths Revolutionary Roots During Renovations
A ballroom dance instructor at Rowan University in Glassboro, New Jersey, LaPierre has been in the dance business for more than 33 years. He began teaching ballroom dance lessons to residents at another nearby Watermark Retirement Community, Woodbury Mews in Woodbury, New Jersey, seven years ago.
"We have sustained a partnership with Gene and Ballroom Dancing for a Better U, because the benefits to our residents are clear," said Rose Tree Place Executive Director Brian Clark. "They are engaging monthly in exercise, but even more important, they are laughing and connecting and having fun. This is our goal for retirement living, and we are grateful to Gene for helping us reach this goal."
Watermark Retirement Communities has been named in the top 25 Best Workplaces for Aging Services in a national program conducted by the Great Place to Work Institute and published on Fortune.com. A privately held company with over 30 years of service, Watermark manages more than 75 retirement communities in 22 states coast to coast. Based in Tucson, Arizona, Watermark is ranked as the nation's 10th-leading senior housing operator by the American Seniors Housing Association.
Credit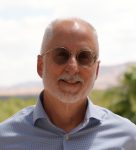 Jim Nelson
Editor
Jim Nelson is the Editor at Senior Living News, an online trade publication featuring curated news and exclusive feature stories on changes, trends, and thought leaders in the senior living industry. He has been a writer and editor for 30+ years, including several years as an editor and managing editor. Jim covers the senior living sector for SeniorLivingNews.com, distributes its e-newsletter, and moderates panel discussions for the company's HEALTHTAC events.