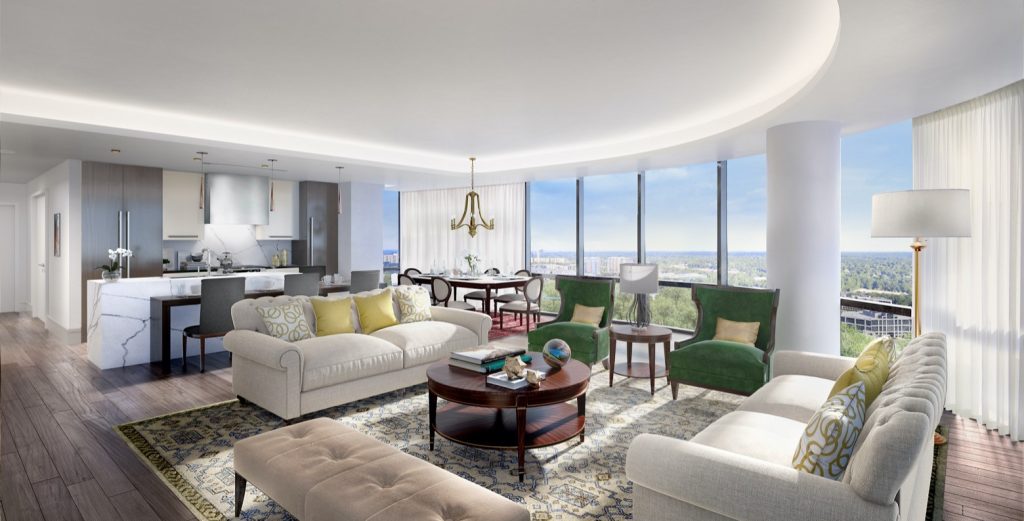 Biophilic Design: Connecting People to Nature Through Design
Senior living communities are always looking for ways to improve the well-being of their residents and staff—and biophilic design is one approach to do just that. But what exactly is biophilic design?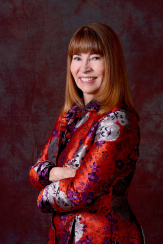 "The word biophilia literally means 'love of life,' and it refers to all the ways that humans respond to the natural world," said Mary Leary, CEO and president of Mather. "We're calmed by the sounds of birds singing and [the] wind in the trees, we're cheered by the colors and patterns of a garden [and] we feel safe when we have shelter with a view of our surroundings."
She continued on. "Biophilic design is a design approach to facilitate access to nature or things that replicate those natural patterns," Leary explained. "This can mean designing an interior space to ensure that there are sightlines to a garden, choosing natural wood and stone as interior materials…[or] designing spaces that bring the outdoors in by offering amenity areas that open to the outdoors."
And, Leary added, the benefits of biophilic design are backed by research.
"Research shows that a connection to nature provides positive benefits to mental states and overall well-being," she said. "For residents who may spend more time in their residential environment—particularly those living in communities with higher levels of care—incorporating biophilic design within interior settings connects residents to the natural world."
As such, Mather, which is a senior living operator based in Evanston, IL, is in the process of building a new community that incorporates biophilic design throughout. "Mather incorporated biophilic design into The Mather in Tysons to enhance the physical and emotional well-being of residents, team members and all who visit," Leary said.
Now, it isn't fully built yet (the first move-ins aren't expected until next year), but there are already plans for the Virginia-based community to integrate nature into everything from residents' apartment homes to the restaurants to the programs.
"Biophilic design at The Mather is the intersection of buildings and programs with nature in an urban setting," Leary said. "The overall design seeks to provide sustained interaction with the natural environment."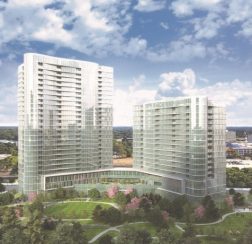 It will focus on a few things, including emphasizing natural light and being in nature when possible. For example, "residences offer open floor plans with windows that maximize natural light," Leary said. "And amenity spaces [will] invite involvement with the outdoors, whether practicing yoga on the terrace, enjoying al fresco dining or relaxing in the saltwater pool."
The Mather will also emphasize using natural materials, which will be especially apparent in the three-acre park—that Mather also designed—located right next to the community. In addition to gardens, walking paths and seating areas, the park will also have sculptures that are made from natural materials.
Additionally, the park will offer nature immersion programs that incorporate wellness practices from around the globe, such as:
Shinrin-yoku: a Japanese practice of nature/forest bathing.
Qigong: movement that provides a calming effect and helps the immune system—it's part of traditional Chinese medicine—that is most effective when performed in nature.
Wyda: the holistic movement theory of the Celtic druids that's similar to qigong and yoga. "[It] helps people achieve harmony with nature and contentment through mindfulness," Leary said.
She also discussed the plans for the spa at The Mather.
"Our well-being spa illustrates biophilic design in practice," Leary began. "As residents arrive at the spa, they will be greeted by our spa guide and invited to select herbs from our live herb wall to curate their own blend of tea, offering wellness benefits."
She continued on to describe the biophilic design features of the spa's lounge. "[It will] feature a backlit Himalayan salt wall with a halo generator, which disperses salt into the air to reduce stress and enhance skin and respiration," she said. "[And the] artwork will evoke nature and incorporate natural fibers and materials."
Residents will also be offered holistic therapies—based on traditional Chinese medicine and Ayurveda, which is an ancient medical system that traces back to India—that will center around the five senses and incorporate natural ingredients like seaweed and dried flowers.
"Residents will end their treatment with a signature tea ceremony steeped in tradition from Japanese forest bathing, offering gratitude toward nature, while deeply relaxing to the soothing sound of a Tibetan sound bowl," Leary said.
She also noted that all (or at least most) of the spa products will include ingredients from "regenerative farms that heal the land."
For senior living companies that want to incorporate biophilic design into their communities—but they aren't planning on constructing a new building/room or significantly redesigning an existing one—Leary shared a couple ideas.
"[You] can create simple—but impactful—indoor areas," she said. For example, she suggested bringing in fragrant flowers and plants and/or creating a gardening space.
Credit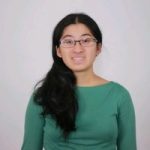 Caroline Chan
Editor
Caroline Chan is the Editor of Senior Living News, an online trade publication featuring curated news and exclusive feature stories on healthcare industry changes, trends, thought leaders and innovations. In this position, she is responsible for creating editorial content, writing regular feature articles and publishing news to SeniorLivingNews.com and distributing its e-newsletter. She is also involved in putting together the educational programs and moderating panels for the company's HEALTHTAC events. She graduated from Marist College with a Bachelor of Arts in Communications with a focus in Journalism.