The Human Element
Cedarwood at Sandy Centenarian Couple Celebrate Wife's 100th Birthday
November 3, 2023
With Blue Zones suddenly all the rage, we know more about how to live to 100 than we ever have before.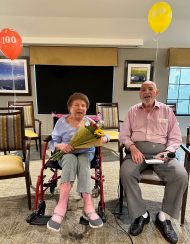 Tony and Vina Borrero, residents of Cedarwood at Sandy in Sandy, Utah, a Kisco Senior Living community give or take 17 miles south of Salt Lake City, didn't know from blue zones or red zones or plaid zones when they met more than 75 years ago. Spending 75 years with the same partner is a big deal under any circumstances, but things just got even more special for the couple because Vina recently joined Tony, 103, as a centenarian, making for a very rare and special couple indeed.
Tony Dressen, the executive director at Cedarwood at Sandy, took a moment to sit down with the Borreros on behalf of Senior Living News to ask them two important questions.
"The key to living a joyful and fulfilling life for us is always caring for each other through sickness and health," the Borreros told Dressen. "We like to keep active and enjoy each other's company. We love having friends to talk with — and each other."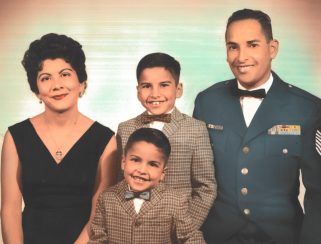 "The secret to maintaining a loving relationship," the centenarian couple said, "is always saying 'yes dear' and listening to each other's needs. We went on frequent dates through our marriage and cared very much for our boys while they were growing up. We also traveled and were able to experience different cultures and a wide community of friends. We loved exploring the world as a family."
To celebrate this momentous occasion, Cedarwood at Sandy and the Borrero's family recently gathered to honor Vina as she joined her Tony as a centenarian, and to commemorate the love that she has shared with Tony for more than seven decades. These days Vina leans on Tony more than ever as she is now fully blind. Lucky for Vina, he is there for her: He walks with her around the community, helps her with daily tasks, and accompanies her to live music performances, their favorite pastime at Cedarwood.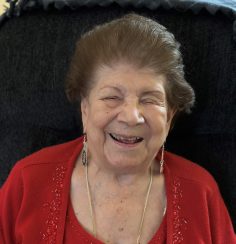 Festivities filled with Vina's favorite treats, including live music, highlighted Vina's birthday celebration.
Cedarwood at Sandy, situated on six acres, offers 122 independent- and 61 assisted-living apartments, along with 13 memory-care apartments. The community sits beneath the Wasatch Mountains, providing residents with a peaceful atmosphere.