Personnel
East Ridge Senior Living Community Welcomes Amy Silvers as Executive Director
December 28, 2021
East Ridge Residence, an independent living community managed by Veritas Senior Living, is welcoming Amy Silvers, CDP (Certified Dementia Practitioner), as their new Executive Director. Her start date was December 13.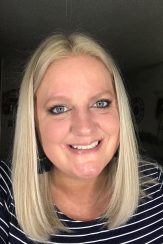 Amy will oversee all of the day-to-day operations and manage all employees of the community. She has had an extensive background in independent living communities and skilled nursing facilities for the past 18 years.
Born and raised in Midland, Michigan, Amy comes from a family involved in senior living and healthcare. Her mother was a CNA at a skilled nursing facility, her younger sister has been a nurse for the past 20-plus years, and her grandmother volunteered in assisted living and skilled nursing facilities. When she was younger, Amy would help her grandmother, thus starting her passion to serve seniors at an early age. Tennessee has been Amy's home for the last 27 years.
"To serve the senior population, improve their life in any capacity and make their day a little bit better has got to be among one of the greatest feelings on earth," says Amy. "These seniors have given their lives working hard and serving others. They've risked their lives in wars for people they've never met, so having the opportunity to pay them back even just a little is priceless."
She also says that working in senior living is like having 100-plus adopted grandparents and nothing can compare to that.
This year has been among one of her hardest as she lost her last two remaining grandparents when both grandmothers passed away this year. Having the opportunity to serve the residents and families of East Ridge Residence fills the void for her.
Media members are welcome to visit East Ridge Residence and interview leadership members of the community. COVID-19 safety protocols must be followed such as wearing a mask and practicing social distancing.