Eleven Centenarians of Bixby Knolls Towers Celebrate Triple Digit Birthdays
Bixby Knolls Towers, a multi-level retirement community, hosted an event to celebrate its 11 residents who are currently over 100 years old or who will be turning 100 later this year.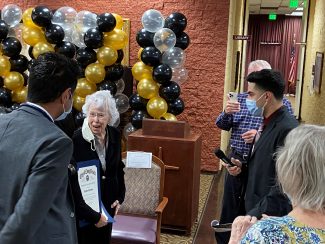 A local company called SCAN Health Plan sponsored this event, which included live music provided by a resident family member and some words of wisdom from the centenarians. Representatives from the offices of Long Beach Mayor Robert Garcia and California Senator Bob Archuleta attended and presented the residents with certificates of recognition. All outside attendees were screened and required to wear a mask.
Bixby Knolls Towers in Long Beach, California has been serving the local community for over 50 years and offers senior residential living, assisted living, skilled nursing and rehabilitation services.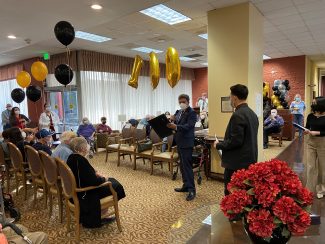 RHF sponsors Bixby Knolls Towers. Founded in 1961, RHF is a national non-profit organization with a mission to provide a range of housing options and services for older adults, low-income families, and persons with disabilities. RHF is affiliated with the Council for Health and Human Service Ministries of the United Church of Christ and
LeadingAge and its state affiliates, and also co-sponsors housing development with other varied denominational and community organizations. RHF sponsors and manages 198 communities in 29 states and Washington, D.C., Puerto Rico and the Virgin Islands. More than 21,500 people call an RHF community "home." Learn more about RHF at www.rhf.org.