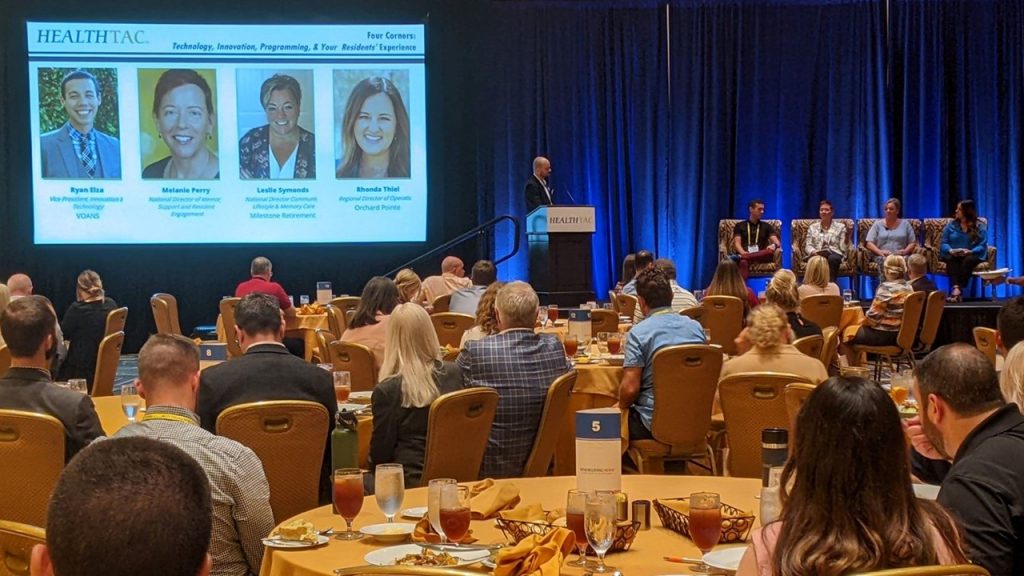 Four Corners
The final HEALTHTAC West 2022 panel was entitled "Four Corners: Technology, Innovation, Programming & Your Residents' Experience," and it was moderated by Matt Reiners, co-founder and VP of Eversound. The event took place at the Fairmont Scottsdale Princess in Scottsdale, AZ.
The conversation started off discussing the importance of building a strong foundation.
"In terms of putting foundational pieces in place so that we can be successful and be at a place for introducing innovation and continuing our evolution of our services, we have to be very thoughtful about that," began Melanie Perry, national director of memory support and resident experience/engagement at Elegance Senior Living, which is in Baltimore, MD.
"We have to define the philosophy with which we're working," she continued. "What type of an organization/program are we going to be embracing or forwarding? Is it going to be more of a clinical orientation, wellness space or person-centered [model]?"
Loop everyone in—from your life enrichment team to your salespeople to your culinary department—and get them all on the same page, according to Leslie Symonds, national director of community lifestyle and memory care for Milestone Retirement Communities, which is in Vancouver, WA.
"It's all hands on deck; every single person in your community has to drink the Kool-Aid," she said. "And if you don't serve it to everybody, it's impossible to get them to understand the 'why.'"
And that 'why' is so important, as is buy-in from the staff, according to Rhonda Thiel, regional director of operations for Orchard Pointe in Arizona, which is part of Heritage Communities.
To increase your chances of getting staff buy-in, get them involved early on. "They will not embrace it if they're the last ones to the party," said Symonds. "Make sure they're a part of the conversation, so that they can get excited about it and want to make it happen."
However, don't pile on program after innovation after technology, noted Perry. "We need to do that responsibly and in a way that makes their lives easier by operationalizing and decentralizing some of the aspects," she added. "Find a way to present it that makes their lives easier, rather than adding to the burden of already busy jobs."
You can do this by looking at your staff's current workflows. "Be intentional about what you're trying to do, how you're changing workflows and how you're trying to improve workflows as a result of whatever your initiative/program/technology is," said Ryan Elza, vice president for innovation, growth and business transformation at Volunteers of America National Services. They're a 125-year-old nonprofit with 46 health care settings across 48 states.
The panelists also talked about the programming 'corner.'
"Music is such an important part of programming," Thiel said. "[So there are] four songs that I think create a foundation for us."
I Need You by LeAnn Rimes: "We need them to come and work for us," she said.
Don't Know Much by Aaron Neville and Linda Ronstadt: "They may not know much when they come to us," she said. "But as long as they have the heart for working with our population, we can train them."
I Believe I Can Fly by R. Kelly: "No matter what the program is, our staff and everybody in the community needs to believe in it," she said.
Girls Just Want to Have Fun by Cyndi Lauper: "Fun is a core value at Heritage," she said. "We have a lot of fun."
Thiel expanded on the training component; her company has a caregiver training program/school.
"Our course is focused on experiential learning; we're making sure that they get the tools in their toolbelt that they need to be able to go out and feel confident," she said. "If we just throw our staff on the floor, the main issue is that we're scaring them off and then they don't make it past orientation or day two."
However, as Elza pointed out, it's not just the initial training that's important. "It's the ongoing training, too," he said. "[We should] continue to retrain and provide learning opportunities."
The panelists also stressed that there are so many misconceptions about senior living. "Our residents can change our lives if we don't underestimate what they're capable of," Symonds began.
Perry agreed. "It's part of our role to help destroy and disrupt those ageist stereotypes," she said.
However, skepticism can be common among staff. "[They] don't believe that our residents are able to do something or use certain types of technologies—which, in my personal experience, is just absolutely not true," Elza said.
He recounted a time when his company deployed Amazon's Alexa devices in one community. "We had a 98-year-old resident who was visually impaired," Elza began. "Alexa became her best friend. She started organizing concerts in the community room using Alexa, bringing snacks, having tea parties and bringing the community together."
Perry's communities host a Grateful Give Back program, where residents give back to different groups. In August, they organized school supply drives; in September, they focused on first responders.
"They're going out into the communities; showing their purpose, meaning and generativity; [and] that they're still capable of giving back to their communities—and thereby, just busting down those stereotypes of ageism," said Perry.
Elza agreed. "Think about how you can empower your residents to be active members of your community," he said. "Resident agency/voice can help transform the work that you're doing; a lot of the success that we've seen is building those resident ambassadors…who are helping lead those programs."
And at the end of the day, remember what the main goal of innovation is.
"A lot of us think 'innovation,' and automatically we conjure in our minds this picture of an elder wearing a VR headset," Perry said. "Those tech pieces are certainly essential in our growth, but we have to keep in mind that innovation really means serving our residents…Listening to them, hearing what their needs are and responding to those needs—and performing on their behalf better today than we did yesterday, and better tomorrow than we did today."
Credit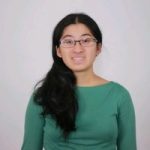 Caroline Chan
Editor
Caroline Chan is the Editor of Senior Living News, an online trade publication featuring curated news and exclusive feature stories on healthcare industry changes, trends, thought leaders and innovations. In this position, she is responsible for creating editorial content, writing regular feature articles and publishing news to SeniorLivingNews.com and distributing its e-newsletter. She is also involved in putting together the educational programs and moderating panels for the company's HEALTHTAC events. She graduated from Marist College with a Bachelor of Arts in Communications with a focus in Journalism.