Goodwin Living's Bagley Named a 40 Under 40 Award Recipient by Alexandria Chamber of Commerce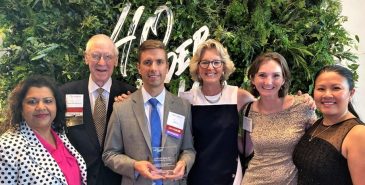 Goodwin Living's Bagley Named a 40 Under 40 Award Recipient by Alexandria Chamber of Commerce
ALEXANDRIA, VA — Josh Bagley, executive director of The View Alexandria, has been named by The Alexandria Chamber of Commerce as a 2023 40 Under 40 Award recipient, marking the third consecutive year that a Goodwin Living team member has been so honored. The award recognizes the successes of 40 individuals under the age of 40 in various industries and their impact on the thriving Alexandria community.
"Josh is passionate about finding ways to uplift older adults and those who care about them in purposeful and meaningful ways," said Rob Liebreich, president/CEO of Goodwin Living. "His commitment to older adults reaches across Alexandria and the greater National Capital Region, and he's dedicated to educating the next generation of professionals for the field of senior living and healthcare."
Bagley was named the executive director of The View Alexandria in March of this year; he began his career with Goodwin Living in 2014 as an administrative assistant.
"It's an honor to be included on the Alexandria Chamber of Commerce 40 Under 40 list alongside so many incredible professionals and community members," said Bagley. "I'm grateful that every day I get to pursue my passion to support, honor and uplift the lives of older adults living in the City of Alexandria and beyond."
ALSO: Goodwin Living Names Josh Bagley as Executive Director of The View Alexandria
Since joining The View Alexandria, Bagley has led the effort to invest more than $1 million in renovations and enhancements to the campus, including a rooftop lounge and resident social room with expansive views of Washington, D.C., a new resident recreation room, health care center, art center and art gallery, and the addition of weekly art classes, a resident lecture series, and community service projects including knitting for those without homes and packing disaster kits for United Methodist Committee on Relief.
Bagley was elected to the Board of Directors for Senior Services of Alexandria in 2021, where he helps to support older adults in the City of Alexandria through Meals-on-Wheels, medical transportation, grocery delivery, and other invaluable programs. Bagley has also served as a liaison to Cherry Blossom PACE, a service that helps older adults with complex health needs to remain in their homes. He previously served for two years on the Alexandria Chamber of Commerce's committee focused on senior services.
Over the last two years, he has partnered with Northern Virginia Community College to bring the Advanced Certified Nursing Aide program to Northern Virginia, to help educate and prepare more CNAs for the field of senior living. Bagley also serves on the Public Policy Committee for LeadingAge Virginia, a state association for nonprofit senior living and services.
Goodwin Living's senior living and healthcare services footprint in the National Capital Region includes three life plan communities, including two nursing care centers that are five-star-rated by the Centers for Medicare & Medicaid Services; its age-in-place program, Goodwin Living At Home; and its Medicare-certified services provided by Goodwin Home Health, Goodwin Rehabilitation, and Goodwin Hospice. In addition, Goodwin Living serves roughly 16,000 older adults across the U.S. with its StrongerMemory brain health program, available at no cost through the support of the Goodwin Living Foundation. Goodwin Living has been a Washington Post Top Workplace for five consecutive years and was named the #1 Top Workplace for 2023.
Credit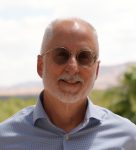 Jim Nelson
Editor
Jim Nelson is the Editor at Senior Living News, an online trade publication featuring curated news and exclusive feature stories on changes, trends, and thought leaders in the senior living industry. He has been a writer and editor for 30+ years, including several years as an editor and managing editor. Jim covers the senior living sector for SeniorLivingNews.com, distributes its e-newsletter, and moderates panel discussions for the company's HEALTHTAC events.