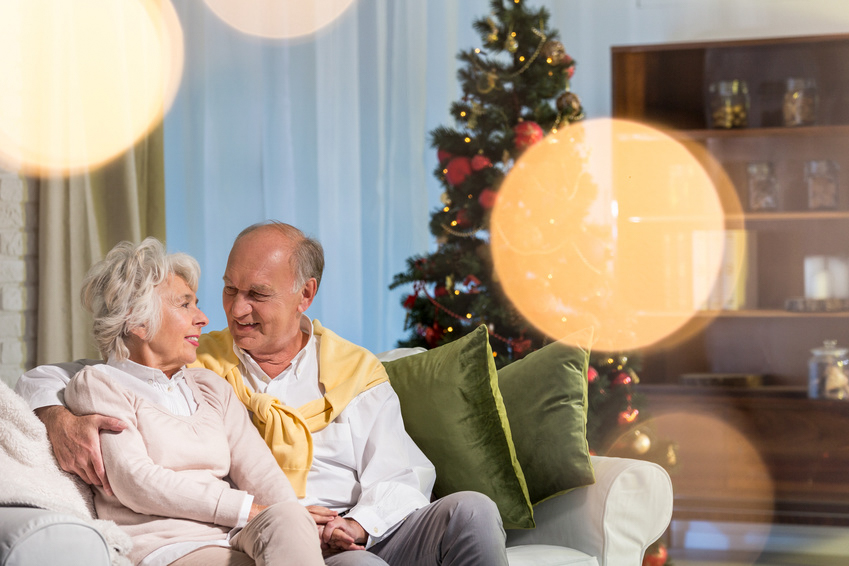 Editorial
Conversations With Aging Parents In 2017
By joe | January 2, 2017
As the new year begins, many of us are preparing for a fresh start by cleaning and organizing everything from closets to computers and perhaps setting new goals for our personal and professional lives. For those with older adults in their lives, the new year is also a good time for assessing their loved ones' health, well-being, financial and legal needs. Some may be able to stay in their homes or require more assistance. Others may need the care provided by many senior living options.
In the 2016 Long-Term Care Poll of The Associated Press-NORC Center for Public Affairs Research, 77 percent of adults over the age of 40 say they would prefer to receive care for themselves in their own home; and 67 percent would prefer for their loved ones to receive care in a home setting.
However, one-third polled said they have done no planning, and nearly half have even discussed the topic with their families. Four in 10 people surveyed also mistakenly expect to rely on Medicare to pay for their long-term care needs as they age.
Former Host of "Good Morning America" Joan Lunden has teamed up with A Place for Mom, the largest assisted living referral service, to offer a free downloadable "Guide to HAVING TOUGH CONVERSATIONS With Your Loved Ones."
These discussions can be intimidating, but the guide features a team of experts offering advice on the following:
Health, including a checklist of medical red flags that may indicate that your parent needs additional care.
Assessing well-being, including how to put ourselves in their shoes to help communicate in a more respectful and open way and avoid the pitfall of them shutting down on challenging topics.
 Financial planning, including a fundamental investment strategy for your family and your aging parents and how to afford senior care while safeguarding their assets.
Legal planning, including important aspects of estate planning, why procrastinating jeopardizes medical and financial options later and how to talk about end-of-life wishes.
Assessing cognitive ability, including the warning signs of cognitive impairment and how to discuss a parent's condition while treating them with the respect and dignity they deserve.
The start of the new year is also a good time to assess loved ones' living environments and ways to make them safer. Many older adults face physical challenges like limited mobility, balance, sight and hearing.
The Sunrise Senior Living Home Design Guide is a free downloadable guide that addresses strategies for safety and comfort; design solutions for aging eyesight; creating familiar spaces for memory support; and making spaces unique and strategies for making a smooth transition when it is time to move a loved one into a senior living community.
"As we age, we are challenged by many things that would not have been challenges to us at other stages in our lives," said Andrea Ownsby, Sunrise senior director of design. "This means that what may have been functional before in a design of a home or living space can be burdensome as you age. For example, when you have mobility limitations, high storage and the ability to move up and down on a step-stool is not practical or safe.
"The same goes with large, soft and deep furniture. In your younger years, this type of furniture is comfortable and cozy, but as you age your body changes. What was once your favorite chair now is the least used, because the ability to sit down and get up on your own has become complicated. One would then tend to lean more towards a sturdy, smaller scale, more firm option because it is more comfortable and provides less limitations."
The Home Design Guide was written with the intention of being implemented by anyone needing to be sensitive to senior needs and is updated annually with fresh ideas. One of the stand-out features of its designs is actually one of the simplest to incorporate, Ownsby explained.
"The shift from using a coffee table to an ottoman is one decision that can make a huge difference in a safer environment when mobility concerns arise. The ability to reduce the hard surface and/or sharp corner that someone could get injured on if they trip and fall is a small but mighty change. The added benefits of having an opportunity to put their feet up with the proper support are also important."
The Sunrise Senior Living design team, certified interior designers with more than 100 combined years of experience with Sunrise, are in constant communication with its assisted living and memory care communities about the needs and preferences of its residents and with residents themselves on-site. The Home Guide offers these tips:
Keeping loved ones at home:
Finesse the furniture – Strategically place major pieces so they can be used for balance while moving through the room. Keep pathways clear, particularly if walkers or wheelchairs are necessary.
Light the room with color – Major pieces of furniture, walls, drapes and floors should be clearly defined through contrasting colors. During the day, allow as much natural light into living areas. At night, illuminate the path between the bed and the bathroom with motion-sensor night-lights.
Engage the senses – Place familiar photos and meaningful decor around the living room, use textures such as lace, fur and denim on upholstered items and play their favorite music to help trigger old, fond memories involving friends and family.
Helping loved ones move into a senior living community:
Dos – Create a must-have list tailored to their favorite daily activities. Get creative and recreate the look of a previous home with fewer pieces.
Don'ts – Leave loved ones out of the process or make packing decisions alone. Let him or her make as many decisions as possible, and enlist the help of someone who is less emotionally attached.