Personnel
Jervis Now Executive Director of The Watermark at Bellevue
November 10, 2023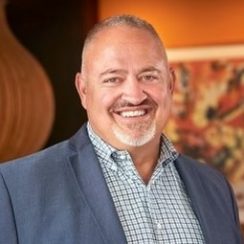 BELLEVUE, WA — Watermark Retirement Communities has appointed Shawn Jervis as campus executive director at The Watermark at Bellevue, an independent-living, assisted-living and memory-care community in the heart of this Seattle suburb. Jervis brings years of experience in senior living and luxury hospitality to the community, where he oversees day-to-day operations.
Jervis will also guide The Watermark at Bellevue's new independent-living tower, which will open in 2024 adjacent to the existing assisted-living and memory-care building. The new building will include 155 independent-living apartments along with a slate of activities, creating one campus with three levels of care for Bellevue-area seniors.
"Shawn is an exemplary leader, who brings passion, knowledge and skill to his role at The Watermark at Bellevue," said Watermark Retirement Communities CEO David Barnes in a press release. "I am confident that he will go above and beyond to enhance our residents' lives and will be an asset as we welcome our new independent-living residents to the campus next year."
Jervis joins The Watermark at Bellevue from Aegis Living in Mercer Island, Washington, and Aegis Living Bellevue Overlake prior to that. Before joining senior living, Jervis spent 25 years in hospitality, leading renowned hotels across the country, including the Embassy Row Hotel in Washington, D.C., and Terranea Resort in Rancho Palos Verdes, California. He also served in the U.S. Marine Corps and is a Gulf War veteran. He also served in the Hawai'i Army National Guard.
"The Watermark at Bellevue offers a lifestyle that is full of opportunity," said Jervis. "I'm fortunate to join this vibrant and growing community and lead a team that cares for seniors with the utmost knowledge and compassion."
ALSO: Watermark Retirement Communities Celebrates Grand Opening of The Hacienda Mission San Luis Rey
The Watermark at Bellevue spans over 132,000 square feet with 110 assisted-living apartments and 26 memory-care apartments. The pet-friendly community features chef-prepared cuisine and a location close to shopping, restaurants, art galleries, and medical care.
Watermark Retirement Communities has been named one of the top 25 Best Workplaces for Aging Services in a national program conducted by the Great Place to Work Institute and published on Fortune.com. A privately held company with over 30 years of service, Watermark manages more than 65 retirement communities in 21 states coast to coast. Based in Tucson, Arizona, Watermark features the award-winning Watermark University with a wide variety of classes for residents and area seniors.