Jillian Gue Named Executive Director of The Springs at Whitefish
Jillian Gue has been promoted to executive director of The Springs at Whitefish in Whitefish, Montana. In this role, Gue will oversee all aspects of the senior living community, which provides assisted living and memory care services to over 85 Whitefish residents.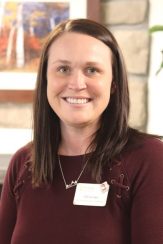 "The Springs Living takes pride in investing in staff, and we have been thrilled watching Jillian's success as she's built her career with us over the past few years," said Brenda Connelly, chief operating officer of The Springs Living. "Jillian has demonstrated strong leadership skills in her prior roles with The Springs Living, and is prepared to take an already amazing community in Whitefish to the next level. I am truly excited to continue working with her in this new capacity."
Gue most recently served as health services administrator at The Springs at Bozeman in Bozeman, Montana. Before that, she was a resident services coordinator at The Springs at Grand Park in Billings, Montana, where she started with The Springs Living in May 2018. Originally from Bozeman, Gue started her career as a caregiver in the memory care environment. She graduated from Montana State University with a Bachelor of Science in community health and a certificate in gerontology, and she holds a master's degree in health administration from Montana State University Billings.