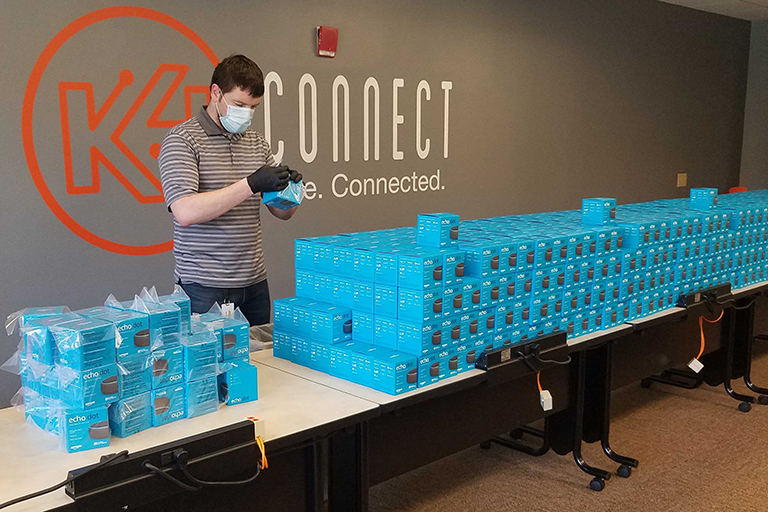 Technology
K4Connect Teams Up with Amazon to Connect Thousands of Isolated Older Adults Through Free Voice Experiences
June 2, 2020
As a result of COVID-19, older adults are having to shut themselves in — whether it is in their own homes or in senior living communities — to be safe and healthy. This quarantining could result in severe isolation and loneliness among these individuals. Outside of this unprecedented time, research has indicated that more than 8 million adults aged 50+ are affected by isolation.
To help combat this, K4Connect announced a new initiative with Amazon to support senior living residents during COVID-19. The two leaders will distribute over 8,000 Echo Dots to independent and assisted living communities in West Coast regions highly affected by the virus, allowing residents to use voice technology to stay more connected while in isolation.
The program will reach over 40 senior living communities, including Eskaton, MBK Senior Living (MBK), and Front Porch headquartered in California, as well as Era Living, Horizon House, and Bayview in Washington.
The full details can be found here:
Devices were donated by Amazon as part of a $5 million device donations program created in response to COVID-19, and will integrate with K4Community, K4Connect's advanced enterprise solution designed for the residents and staff of senior living communities (K4Community).
This allows residents to immediately begin their voice experience with minimal involvement from community staff (think contactless). Communities simply plug in the Echo devices and start enjoying all the benefits of Amazon Alexa, as well as various new capabilities from K4Connect that make community information, services, and communication just an "Alexa" request away.
With the K4Community Voice integration with Amazon Alexa, communities are diversifying how residents access information (announcements, daily menus), creating new ways of connection through voice-dialing with K4Community's "Call My Neighbor" feature, and even reimagining daily activities with socially distanced or virtual events like Hallway Sing-a-Longs with Alexa. K4Connect also recently released the K4Community Hotline, a recorded phone message feature that allows community staff to keep residents and families constantly updated while relieving high inbound call volumes. This feature is also easily accessible for residents via voice through Amazon Alexa.