Legacy Senior Living Names Riggs, LeRoux as Co-Directors of Chaplaincy Program
Legacy Senior Living, which operates a family of senior living and memory care communities across the eastern United States, has named David Riggs and Mark LeRoux as Co-Directors of its Chaplaincy Program, which serves residents at each of its communities located across the Eastern United States.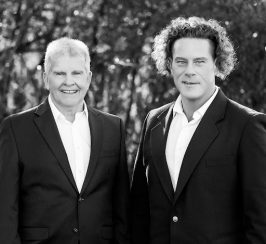 Since its founding in 2006, Legacy Senior Living has been committed to providing ministerial and counseling support to its residents, families and caregivers. Both Riggs, who has served as a chaplain at Legacy Village of Cleveland in Cleveland, Tenn., since 2018, and LeRoux, who has served as chaplain at Legacy Village of Jacksonville in Jacksonville, Ala., since 2019, will share responsibilities overseeing the individual chaplaincy programs at all 15 communities operated by Legacy Senior Living.
"The spiritual well-being of our residents, their families and our team members is of primary importance to us, and our chaplains are chosen to serve with love and compassion, while respecting their individual beliefs. Our chaplains lead weekly devotions and worship services and spend time developing a relationship to nurture their spiritual needs. We know first-hand from our residents, who tell us what a blessing it is to have David and Mark in their communities. We are honored to now have them leading our entire chaplaincy program," Barry Ray, co-founder and CEO of Legacy Senior Living, said.
Riggs, who has been in ministry for over 50 years, will serve the chaplains of Renaissance Senior Living of Vero Beach (Fla.), Renaissance Senior Living of Annandale (Va.); The Harbor at Renaissance in Stanardsville, (Va.); Legacy Village of Hendersonville (Tenn.); Renaissance Senior Living of Hilldale in Madison, (Wis.); and Concordia Retirement Community of Bella Vista, (Ark). He will also continue serving as a chaplain of Legacy Village of Cleveland (Tenn.).
"Joining Legacy Senior Living's team of chaplains in 2018 was one of the best decisions of my life. The theme of our chaplaincy program has been and continues to be 'The Ministry of Presence.' For over 40 years, my life's principle has been simple: 'When I come down to the end of life, there are only two things that will matter: my relationship with the God who loves me and a consistent investment in the lives of others. Beyond that nothing else really matters.' Legacy Senior Living has given me the opportunity to invest in people at one of the most vulnerable times of their lives and let them know that they are still valuable and treasured," Riggs said.
Throughout his career in ministry, Riggs has served in a number of capacities in churches in Michigan, Colorado, Nebraska and Tennessee. Most recently, he served as the Church Staff Chaplain at Peerless Road Church in Cleveland.
Riggs, a graduate of Lee University in Cleveland, and his wife of 52 years, Barb, have two children, Melissa and Zach, and six grandchildren between the ages of 15 and 21. When not serving Legacy Senior Living's seniors, Riggs enjoys cycling, hiking and going on walks with his wife.
LeRoux will oversee spiritual leaders at The Harbor at Opelika (Ala.); The Harbor at Hickory Hill in Prattville, (Ala.); Legacy Village at Park Regency in Moultrie, (Ga.); Legacy Village at Plantation Manor in Thomasville, (Ga.); Grace Senior Living of Douglasville (Ga,); and Renaissance Marquis in Rome, (Ga). He will also continue serving as chaplain of Legacy Village of Jacksonville (Ala.).
"God led me to the Legacy Senior Living family in January of 2019, and being a part of this family means having the privilege to minister to some of God's most precious people through presence, prayer, preaching and personal relationships.  Once I stepped through the doors of Legacy Village in Jacksonville and felt the spirit of joy and peace among the residents, it became quite apparent God was planting me in a new field for His divine purpose. I am extremely grateful that He is far wiser than I. Thank you, residents, for allowing me to serve you and I look forward to serving the chaplains now, too," LeRoux said.
Prior to entering the field of ministry, LeRoux was a wrestler and television talent with WCW and WWE. He transitioned into the ministry in 2011, and was ordained to Gospel Ministry by West Weaver Baptist Church in Weaver, Ala., in 2013.
Currently, LeRoux, who has been married to his wife, Elizabeth, since 1997, serves as Associate Pastor at Anniston First Baptist Church at McClellan in his hometown of Anniston, Ala.