Local Girl Gifts a Garden to Magnolia Glen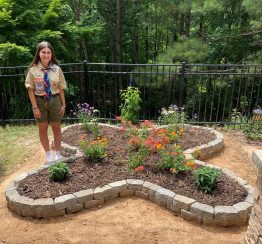 RALEIGH, NC — One way to foster intergenerational relationships at senior living communities is to have a local girl and some of her friends offer to build a garden for you.
Okay, so senior living communities can't just sit back and wait for something like that to occur, but that's just happened when Kaitlyn Wesdock, a member of one of Raleigh's inaugural all-girl Scouts BSA troops, created a butterfly-shaped garden for Magnolia Glen, a Kisco senior living community.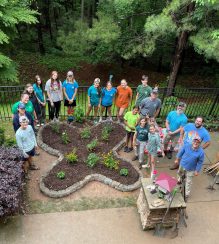 Wesdock connected with Magnolia Glen when she was a child; she would visit the facility with her mother, who worked there as an occupational therapist assistant. Kaitlyn's fondness for the community inspired her to give something to the residents by creating the butterfly garden. The garden, which Wesdock built with her troop of 11-17-year-old aspiring Eagle Scouts, took four months to complete. The carefully planned garden boasts a variety of vibrant, drought-resistant, pollinator-attracting plants. It has evolved into a focal point for community activities and interaction.
This gifted butterfly garden underscores Magnolia Glen's commitment to a vibrant community life shaped by intergenerational bonds and the therapeutic power of nature.
Situated on 12 wooded acres adjacent to the Brookhaven Nature Park, Magnolia Glen offers its residents access to cultural landmarks like the North Carolina Museum of Art, as well as shopping and restaurants. The pet-friendly community also offers planned social outings, educational events, a state-of-the-art Wellness program, an indoor heated pool, on-site physical, occupational and speech therapy, and a library with computers and internet access.
Credit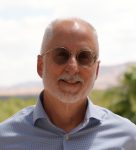 Jim Nelson
Editor
Jim Nelson is the Editor at Senior Living News, an online trade publication featuring curated news and exclusive feature stories on changes, trends, and thought leaders in the senior living industry. He has been a writer and editor for 30+ years, including several years as an editor and managing editor. Jim covers the senior living sector for SeniorLivingNews.com, distributes its e-newsletter, and moderates panel discussions for the company's HEALTHTAC events.