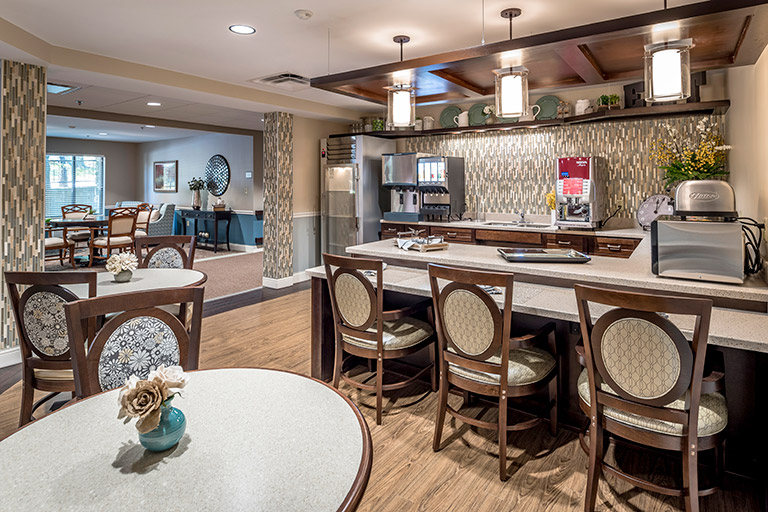 Editorial
Long-term Solutions To Short-Term Rehab
By joe | September 6, 2017
In response to the growing need for transitional rehabilitation and the changing wants and needs of an aging population, there has been a surge of recent activity as senior living communities add rehabilitation centers, update existing skilled nursing centers or partner with others who can provide rehab services.
Many are opening their doors to the greater community, with convenient first-floor or near-the-entrance locations for those recovering from a variety of medical or surgical conditions typically requiring short-term stays under the supervision of skilled nurses and physical rehabilitation therapists.
Five Star Senior Living announced completion of a short-term rehabilitation center at Meadowood Retirement Community, in Bloomington, IN, in July. Branded as "Rehab to Home," the program is designed for short-term rehab and recovery with private suites and hotel-like amenities including concierge services, high-speed Wi-Fi, HD TV and a dining menu inspired by celebrity chef Brad Miller.
Pueblo Norte Senior Living in Scottsdale, AZ, completed the first Rehab to Home center, opening the way to a new generation of Five Star rehab centers. The Gardens of Scottsdale opens its​ Rehab to Home center later this fall, joining others that opened last year in Mount Pleasant and Myrtle Beach, SC, and West Allis, WI.
The skilled nursing and rehabilitation center at Church Creek Senior Living in Arlington Heights, IL, were among existing spaces that got a major facelift as part of a multi-phased, multi-million dollar refurbishment project Five Star recently completed to redesign and enhance resident experiences. Independent living, assisted living and a memory care neighborhood were also updated and new common areas, a pub, cyber café and movie theater added.
Five Star also recently announced the expansion of its rehabilitation and wellness services to senior living communities outside of its current operations. With this expansion initiative, Five Star's Rehab & Wellness division rebranded itself as Ageility Physical Therapy Solutions.
"The Ageility name reflects our belief that physical strength and independence are important no matter your age," said Denise Kelly, Five Star vp of rehab & wellness. "We will offer rehab services, wellness programs and personal fitness with customized treatment plans to individuals of all ages."
By establishing partnerships with other senior living providers, Five Star will bring the expertise of its roughly 1,000 physical therapists, occupational therapists and speech language pathologists employed throughout Five Star communities across the country to non-Five Star properties, delivering rehab services with an added hospitality approach.
United Church Homes and Services (UCHS) recently celebrated the grand opening of a new Health and Rehabilitation Center on the 120-acre campus of Abernethy Laurels in Newton, NC. Abernethy Laurels is one of three CCRCs that UCHS operates, along with seven HUD 202 affordable housing communities and a Program of All Inclusive Care for the Elderly (PACE).
A new, larger therapy gym opening onto a new rehabilitation courtyard highlights the rehabilitation center at North Manor, as it will be marketed—Phase I of an extensive $26 million replacement project increasing private rooms from 30 to 96. Phase II will begin this fall.
"The new building design will position Abernethy Laurels to respond to changing needs of our area seniors for years to come," UCHS President and CEO Lee Syria told guests at the ribbon cutting. "We are grateful for the support of our residents, community, and local and statewide foundations, who generously donated to the capital campaign raising $3.6 million dollars to seed the funding for this project."
The design of the new two-story North Manor includes 48 private resident rooms on each floor organized into six households, each serving 16 residents in eight-resident clusters around common spaces. Each resident room features a private bathroom with a barn door that allows for ease of entry and exit.
Two of the first-floor households will serve short stay or transitional rehabilitation patients. Two of the second floor households will serve those in need of memory support. The other two households will be home to primarily long-term residents.
Great Lakes Rehab Center, a new $12 million skilled nursing center, will open later this month in the heart of Saginaw, MI. With 10,000-square-feet designated to the rehabilitation center, it is the largest of its kind in Saginaw County.
Located across from the Covenant Hospital Mackinaw Campus, the rehab center is Phase I of a $35 million project—a joint venture of local health professionals who have served the Great Lakes Bay Region for decades.
Guests in the 55 private rooms with private bathrooms will have access to multiple dining options in the form of café bistros and restaurant dining with gourmet cuisine, as well as spa areas, cinema, club room, Starbucks station, multiple themed outdoor gardens, water fountains, live garden walls, beautiful landscapes and a gazebo.
"The Great Lakes Bay Region is my home, and this is where the organization has decided to extend its roots," said local entrepreneur, project leader and Comfort Care Senior Living Managing Director Hamza Sikander when asked about the decision to invest in such a large-scale project in Saginaw County.
"We know the value of our community, and it was an honor partnering up with local health professionals to further extend care options to those in need across this region. We knew we had to do something special, something that no other facility is doing in the area," Sikander said.
Phase I of this senior care development covers only a portion of the more than 15-acre parcel, with planning and development already underway for the remaining portions for future developments. Within the next few years, the organization expects to expand the parcel into a health care campus that will include a senior living facility, medical office spaces and pharmacy, among other possibilities.