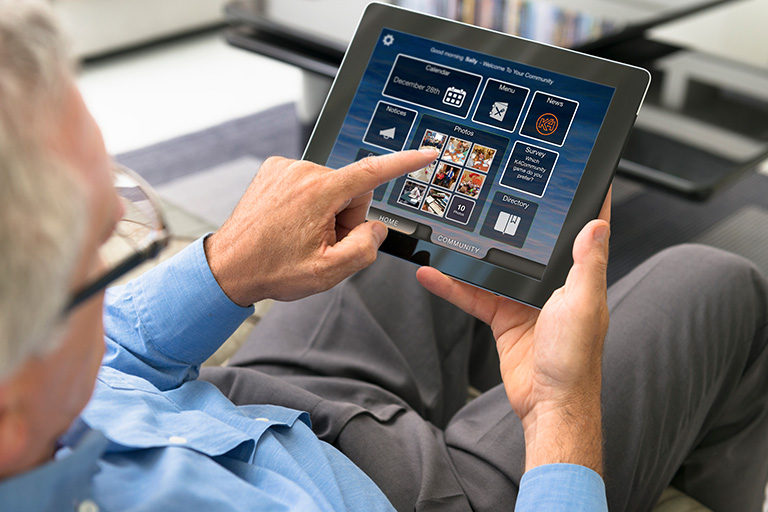 Engagement Technology Advancing, Residents Benefit
Like technology itself, the senior living space is fast evolving to meet not only the demands of future generations but current ones as well.
Tablets and iPads, flat-screen TVs or smart boards, computer and video games, wireless Internet and Skype all have found their place in senior living communities. The use of touch-screen devices with older adults with dementia and other cognitive disorders has calmed behaviors, stress and depression, and for some, enabled the reduction of psychotropic drugs including, anti-psychotics, mood stabilizers, anti-anxiety agents and anti-depressants.
With technology often at the core of increased resident engagement, are the residents themselves using technology? In many cases, yes.
A Pew Research Center report found that 77 percent of older adults would require some assistance in learning how to use a new digital device, but once they become Internet users, they are very likely to go online every day.
"If you design something that in an older person's life they find simple to use, and it provides true utility in their lives, then they will use it," said F. Scott Moody, co-founder and CEO of K4Connect, a mission-centered technology company that creates solutions to serve and empower older adults and individuals living with disabilities, especially those underserved by technology.
"Technology is only really successful when you stop calling it technology," Moody said, "when it becomes part of your everyday life, like the stove, refrigerator, car, etc. You don't think of them as technology."
No newcomer to technology, Moody previously was co-founder, chairman and CEO of AuthenTec, the company that developed the technologies now at the foundation of the Touch ID in the Apple iOS products, and the only publicly traded company to be acquired by Apple.
Moody is thrilled with the resident engagement figures the company is seeing with its K4Community platform recently installed in 225 resident apartments at The Cardinal at North Hills, a Kisco Senior Living community, in Raleigh, NC.
K4Community is a "connected-life" platform that integrates the latest technologies, including smart home, connected wellness and social engagement (often originally designed for millennials and hobbyists) into a single, easy-to-use and responsive system for its clients.
The K4Community product for senior-living communities was designed with the end user in mind—the residents—and making their lives better, specifically simpler, healthier and happier.
"It's not just the resident, but the ecosystem around them," Moody said. "The family, staff, the operators. We need to show the operator a good return, and we can show ROI in less than a year."
K4Community demonstrates the value that "The Internet of Everything" can drive. It goes well beyond the latest in home automation, bringing together a plethora of features with real value and utility to residents, a system truly designed for and with them, and constantly adding features they want.
With a single touch, community residents can control their living environments (integrating "smart" thermostats, light switches, TV remote control, etc.), monitor their health and wellness (fitness trackers, pill reminders), stay connected with loved ones through photo sharing or video chats, and stay more engaged in community activities through online event sign-ups, menus and newsletters.
Residents enjoy the home automation capabilities that make their life simpler and safer, such as lights that turn on automatically when they get out of bed at night, lighting the way to and in the bathroom, and turning off again when the resident goes back to bed. Thermostats automatically adjust to a healthier, cooler temperature at night and warm up again in the morning to a preferred daytime temperature, either of which can be changed anytime.
Residents are connected with their life circle—their former community where they used to live, their neighbors, friends and family being able to stay connected with them, easily having video and audio chats, sharing messages and pictures, all in a secure way, invited by K4Connect—and get connected immediately in their new community where virtually everything is digitized.
K4Connect installs equipment in various rooms, including lights, connected thermostats, motion sensors and bed sensors and then has group sessions to show residents how things work. One-on-one presentations follow in residents' apartments where their applications are presented, whether that's downloaded on their own tablet or one purchased by the community.
The platform is designed in a simple but not childish way, also encouraging experimenting without the fear of "breaking something." Because of the one-on-one orientations, residents are comfortable pressing the K4 logo on their tablets that allows them to speak to a K4Connect staff member or message them any time. That eliminates calls to the community's staff, allowing them to provide more direct care to those who need it, rather than answering calls for common problems with thermostats and TV remotes.
"K4Community provides The Cardinal with the insights and analytics needed to offer first-class care, differentiated hospitality and operational excellence," said Tom Ford, executive director, The Cardinal at North Hills. "The platform is itself an amenity. It's a unified solution with a user interface designed uniquely for seniors.
"It's made up of everyday products that all work together to respond to personal needs and wants, and provides value-added amenities that promote automated living environments, healthier living and increased social engagement. It helps our residents live as independently as possible for a longer period of time," Ford explained.
Senior Living News took a look at several other companies enhancing resident engagement through technology:
Touchtown, a Carnegie Science Awards 2016 Winner, Pittsburgh, PA, offers web‐based content management software, and technology to easily deliver that content on television channels, digital signs, tablets, kiosks, print and websites.
It's Never 2 Late® (iN2L) integrates the hardware, software, media and various components necessary to allow virtually any person with any interest in using a computer—regardless of background, physical or intellectual abilities—to do so without frustration via a picture-based, touch-screen interface to "touch" their way to content appropriate personalized to their own level of ability.
Lifeshare Technologies helps senior care providers improve connections between residents, staff and families using existing technology like TVs. A set top box and universal remote allows residents to receive and send email and text messages, get pictures and videos, see upcoming events, be reminded of appointments and enjoy games, news, therapeutic music and even faith programming.
Keystone Technologies provides health IT services and products, including IT infrastructure assessment, design, and installation; regulatory and compliance consulting; HIPAA-compliant cloud services; managed services and support; and health applications and solutions. It offers a free downloadable guide, "Choosing resident engagement technology."
Credit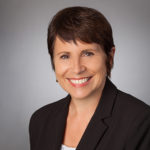 Cheryl Slavinsky
Editor
As editor of Senior Living News, Cheryl curates the news and writes a weekly feature story. She also plans the education portion of the HealthTAC events produced by Senior Living News and moderates the executive panel discussions. Cheryl has consulted with senior living clients for more than 20 years and served as senior public relations strategist for Varsity, a marketing and sales consulting agency focused on occupancy for retirement, assisted living and continuing care retirement communities (CCRCs)/Life Plan communities, and more. She previously managed national media relations as Rite Aid's director of public relations.