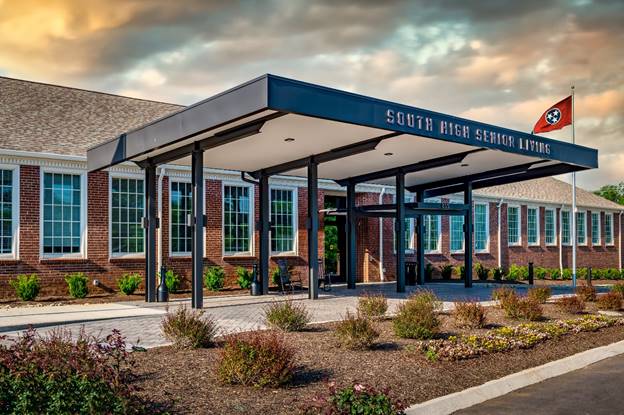 Communities
Luxury Assisted Living And Memory Care Community Now Open In South Knoxville
July 21, 2020
KNOXVILLE, Tenn. (July 20, 2020) – South High Senior Living, an Integral Senior Living community, is now open in South Knoxville just minutes from Market Square. The community, which opened its doors on July 7, offers both assisted living and memory care options.
"We have been thrilled to finally welcome residents to their new home," said Helen Porter, executive director of South High. "We have worked diligently to create a comfortable community and inspirational home for our residents, and we have an amazing team in place that is passionate about helping seniors."
South High Senior Living features studio floor plans, as well as resort-style amenities and accommodations including a salon, a piano lounge, a private dining room, and more. South High residents have access to all of ISL's signature programs, including Vibrant Life®,Generations Memory Care, and Elevate® dining.
"Integral Senior Living is so proud of the team and community at South High Senior Living," said Heather Haley, regional director of Sales and Marketing. "At South High, the residents will enjoy the high-quality care, signature programming, and benefits that are featured in all ISL communities."
South High Senior Living is located in the elegantly restored South High School, which closed its doors to students and teachers in 1976. Dover Signature Properties, the local firm known for restoring historic buildings to their former glory and greater community use, recognized the inherent advantage of South High's design. It was already laid out for residential use, with a cafeteria ready for transformation to the dining hall, and classrooms ideally situated to become apartments. Instead of housing high school seniors, South High was redesigned to embrace seniors ages 62 and over.
"Moving my father into a senior community was a difficult decision for our whole family," said Mike St. John, son of a South High resident. "We want to thank the South High team for all the help and guidance they've provided us in choosing next-level care for my dad, and for the sincerity and enthusiasm the team has shown toward him."
About South High Senior Living
Located at 835 Tipton Ave., South High Senior Living is a brand-new senior living community in Knoxville, Tenn. South High Senior Living is designed to take the worry out of managing day-to-day necessities, and bring the focus back where it belongs: enjoying life. We strive to better the lives of those within our community, both inside and outside the beautifully renovated historic South High walls. For more information, visit our website, www.southhighknoxville.com.