October 16, 2023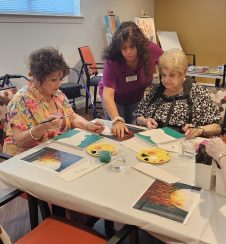 At this point, we know that making art is good for us.
It can help us recover when we're not well, but even better it can help us stay healthier — and happier. When we make art, whether it be painting, performing arts, making movies, writing literature, creating music, sculpting, dancing, singing, or even gardening or engaging in the culinary arts, our lives are more expressive, more fulfilling, and more creative, which stimulates our minds and keeps our brains active.
Making art can also help enhance our concentration and help us hold onto our memories. It makes for a more stress- and anxiety-free life by focusing our attention on something other than our daily concerns, and when we get creative with art our self-esteem and sense of accomplishment rises.
Art can connect us, help us feel less isolated and part of a community. We even know that the arts can help to protect us from a range of mental health conditions.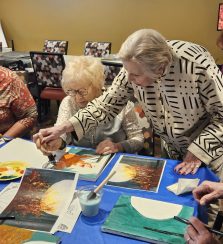 Clearly, engaging in creative endeavors such as making art is good for us in so many ways, and we don't even have to be good at it to benefit.
In senior living communities of all types, art activities can lead to stronger social interactions between residents and staff, which can have a beneficial effect on everyone in the community. That's what's happening between a resident and a staff member at Woodbury Mews, a Watermark Retirement community in Woodbury, New Jersey.
Anna Catando, the staff member, had never picked up a paint brush until she met 94-year-old and talented painter Elaine Lewis, the resident. That, however, didn't impede their decision five years ago to start a Watermark University course to help residents connect through painting. During one of those first classes, Lewis encouraged Catando to go beyond facilitating the course and give painting a try.
And she loved it! In fact, she loved it so much that her first painting — three boats sitting on the shoreline — still hangs in her home to this day.
"She took off," Lewis said of Catando's affinity for painting. And underscoring that sense of connection fostered by making art together, Catando was quick to compliment her partner in painting. "Elaine brings out the talent in all of us," she said of Lewis, "even when we don't see it in ourselves."
ALSO: Watermark University: The Antidote to Stagnation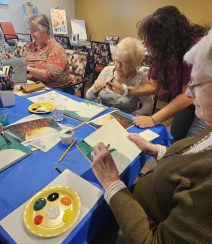 These days, nearly a dozen residents and associates gather at Woodbury Mews each month to paint and have fun. But resident Elaine Lewis and staff member Anna Catando meet much more regularly than that, choosing designs for the class and preparing the supplies, or simply to chat.
Catando credits her relationship with Lewis with minimizing difficult times. "As long as the residents are happy, I'm happy," Catando explained.
"I told Elaine that the artist in you and me clicked," Catando said, "but Elaine said, 'No, it's the person that clicked.'"