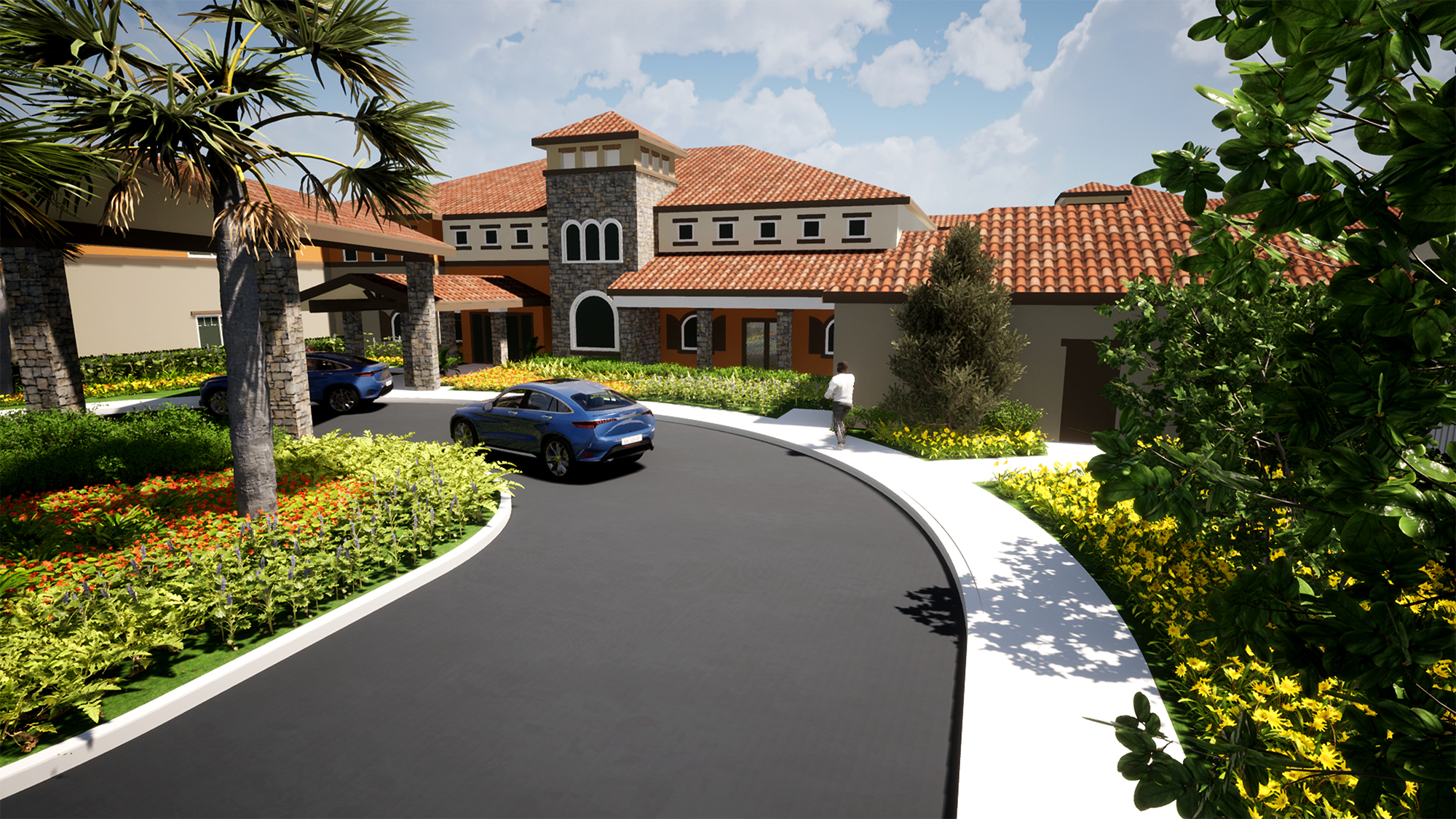 Communities
New Senior Living Community Coming to Daytona Beach
April 26, 2021
Daytona Beach, FL, A resort-style senior living community under construction in Dayton Beach has taken a step closer to completion. Sunscape Dayton Beach has now opened its sales center at 2570 W. International Speedway Blvd., Suite 230. The community will offer high-end resort-like assisted living and memory care, featuring abundant amenities in a vibrant, engaging environment.
Sunscape Daytona Beach, scheduled to open late this year at 551 North Williamson Blvd., will provide 85 studio, one and two bedroom rental apartments. Sixty-five will offer assisted living and 20 will provide memory care. Amenities include a fitness center, theater, salon, library, bistro, formal dining rooms, bar and lounge, event center, and game and meeting spaces. The open design offers a spacious courtyard with walking trails. The community adjoins a nature preserve, allowing a number of apartments to offer wooded views. Residents will enjoy numerous social, educational and spiritual programs and events.
Sunscape Daytona Beach is managed by Solvere Living, the operations management division of St. Petersburg, Florida-based Solutions Advisors Group (SAG). "We are excited about managing Sunscape Daytona Beach and bringing its resort-style atmosphere to the area," said Solutions Advisors Group President and CEO Kristin Ward. "We are providing residents rich amenities, engaging programs and events, along with the best in quality of life and services."
Sunscape Daytona Beach will feature Solvere Senior Living's proprietary wellness philosophy Salus™. Latin for well-being, Salus is a holistic approach that focuses on each resident's potential to achieve personal goals through engagement and connections. The community will also provide Solvere's proprietary memory care program Valeo™, named for the Latin word for thrive.
"The Salus and Valeo programs are designed for successful aging by touching every aspect of residents' lives and keeping them engaged, honored and fulfilled," said Sunscape Daytona Beach General Manager Andrew Gall. "A lot goes into aging successfully. Providing an environment that supports each resident's unique goals and a deep sense of purpose is key."
Sunscape Daytona Beach is expected to create more than 50 full time equivalent positions. The owner/developer of the community is Aliso Viejo, California-based Protea Capital Partners. The architectural firm is Costa Mesa, California-based Irwin Partners Architects, which specializes in housing for seniors.
Appointments to view Sunscape Daytona Beach floor plans and more can be made by calling (386) 777-4140 or online at www.sunscapedaytonabeach.com. In addition, the public is invited to see renderings, floor plans, design boards and more by attending an open house at the sales center from 10 a.m. to 2 p.m., May 20. Refreshments will be served. RSVPs are needed at (386) 777-4140.
In addition to Sunscape Daytona Beach, the company recently broke ground on Sunscape Boca Raton with a planned opening in summer 2022.
About Solutions Advisors Group
Formed in 2009, Solutions Advisors Group is a group of companies providing comprehensive consulting and operations management expertise for the senior living and active adult sectors. With offices in St. Petersburg, Fla., and Richmond, Va., the three companies are:
Solvere Living – senior living and active adult operations company offering third-party management services
Solutions Advisors – marketing, creative and sales consulting agency
SA Digital – full service digital marketing agency