Communities
Ninety-Nine-Year-Old Artist Captures "Essence" of Fellow Residents at Byron Park
June 27, 2023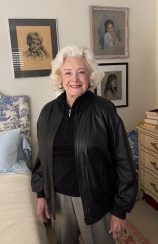 WALNUT CREEK, CA — Byron Park resident Bettey Naymark has long found peace and enjoyment in the ability to draw and create. As an artist, Naymark captures the beauty of humankind through portraiture, and her works have been featured in the homes of those she has immortalized on canvas and in the book The Best of Pastels.
Today, Naymark, 99, shares her artistic gift with others through the commission of personalized portraits for her fellow residents or loved ones.
"My interest in the arts and drawing really came naturally when I was about 10 years old," says Naymark. "I found I had a real talent for capturing actual likenesses. From that point on I was always drawing, and it became something that was truly enjoyable and special to me."
After helping to raise a family, at the age of 50 Naymark returned to school for her art degree, graduating with high distinction in drawing. After finishing her degree, Naymark was regularly commissioned by people wanting portraits, and for 30 years she was a professional painter and teacher.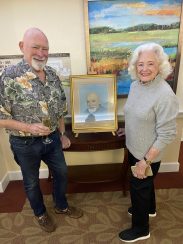 "Portraiture has long been a medium that has given me a great deal of joy, knowing that I get to bring individuals to life in a very special way for their loved ones," said Naymark. "You're capturing someone at a very specific moment in time, and there's just something incredibly special about doing so that is different in portrait form as opposed to a photograph. When someone is sitting for a piece, I always try to delve into the subject's personality to ensure that their essence is what comes through."
Naymark said that it was a pleasant surprise that she found interest from fellow Byron Park residents in having portraits commissioned for their own loved ones.
"We believe in supporting our residents in the pursuit of their passions, and in this case, we recognize the impact that art can have in all of our lives," said Ricardo Romero, Executive Director of Byron Park. "Having an accomplished and talented individual like Bettey sharing her gifts with our community is very special, and we're happy to provide her and others with the avenues they need to continue pursuing what they love."

Located half an hour northeast of Oakland, Byron Park's full-service senior living community has been serving area seniors with independent and assisted living options since 1991. As a Kisco Senior Living community, Byron Park includes The Art of Living Well philosophy in every aspect of community life. The wellness culture strengthens the mind, body, and spirit through unique social and wellness programs, as well as volunteerism, educational opportunities and restaurant-style dining experiences catering to various dietary needs.