R.D. Olson Construction Breaks Ground on Oasis Senior Villas
R.D. Olson Construction, an award-winning general contracting firm in California, today announced the groundbreaking of Oasis Senior Villas, a 95-unit affordable senior housing community located in Riverside, California. The development will target low-income senior citizens with half of the units set aside for seniors who are homeless and living with mental illness. The ground-up construction and is expected to complete summer 2023.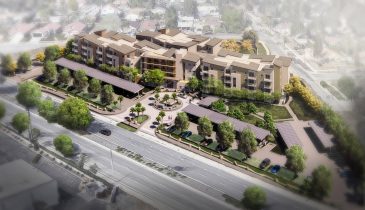 Located at 2340 14th street in Riverside, California, Oasis Senior Villas is in close proximity to U.S. Highway 91, downtown Riverside, the University of California, Riverside, and is just a mile away from Victoria Club, one of Southern California's longest-standing golf clubs. The community is in a residential area, near two local churches and easily accessible to public transportation, enabling residents the ability to easily enjoy the city.
The 131,987 square-foot property will be comprised of two four-story buildings. The proposed 81,896 square-foot total floor area includes 95 units consisting of 82 one-bedroom and 13 two-bedroom apartments with community space, residential utility space and a ground floor entry with an office. Additional amenities will include a bocce court, barbeques, an outdoor space for small events, community room, fitness center, computer room, conference room and considerable parking. The buildings will join into one with open breezeways and pitched roofs.
"With our vast experience building senior and affordable housing projects, R.D. Olson Construction is primed to continue fortifying the sector by delivering a critical asset to the budding downtown Riverside area," said Bill Wilhelm, president of R.D. Olson Construction. "Oasis Senior Villas will serve as a respite for the senior residents, providing a safe and cost-efficient space to live."
Designed for sustainable living, the project will pursue LEED Gold Certification. Sustainable features include solar panels and efficient hot water distribution. R.D. Olson Construction is partnering with developer, A Community of Friends and DE Architects on the project.
Additional affordable or senior projects in Southern California for R.D. Olson Construction include Stony Oaks, a 142-unit affordable housing community in Santa Rosa; Clearwater at Glendora, a 117-unit assisted living and memory care facility in the San Gabriel Valley; Rose Hill Courts, a 185-unit affordable housing development in Los Angeles; and West Terrace, a 52,300 square foot affordable housing development near SoFi Stadium in Los Angeles.