Sagewood Senior Living Celebrates 100th Birthday of Resident Navy Veteran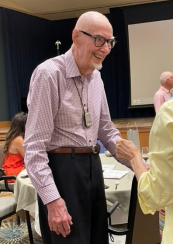 PHOENIX, AZ — Celebrating a life well lived, Navy veteran and Sagewood Senior Living resident W.L. "Dub" Button was recently joined by nearly 200 friends, family members, and neighbors for his 100th birthday party.
"I am incredibly blessed to have all these amazing people celebrating my day," Dub said. "My friends, family, and faith are the reason I have had a very happy life. For the last 50 years or so, I also drink ONLY two ounces of scotch every night and I guess that had some effect on my long life also."
ALSO: Sagewood Promotes Two Executives, Hires One
Born in the tiny central-Texas town of Rule on July 24, 1923 (when the population was about 900 people), Button has traveled the world in his 100 years, and he's been blessed with over 40 children and grandchildren from three marriages. Family members came in from all over the world to celebrate Button's centennial birthday.
Following the December 7, 1941, attack on Pearl Harbor then-18-year-old Button enlisted in the U.S. Navy. As the navigator on the USS San Marcus, his most notable assignment was preparing Bikini Atoll in the Marshall Islands for testing bombs — ironically with two future fellow Sagewood residents. Button moved into the Sagewood community in 2011 after living in various U.S. locales. If drinking no more than two ounces of scotch each evening is one of Button's longevity secrets, it's not the only thing that has helped get him to the age of 100.
"As a person who has lived this long, I have looked for the answers to life's major questions," he said. "One of the lessons I learned and hold dearly is to love your fellow man. My goal is to do everything I can to make life better for those in the world."
Sagewood is a Life Plan Community in Phoenix, featuring resort-like amenities including a fitness center, movie theaters, indoor and outdoor pools, 18-hole putting golf course, auditorium for multi-purpose use, formal and casual dining and health center providing assisted living, memory care support, skilled nursing, and a rehabilitative therapy center. Life Care Services and Westminster Capital are the joint-venture partners of Sagewood.
Credit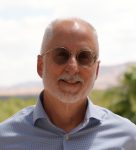 Jim Nelson
Editor
Jim Nelson is the Editor at Senior Living News, an online trade publication featuring curated news and exclusive feature stories on changes, trends, and thought leaders in the senior living industry. He has been a writer and editor for 30+ years, including several years as an editor and managing editor. Jim covers the senior living sector for SeniorLivingNews.com, distributes its e-newsletter, and moderates panel discussions for the company's HEALTHTAC events.