Communities
The Fountains at Crystal Lake Celebrating Friday the 13th with Fiendish Feast
October 12, 2023

Beware when spooks and spirits align the calendar to give us a Friday the 13th in October. Ghouls, goblins, and residents of The Fountains at Crystal Lake rejoice because with this Friday the 13th comes something quite special in this Illinois city that's equidistant between Chicago and Milwaukee, Wisconsin.
Each month, The Fountains at Crystal Lake hosts a candlelight dinner to enhance residents' dining experience. This month, the candlelight meal happens to fall on, you guessed it, Friday the 13th. Naturally, with the ubiquitous signs of the imminent arrival of All Hallow's Eve, the dining team at The Fountains at Crystal Lake were compelled to choose a menu fit for the occasion.
On the Friday the 13th menu for Fountains residents will be pumpkin-shaped "Headless Horseman Hand-pies," a "Purple Potato Soup," a "Wolfsbane Salad" full of autumn nuts and fruits, and "Black Lagoon Pasta" dyed with squid ink.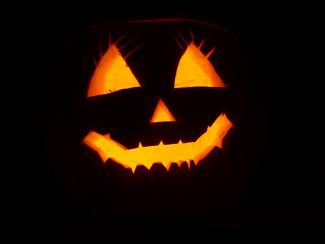 "We want to bring high-end foods and culinary trends to our residents," said Dining Services Director Jeff Lawson, with the Black Lagoon Pasta being an example of his team's intent to introduce residents to dishes they may not have previously had. "The response has been appreciation and demand for this candlelight series to continue, so we offer it monthly and extend invitations to our associates and residents' families as well."
Past candlelight dinner themes have included a "Jimmy Buffett dinner" last winter (with the thinking that Buffett's beach/summer themes would add a little warmth during a snowstorm) and a Prohibition Era dinner that had each course infused with a different spirit. Did someone say, "Spirit"? That reminds us of Friday the 13th.