The Palace Coral Gables Throws Citywide Celebration for its 10th Anniversary
CORAL GABLES, FL — The Palace Coral Gables is turning 10, and the active retirement community is inviting the whole city to its Walk the Mile celebration. During this month-long event, local stores, restaurants, service providers, and entertainment and cultural venues will display photographic banners featuring patrons who are Palace residents.
Walk the Mile kicks off with a VIP reception on Friday, August 4, with Coral Gables VIPs in attendance, including city officials, Coral Gables Chamber of Commerce members, and local businesses. There will be a proclamation presentation by the city of Coral Gables to The Palace Group owners, Helen and Jacob Shaham.
The VIP Reception will also include the unveiling of 12 photographic banners for Walk the Mile and pictorial history banners tracing Ten Years of Excellence; recognition of the 26 founding residents who moved to The Palace Coral Gables; a cake replicating the 10-story building; and a jazz trio for entertainment.
During the weekend of August 5 and 6, The Palace Coral Gables will have events celebrating Walk the Mile, with lectures, demonstrations and presentations by local stores, restaurants, services, and entertainment and cultural venues. An indoor street fair will include neck and hand massages, jewelry appraisals, and complimentary watch batteries.
The Palace Coral Gables is an award-winning independent and assisted living community for active retirement living.
Credit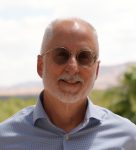 Jim Nelson
Editor
Jim Nelson is the Editor at Senior Living News, an online trade publication featuring curated news and exclusive feature stories on changes, trends, and thought leaders in the senior living industry. He has been a writer and editor for 30+ years, including several years as an editor and managing editor. Jim covers the senior living sector for SeniorLivingNews.com, distributes its e-newsletter, and moderates panel discussions for the company's HEALTHTAC events.