The Sky Bridge at Town Center Adds Residents' Family-Favorite Recipes to the Menu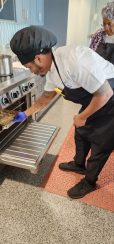 UPPER MARLBORO, MD — The Sky Bridge at Town Center, a Watermark Retirement Community® senior living facility, is bringing the family recipes of its residents to the table thanks to Executive Chef Jamel Stubblefield.
Take founding resident Thelma Butler, for instance: Stubblefield is featuring Thelma's "perfect" peach cobbler as one of several recipes that he has inherited from a resident.
Stubblefield, who continuously adds dishes to the daily dining repertoire and incorporates special holiday menus, believes that including the residents' favorites makes meals more personal and it further connects them to the community and to their neighbors.
"Cooking brings people together," Stubblefield said. "It brings families together. Working in dining, I get to know the residents personally; they are a part of my extended family. I'm glad I can add a taste of home to the menu for all to enjoy." He has even opened the community's kitchen to residents for lessons on how to make their dishes.

"With our residents' help and the commitment and talents of Chef Stubblefield, the Sky Bridge at Town Center has created a dining scene that is anything but standard for a retirement community," said Executive Director Joy Hart. "Here, we are making each meal memorable; that is what our residents deserve as they enjoy their retirement years."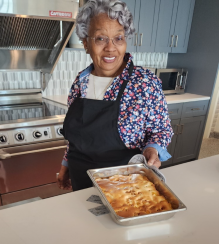 The dishes at The Sky Bridge at Town Center are for everyone to enjoy, including family members who visit. Chef Stubblefield said that guests will be happy to see the recipes of their mom, dad, aunt, or uncle on the menu. Butler's peach cobbler is up first, and then Stubblefield will rotate a new resident recipe into his menu on a quarterly basis.
Stubblefield also finds time to engage residents in casual conversations, which often leads him to learn more about their likes and dislikes; when one resident told Stubblefield of his love for French onion soup, Stubblefield made it for him and made it a regular item on the bar menu. "We make a lot of dishes from scratch," said Stubblefield. "We have a baker and feature fresh cinnamon rolls and lemon lavender cookies. During football season, we have a special Commanders burger [named after the local NFL team] — it is a fresh ground beef patty with bacon, pepper jack cheese, caramelized onions, lettuce, and tomatoes. We make sure to serve it fresh and hot."
Tucson, AZ-based Watermark Retirement Communities® is a privately held company that manages more than 65 retirement communities coast to coast. It has been named in the top 25 Best Workplaces for Aging Services in a national program conducted by the Great Place to Work Institute and published on Fortune.com, and the company has ranked as the nation's 10th-leading senior housing operator by the American Seniors Housing Association.
Credit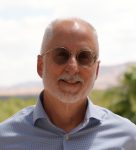 Jim Nelson
Editor
Jim Nelson is the Editor at Senior Living News, an online trade publication featuring curated news and exclusive feature stories on changes, trends, and thought leaders in the senior living industry. He has been a writer and editor for 30+ years, including several years as an editor and managing editor. Jim covers the senior living sector for SeniorLivingNews.com, distributes its e-newsletter, and moderates panel discussions for the company's HEALTHTAC events.