Communities
The Springs at Happy Valley's Sage Receives OHCA 2023 Enrichment of Life Award
September 25, 2023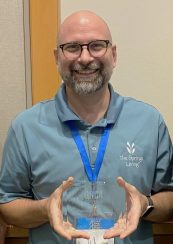 HAPPY VALLEY, OR — Kevin Sage, life enrichment director for The Springs at Happy Valley in this city roughly 12 miles southeast of Portland, has been recognized with the Enrichment of Life Award by the Oregon Health Care Association. Each year, OHCA honors long-term care professionals in the state who demonstrate a commitment to quality care through their dedication to residents, staff, and the long-term care profession.
"Kevin takes the time to get to know the residents and staff on a personal level, and then taps into their talents to provide quality programming for the community," Tim Watson, executive director of The Springs at Happy Valley, wrote in his nomination letter. "His leadership, creativity, and talent have contributed to the residents' enjoyment of life."
ALSO: Perry Named Inaugural The Springs Living Regional Chair of Geriatric Medical Education
In the nomination, Watson went on to list thoughtful and innovative programming undertaken by Sage, from the spontaneous "Day of a Thousand Water Balloons" (teams of residents threw water balloons from their balconies to buckets in the courtyard below) to the "World Kitchen Tour" (a monthly international destination theme, complete with customized passports and a menu takeover event).
"I am extremely honored to receive this recognition, which I believe represents the dedication and creativity of the entire life enrichment team," Sage said. "We have the opportunity every day to create meaningful moments and inspire joy in the lives of residents. Being able to serve them in this chapter in their lives is a reward in itself."
Founded in 1996 and based in McMinnville, Oregon, The Springs Living currently owns and operates 19 senior living communities offering independent living, assisted living, and memory care services in Oregon and Montana. When it opens in 2024, The Springs at The Waterfront will be its first community in Washington.