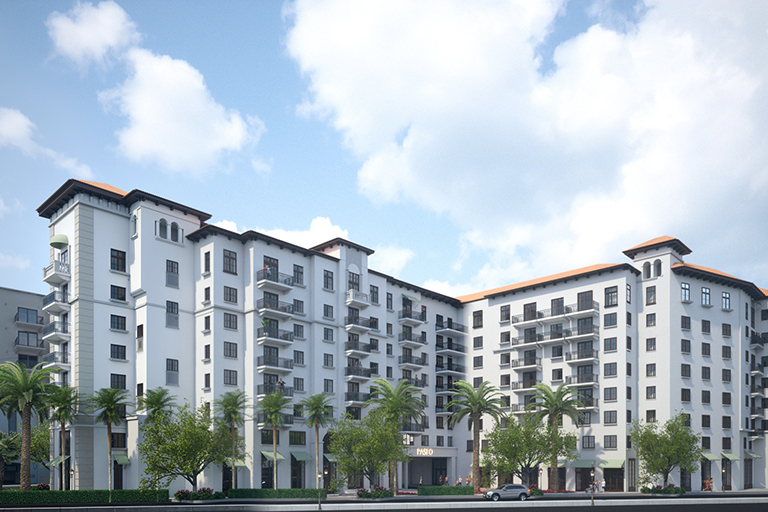 Communities
ZOM Living & Watermark Acquire Sites for Two Luxury Senior Living Communities in South Florida
July 6, 2020
Miami, FL, July 1, 2020 – As demand for rental senior housing intensifies in South Florida and across the U.S., ZOM Senior Living and Watermark Retirement Communities have closed and are preparing to break ground on two new developments in South Florida that will deliver a combined 350 luxury rental apartments for seniors in Coral Gables and West Palm Beach, Florida. The acquisitions of the two development sites, located at 300 Greco Ave in Coral Gables, and 401 Datura St in West Palm Beach, were completed on June 30, 2020. Construction of both projects is expected to begin later this Summer.
The acquisitions pave the way for ZOM Senior Living's second and third luxury rental senior living communities in Florida, following a 424-unit development already underway in Wellington. With a 42-year history, ZOM Living has developed nearly 22,000 apartment units nationwide with an aggregate value of $4.3 Billion. Currently, the company has 6,700 units under construction or in design and predevelopment, including 774 units in the senior living space.
The demand for senior living is expected to steadily increase over the next two decades across the country. An estimated 881,000 new units will be needed between now and 2030, including about 36,000 this year and another 41,000 in 2021, according to an analysis from the National Investment Center for Seniors Housing & Care.
"At ZOM Living, we recognize the demand for senior living communities as our population over the age of 65 is set to grow by more than 10,000 people per day through 2035, moving over 50 million into that age bracket. This is fueling pent-up demand for rental units catering to seniors seeking an active lifestyle in walkable neighborhoods close to shopping, dining, entertainment and cultural offerings," said Greg West, CEO of ZOM Living.
"We are excited to partner with Watermark, an innovative and best-in-class operator, for the development of these two urban senior communities," said Brett Gelsomino, Vice President of ZOM Senior Living. "We look forward to setting a new standard for senior living, beginning here in South Florida, and expanding to other markets across the country."
Watermark Retirement Communities is a leading national senior housing operator with over 30 years of experience. Watermark manages 63 communities across 21 states including four developments nearing completion. Watermark's portfolio includes locations in Napa Valley, Westwood, Beverly Hills, Corona del Mar, Oakland, Carmel and Dana Point in California; Brooklyn Heights in New York City; Fairfield County, Connecticut; Houston, Austin, Dallas and Frisco in Texas; Bellevue, Washington; and Tucson and Scottsdale in Arizona.  Coral Gables and West Palm Beach represent Watermark's 5th and 6th community in Florida with additional projects planned in the near future.
"At Watermark Retirement Communities, we understand the need for senior living that embraces a spirited lifestyle of renewal and engagement with luxurious surroundings in premium locations.  Our new Florida communities in partnership with ZOM Senior Living will provide exceptional environments for our programs focused on transformative aging," said David Barnes, CEO of Watermark Retirement Communities.
"We are honored to have the opportunity to partner with ZOM on these two unique projects located in their backyard of South Florida.  We believe we will be delivering an exciting product offering that is currently lacking in these underserved and growing markets," said Bryan Schachter, Chief Investment Officer for Watermark Retirement Communities.
The Watermark at Merrick Park, will comprise 196 units including independent living, assisted living, memory care, and 50,000 square feet of amenities. The site is bound by LeJeune Road to the west and Ponce de León Boulevard to the east, and immediately adjacent to the Shops at Merrick Park. Located half a block south of Clematis Street and across the street from the Brightline Train Station in the heart of downtown, The Watermark at West Palm Beach is a 154-unit senior living rental community, also providing independent living, assisted living and memory care and 30,000 square feet of amenities.
Both communities will feature a rooftop pool and sky lounge, wellness center, spa and salon, art gallery, multiple dining venues including a gourmet restaurant and casual bistro, sports bar, library, and business center. They will also offer garage parking with valet service, as well as complimentary transportation services in luxury motor cars and concierge services.
Construction financing for the West Palm Beach development is being provided by M&T Bank, while the project in Coral Gables is being financed by PNC Bank. The projects are designed by MSA Architects and Lemay-Escobar Design. Construction for West Palm Beach is by Verdex Construction, while Coral Gables will be constructed by Kast Construction.
For more details on the Coral Gables and West Palm Beach developments, please visit www.ZOMLiving.com.