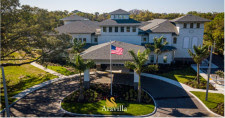 Communities
Phase One of Assisted Living for Memory Care Community, Aravilla Clearwater, Achieves Certificate of Occupancy
March 16, 2021
CLEARWATER, Fla.,  – The construction of Aravilla Clearwater—a partnership between Autumn Senior Living, Cleveland Construction and Small Brothers, LLC—has received a Certificate of Occupancy for the Assisted Living for Memory Care Community that 90 residents at stabilization will call home this spring. Aravilla Clearwater will specialize in helping residents with Alzheimer's and other dementias.
The team wrapped up the 65,000-square-foot community on Jan. 29, 2021, marking the end of a successful 18-month construction schedule. With this milestone reached, Aravilla Clearwater will move into its new community and begin preparations to create an active home for Tampa Bay residents by April 2021.
"These are exciting times for the community as we can now provide our more than 75 years of experience helping residents get the best care, especially those suffering from advanced memory loss," said Dawn Grady, Executive Director of Aravilla Clearwater.  "We have worked diligently toward this day – a true milestone – as we focus on bringing the most experienced and caring team helping memory care residents live their lives more fully."
Locally owned and operated, the ultramodern assisted living and memory care community will ultimately encompass 170,000 square feet of tranquil indoor and outdoor living space and residential features. Located at 3055 Union Street in Clearwater, the first phase of the project called for constructing a two-story, 65,000-square-foot secure assisted living community for memory care with 84 units and 95 beds.  The second phase of the project will begin with constructing a three-story, 105,000-square-foot ALF community with a connection to the memory care community. Once phase two is up and running, the community will bring 120 permanent jobs to the area.
Aravilla Clearwater will offer memory care residents a safe, warm, welcoming and compassionate environment in a beautiful setting. The new community will include Mediterranean diet-inspired food prepared fresh by an on-site Chef and, once fully completed, it will include various amenities like entertainment and dining areas, indoor and outdoor gathering places, a resort-style aqua-therapy pool, an outdoor garden, and water features throughout.
Aravilla Clearwater maintains evidence-based practices, like the "Yellow Brick Road," to make residents feel as comfortable as possible. The Yellow Brick Road is a clearly defined path with numerous points of interest and waypoints to guide the residents through the building comfortably while minimizing their risk of becoming confused or upset. Built to provide tranquility and comfort for every resident, the community provides residential units with home-style front porches and promises to feature beautiful, high-end features inside and out.