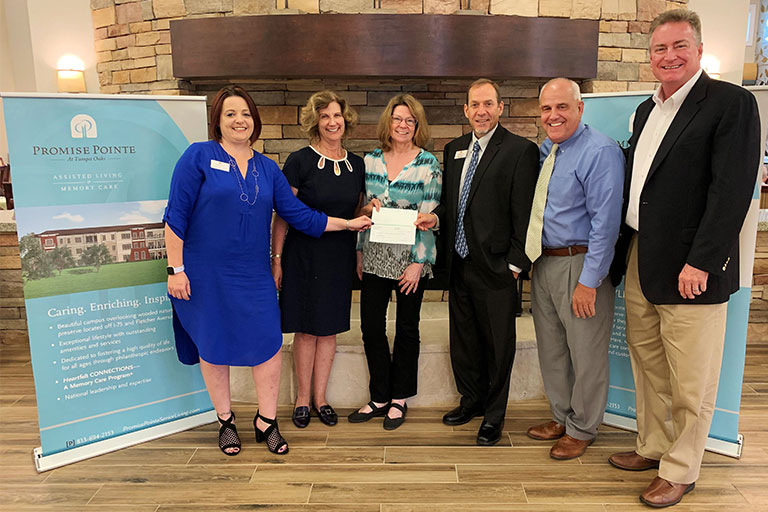 By joe | July 19, 2019
As senior living organizations continue the struggle to find adequate staffing, some are embarking on more formalized partnerships with universities and internship programs to nurture and develop the next generation of senior care practitioners while introducing them to their own cultures.
The University of Southern Florida (USF) School of Aging Studies is working closely with Promise Pointe at Tampa Oaks (PPTO), an assisted living community managed by Affinity Living Group (ALG), in developing research across a range of subjects including music therapy, palliative care, and sleep studies.
Although pioneering research is being done, the core of the PPTO/USF partnership is based on offering real world senior care experience for students. ALG is looking for opportunities for students to have training sites in various roles such as physician assistant, nursing and therapy.
"The biggest threat to the senior care industry is recruiting and retaining the right people to care for our most vulnerable population. We are putting our words into practice through this unique university/ assisted living partnership with hopes to develop this model in other ALG communities throughout the southeast," Dr. Kevin O'Neil, ALG's Chief Medical Officer and leader of the PPTO/USF partnership, told Senior Living News.
An expert in the area of geriatric medicine and health, O'Neil joined ALG in 2018. With his responsibilities encompassing the areas of resident health and welfare, staff training and public education, he has visited many of the Hickory, NC-based ALG's 120 assisted living and memory care communities in six states to offer training to staff and families.
O'Neil also holds a teaching position with the USF School of Aging Studies and was able to help bring to fruition PPTO President Kirk Eicholtz's four-year-old vision of a public/private partnership.
"USF liked the idea at the right time, and with the assistance of Dr. O'Neil and top management at Affinity Living, we've committed to this partnership. USF selected our group out of hundreds," said Eicholtz, who is also founder and president of Christian Tyler Properties, which developed PPTO.
"They chose us, and students in the USF Health Colleges of Medicine, Nursing, and Pharmacy; the School of Physical Therapy and Rehabilitation Sciences; and the School of Aging Studies will be able to get actual senior living experience at Promise Pointe because of written agreements with USF," Eicholtz said.
When physician assistant students have come into PPTO to learn how to take a patient history, there has been no problem getting residents to volunteer because they're excited to be engaged and part of something so innovative.
"In our society, there's a lot of ageist thinking about older adults, especially those with significant cognitive impairments. Students are seeing tremendous wisdom and great life experiences, and it's great for them to witness that," said O'Neil. "Because we have a dementia unit, they're learning how to communicate effectively with those residents. We're focusing on caregiver education, stress among caregivers and working with families."
There's a definite skill-set required in dementia care, and caregivers and family members may not know how to communicate—especially when there are repeated questions that frustrate them, O'Neil explained. The USF Health Byrd Alzheimer's Center and Research Institute is working on a caregiver education program to be used before their loved ones move into a community, so they have reasonable expectations—especially regarding person-centered care.
PPTO Executive Director Steve Strumpf provided some executive leadership mentoring with the gerontology students and staff nurses have been mentors to student clinicians.
"It has been a positive experience for all of us—positive for USF students but also those wearing our Affinity Living hats. It's a wonderful opportunity to engage with students. It makes the environment more vibrant, and the residents enjoy the students," said O'Neil. "The hope is to attract and engage students early on so they can make more specific career decisions about long-term care and assisted living. And our ulterior motive is to attract more students into careers with us."
Eicholtz agreed, saying, "We have an intellectual deficit—six million jobs in the U.S.—it's very tough to find that intellectual capital and even more difficult to get them into a career they don't understand. We're not only trying to get them to understand the career opportunities senior living offers but absolutely selfishly hope they want to stay in our group."
Meanwhile, Seattle-headquartered Leisure Care kicked off a paid internship program for college students and recent graduates this spring. The Discover Program is a dynamic internship for service-minded, resilient problem solvers created to help individuals reach their career goals, according to the company.
The internships are thoughtfully designed to allow students to be immersed in different departments throughout Leisure Care's 52 communities, while also participating in big-picture operations. The goal is to foster endless career opportunities in a rapidly growing industry.
Interns will also experience first-hand Leisure Care's commitment to the "Three-Thirds Lifestyle," which emphasizes family, philanthropy, and work, in that order. Immersing interns in Leisure Care's culture shows them the importance of making a positive impact on seniors, their families, and other co-workers.
"Leisure Care is developing the next generation of leaders in hospitality and senior living," said Erin Mahin, creator of the Discover Internship Program. "Through Discover, our team members will work with the students to shape the program to fit their interests, all while giving them tools to be fulfilled, motivated and empowered to do great things in their careers."
Mahin, who was an intern herself before the company formalized a program, talked to Senior Living News about the significance of Leisure Care's culture.
"Especially with millennials, and I am one, that work/life balance is so important, and what Leisure Care is practicing—it's not something new, but it's always family #1, philanthropy #2, work #3. If the first two fall in place, the third will, as well," she said. "That's always been our culture. I think it's great that the millennials focus on that.
"We want our employees to spend time with their families and travel. We want them to fall in love with Leisure Care and not want to leave. With Discover, we promote 'What is your dream job? What do you really want to do?' Our executive team is open to that—what can we do with this company that we fell in love with, so that we don't lose who we are with all the growth? If we can find employees from the beginning that fit with the culture of the company, then let's do it," Mahin concluded.