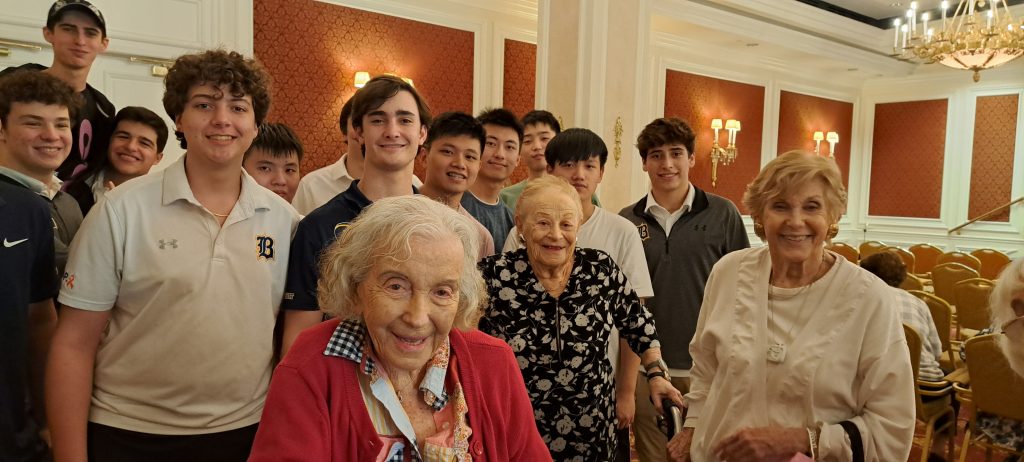 A Senior Living Community Celebrates Chinese New Year With Local Students
Last weekend, The Palace at Coral Gables, a community in Coral Gables, FL, held a Chinese New Year celebration for its residents.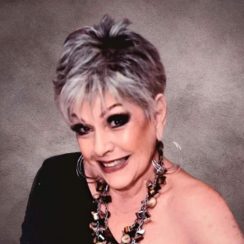 "We celebrate Chinese New Year every year. We love celebrations!" said Pamela Parker, The Palace at Coral Gables' director of entertainment. "[In fact,] we celebrate all holidays—and many have a cultural component."
As such, they've celebrated Valentine's Day, St. Patrick's Day, Ash Wednesday, Israeli Independence Day, Cinco de Mayo and more.
"Our residents are always eager to learn about other cultures and share their own experiences about travels to other countries [that] they've enjoyed," Parker said. "We're a very inclusive community and we enjoy bringing these types of programming to our residents, who are articulate, knowledgeable and love engaging with others."
The Palace at Coral Gables especially loves bringing students into the community to interact with the residents.
"We invite school groups into our community any opportunity we have… Our residents love it when young people visit, so we take every opportunity to involve them in events and activities," Parker said. "It's events such as this one that keep our residents vibrant. The energy young people bring into our community…is exhilarating and refreshing."
So for the Chinese New Year celebration, the community invited students from the nearby Belen Jesuit Preparatory School (it's located in Miami, FL) and exchange students from Taiwan to come in and perform for the residents.
"Our Chinese New Year celebration is actually reserved for the Belen Jesuit Preparatory School yearly, as they do such an outstanding job," Parker said. "Of course, different kids attend and perform yearly."
However, this is the first year that they had exchange students attend and participate in the celebration. "Having the exchange students was a bonus this year," Parker said. "My understanding is they are attending school at Belen for a few months and living with local Belen families."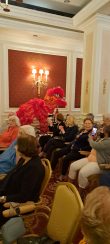 As Parker noted earlier, all of the students put on performances for the residents.
"The presentation opened with the lion dance," Parker said. "The cell [phone] cameras came out for this exciting dance!"
It definitely seemed like this performance was the crowd's favorite. "I love the costume, and the idea that two people inside the costume move with such precision and synchronicity. It's so joyful to watch and it always makes me smile," Parker said. "And from the audience's reaction, I think they feel the same."
In fact, The Palace at Coral Gables actually owns a lion dance costume that Parker bought from China a few years ago for a different cultural event. And while the community usually lends the costume to the Belen students to use for the performance, they actually brought their own this year.
After the lion dance, the exchange students performed a skit that's based on a traditional Taiwanese folk tale. The students also put on a couple musical performances for the residents, including singing a traditional holiday song and performing Chinese New Year music using a standard American drum set.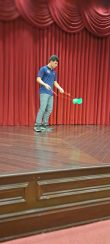 Additionally, two Belen students put on a Chinese yo-yo performance. "It was really something to see," Parker said. "Unlike the traditional yo-yo [that] our residents are familiar with, this yo-yo is not actually attached to the string. So it can be thrown into the air and caught, performing some very interesting maneuvers and tricks."
After that, Belen's foreign language teacher taught the residents some basics about the holiday through a few educational presentations and short informational videos.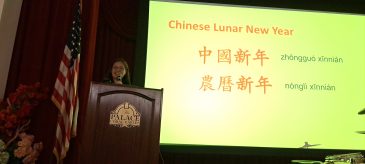 "[She] discussed the traditional way Asian countries celebrate the Lunar New Year, and the zodiac…and their meanings," Parker said. "After the presentations, residents participated in Chinese New Year trivia, and traditional pineapple candies were distributed to those with the correct answers."
In addition to the performances and presentations, the celebration also included a dinner that the community's culinary team put together. "We offered a typical Chinese menu for the event: wonton soup, egg rolls, sweet and sour chicken, teriyaki beef, an Asian-inspired fish course,…lo mein and fried rice—with kumquat, pineapple cake and ice cream for dessert," Parker explained.
The community also held a dessert reception meet-and-greet after the performances, where the residents and students were able to interact and mingle. During that, the students gave the residents homemade, hand-cut intricate paper rabbits—this year is the Year of the Rabbit—and origami fish.
In fact, the meet-and-greet was probably the residents' favorite part. "Our residents loved receiving the beautiful handmade gifts," Parker noted. "Some even have them hanging on their apartment doors!"
And she agreed with them.
"As wonderful as the performances and educational component of the afternoon were, the meet-and-greet afterwards was my favorite part," Parker said. "The students were so warm and personable. It's always a wonderful feeling to see kids comfortable interacting with our residents and vice versa. Everyone was engaged and happy—and even after the students left, [the residents] still talked about the afternoon over dinner that evening!"
Credit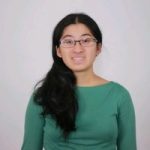 Caroline Chan
Editor
Caroline Chan is the Editor of Senior Living News, an online trade publication featuring curated news and exclusive feature stories on healthcare industry changes, trends, thought leaders and innovations. In this position, she is responsible for creating editorial content, writing regular feature articles and publishing news to SeniorLivingNews.com and distributing its e-newsletter. She is also involved in putting together the educational programs and moderating panels for the company's HEALTHTAC events. She graduated from Marist College with a Bachelor of Arts in Communications with a focus in Journalism.