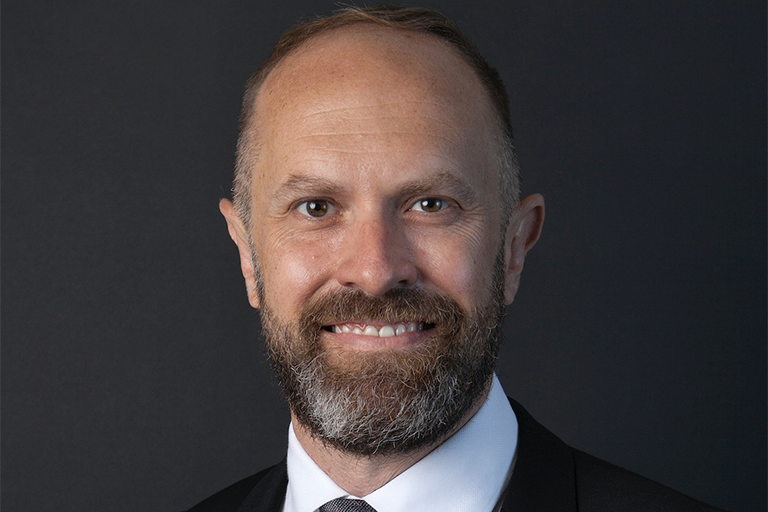 Personnel
Aaron Feinstein Joins The Watermark at Brooklyn Heights Luxury Senior Community as Director of People, Arts & Culture Team
June 18, 2020
Brooklyn, NY –Aaron Feinstein, an acclaimed film and theater director, and arts educator, has joined The Watermark at Brooklyn Heights, a 275-unit luxury seniors housing residence at 21 Clark Street, opening in summer 2020, as Director of the People, Arts & Culture Team.
The $330 million Watermark at Brooklyn Heights is one of five properties managed by Watermark Retirement Communities in their Élan Collection. This lifestyle brand of premier properties offers personal service with grand scale amenities. An extensive renovation and redevelopment of the historic Clark Street property into Brooklyn's first luxury senior living community is currently nearing completion.
"Watermark is a leader in the development of transformative senior living residences offering an extraordinary lifestyle by supporting not only physical and intellectual health but also emotional and spiritual well-being. The Watermark at Brooklyn Heights will provide seniors in the New York City market with access to world-class arts and culture through programs specifically curated to meet their interests. We are delighted to welcome Aaron Feinstein to manage the People, Arts & Culture Team at our newest property," said The Watermark at Brooklyn Height's Executive Director Rocco Bertini.
"My passion is the development of programs specifically tailored to provide all audiences, regardless of their abilities, with access to arts and culture, and I look forward to creating stimulating content for the members of The Watermark at Brooklyn Heights," added Feinstein.  "Our in-house programming combined with the world-class cultural options available in the New York City area will create extraordinary experiences for our members."
Feinstein will lead the People, Arts & Culture Team in providing warm, welcoming, and enriching experiences for the members of The Watermark at Brooklyn Heights. The People, Arts, & Culture program will provide exceptional, "top-notch" inclusive programming that will build the community and support the engagement of all of our members," Feinstein says. The Team will curate exceptional content from the many talented thought-leaders, performers, and influencers in and around New York City, and will connect to the international knowledge, events, programs, and flavors that make NYC center-stage of the world. Exceptional on-site live music events and theatrical performances open to members and their families will be supplemented by intimate arts and music classes adapted to meet the needs of every resident. A full schedule of stimulating outings will include visits to museums, Broadway and local theater performances, cultural events, and natural settings throughout the New York City area.
Aaron Feinstein's Background
Residing in Brooklyn, NY, Feinstein is the founder and president of Actionplay, a non-profit organization dedicated to providing equal access for children, teens, and adults with autism and related conditions and disabilities to experience arts, education, and culture. As Director, he developed and supervised all staff for the inclusive AIMS (Actionplay Improvisational Musical Sundays) Program, developed the (ACT) training series curriculum, and supervised all administrative staff, therapists, and volunteers. The Actionplay Chorus from the AIMS program was featured on the HBO and Comedy Central Broadcast of Night of Too Many Stars. Feinstein co-directed the widely celebrated pilot program The Miracle Project with Elaine Hall, which has been featured at the 92nd Street Y, Rebecca School, Celebrate the Children, and the Educational Alliance. The Miracle Project was the subject of the 2006 HBO 2-Time Emmy Award-Winning Documentary "Autism: The Musical".
Feinstein was most recently Co-Artistic Director of the All-in-All theater Company at the New York City Department of Education, where he created vision and curriculum, led teaching artists and associates, and managed accessibility-related issues for the development the first all-inclusive theater company open to NYC public school students. He advised on the creation of The Brooklyn Children's Museum Sensory Room for children with disabilities and was a keynote speaker at the 2019 Arts in Special Education conference in Irvine, CA.
Feinstein has also produced over two hundred live acts as Segment Producer for Wonderama, the children's live-to-tape studio television show. He was previously a teacher at the Rebecca School in New York, NY, and a Developmental Interventionist for SmartStart Developmental Learning Center in Santa Monica, CA, providing arts-related serviced and therapies to individuals on the autism spectrum. Feinstein has presented nationally at the United Nations, NYU Forum on Educational Theater, Wonderplay, Arts in Education Roundtable, The Voice Foundation, Museum Access Consortium, and ICDL, among many others – and is the published author of several books, articles and journals focused on changing the stigmas surrounding disability. Feinstein received a BA in Theater and an MFA in Theater Directing, both from UCLA Los Angeles.
Cultural and Educational Programming at The Watermark at Brooklyn Heights
The Watermark Talks and Events program will feature experiences that will also engage audiences from around the world as members can watch via live stream or via the Watermark Brooklyn Heights Social Media Channel, with beautifully captured video and audio that all can access. Sophisticated TEDx Talk-esque lectures, Experiential Learning, and Community based learning experiences through Watermark University classes will provide members with meaningful opportunities to learn, grow, and achieve wellness. And a full roster of lively recreational activities, including VR experiences, classic games, and videogame experiences that teach new skills, will create a playful environment with inclusive social opportunities for everyone. Most important, the content of the Arts & Culture program will be crowdsourced through digital or analog questionnaires to ensure that the preferences of the members are always heard and that there is continuous engagement between Watermark members and the People, Arts & Culture Team.
Feinstein has already developed a varied roster of virtual events to appeal to a wide range of interests. The first offering, "Cocktails and Conversation", has inaugurated the program with a tour of the historic Watermark at Brooklyn Heights building led by Executive Director Rocco Bertini and moderated by Feinstein. Participants had the opportunity to ask questions as they were led on a virtual tour through the breathtaking property. The virtual introduction to the property continued recently with a wine appreciation demonstration by Director of Dining Services Vince Stewart and Master Sommelier Fred Dexheimer, and home Israeli cooking with Executive Chef Kfir Kertes. Additional upcoming offerings include a lighthearted look at the evolution of our species with noted primatologist Natalia Reagan; a history of Fleet Week and other past naval displays in New York Harbor with local historians Cindy & Andrew of Turnstile Tours; and group discussions offering support and guidance to face the challenges of social distancing.
About Watermark at Brooklyn Heights
The Watermark at Brooklyn Heights is owned by a partnership of the majority owner Kayne Anderson, which has invested $130 million into the project; the operator, co-developer, and minority owner Watermark Retirement Communities/The Freshwater Group; and the development partner, minority owner, and construction owner's representative Tishman Speyer.
Located in the heart of the fashionable Brooklyn Heights Historic District, the 350,000-square foot property was originally constructed in 1928 as the Leverich Towers Hotel, which served as a haven for many celebrities and cultural icons, including the Brooklyn Dodgers. In 1975, Watchtower purchased The Towers as housing for their local Jehovah's Witness volunteer force, and restored the intricate architectural features that defined the building's place in the Brooklyn Heights Historical District. The current renovation preserves much of the building's original structure and history while adding a stylish interior. At 16 stories, with a breathtaking rooftop terrace, garden, and Skyline club room, The Watermark at Brooklyn Heights will offer sweeping views of New York Harbor, the Manhattan skyline, the Brooklyn Bridge, and the Statue of Liberty.
The building's 275 apartments include 145 for independent living, 88 for assisted living, and 42 for memory care. The residences are offered in 78 different floor plans, uniquely configured, and harmoniously designed to embrace the building's rich heritage. Ranging from studios to one- and two-bedrooms, the apartments at The Watermark will cater to each member's tastes, space requirements, and preferences. Apartments are all thoughtfully crafted with an open floor arrangement and feature designer kitchens or kitchenettes and modern bathrooms with walk-in showers. Expansive, vintage mahogany-trimmed windows allow for abundant natural light and spectacular views. The mahogany windows and their surroundings were protected during construction and integrated into the new design. The details throughout the project recall the building's days as a sophisticated venue frequented by celebrities of the time.
On the first level, the light-filled grand lobby leads to welcoming spaces including a café, wood-paneled library, wine bar, salon, and contemporary art gallery. The Dining and Entertainment level includes an upscale, full-service restaurant; a European-style restaurant with an exhibition kitchen; a movie theater; and a live performing arts center. An indoor heated swimming pool, fitness center, movement room, and wellness center are available on the Fitness and Wellness level. On the 16th floor, a rooftop clubroom with terraces offers comfortable seating and breathtaking views of Manhattan.