Brookdale Reports September 2021 Occupancy
Brookdale Senior Living Inc. (NYSE: BKD) reported today its consolidated occupancy for September 2021.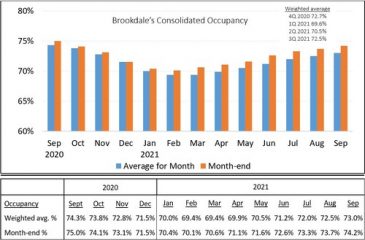 Seven consecutive months of occupancy growth.
Strong month-end move-ins progress helped the Company to close the month with a 50 basis point increase on a sequential weighted average occupancy percentage basis.
Improved quarterly weighted average occupancy growth. Compared to the prior quarter, the third quarter increased 200 basis points, more than double the second quarter increase of 90 basis points.
We expect to continue to publish monthly occupancy reports until we return to providing financial guidance, at which point we would expect to return to our historical reporting practices.