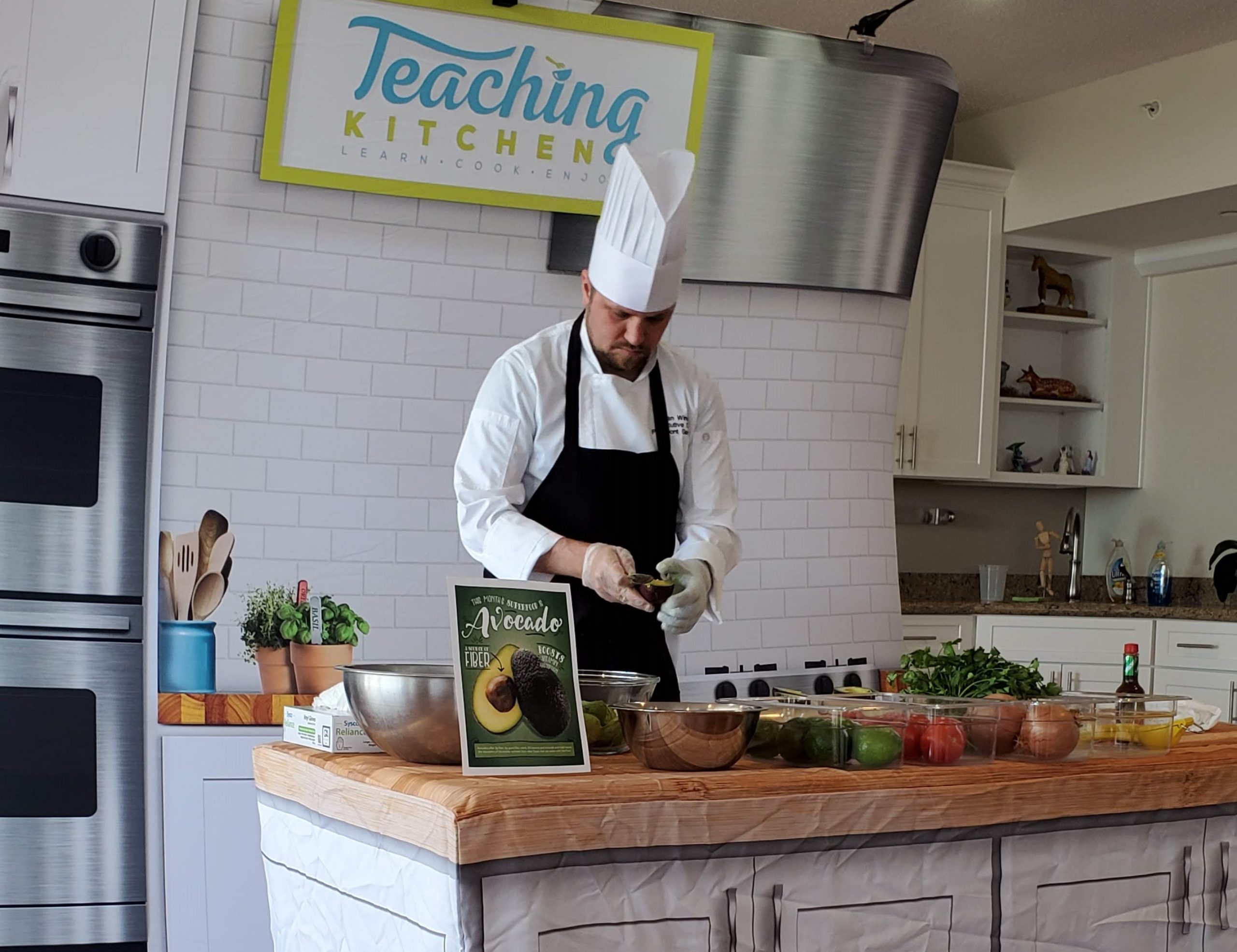 By Cheryl Slavinsky | May 11, 2020
The coronavirus has pushed senior living organizations and communities to the limit in ways never imagined. Just one scenario that wasn't in the protocol books was how to deal with dining during a pandemic.
"This situation is different than everything else we've done—it's not an earthquake, fire or tornado. Even recruiting right now seems like a project from another planet, you can't bring people in. We have to continue to modify the protocols we had before and create new protocols as we go," said James Hoevertsz, director of culinary excellence at Johnston, Iowa-based WesleyLife.
"We have to be as cautious and proactive as possible. For us it doesn't stop … feeding the residents, keeping staff safe, trying to deal with family members who, for the moment, have lost control. They just want to see their loved ones. It's a panic mode, a situation that many families have never had to deal with, and they don't know how to react," Hoevertsz said.
But leadership can't panic, he advises. The first step is to stay focused, composed, calm and be objective with what you want to accomplish. It's not "one size fits all" for senior dining. Most residents are being served their meals in their apartments. Some need assistance while they eat.
"You have to spend time, not just reacting but constantly thinking, planning, even for the next scenario … procurement, production, distribution … keeping everyone safe … social distancing. Besides feeding people, we have a big responsibility with day-to-day life for residents' psychological state of mind and social interaction," Hoevertsz said, emphasizing always asking questions … "What's the best we can do? How do we use technology to do things differently, to increase efficiencies? What else can we do for the staff?"
Making essential supplies readily available to staff for their own homes was one decision WesleyLife management made early on. That came about after Hoevertsz himself was in the stores at 11 p.m. one night after work trying to get supplies—realizing if he was doing that, so were staff members who also had to take care of their own families.
In addition to its 11 communities and other health and well-being services in 15 Iowa counties including Adult Day programs and an array of home and community-based services, every day WesleyLife Meals on Wheels delivers meals to 1,000 adults in the Des Moines Metro.
With the advent of COVID-19, demand increased due to older adults and military veterans of all ages sheltering in place, as many volunteers who typically drive 29 routes and retired people who help with those services were themselves sheltering in place. On one single day shared in a Facebook post, WesleyLife team members and volunteers assembled meal kits, packing them in boxes to supplement Meals on Wheels deliveries—all in all moving 5304 pounds of food, over 4,000 meals.
Culinary creativity
At communities across the country, culinary staffs are working hard to engage residents in creative ways to boost moods during these uncertain, challenging times.
At Windsor, CA-based Oakmont Senior Living, many community chefs are doing cooking demonstrations—sharing recipes with residents and doing demos on the community Facebook pages via Facebook Live.
"Our chefs have hosted several theme courtyard dining events like the Backyard BBQ. They also held Cinco de Mayo celebrations and pizza day," said Chef Rina Younan, vice president of culinary services at Oakmont Management Group. "It's been exciting to see the videos and photos and the smiles on the faces of our residents and team members."
"We're being creative, coming up with ways to create social interaction while also social distancing," Younan said.
Chef Josh at Oakmont of Redding created a door-to-door ice cream "truck" featuring his famous Homemade Spring Berry Ice cream. He shared his Ice Cream recipe and included a fun Ice Cream making technique that anyone can do even without an ice cream machine. Check out his Dry Ice-olation Spring Berry Ice Cream and try it at home.
Chef Jorge and Chef Mercedes at Oakmont of Escondido Hills created a door-to-door freshly cooked seafood pasta station on wheels.
Oakmont of Capriana's front of the house team led by manager Daisy celebrated Earth day with 'Global Cocktails'  and specially designed cups.
Chef Vince at Oakmont of the Lakes and Chef Jan at Oakmont of Orange got their 15 minutes of fame by starring in their own mini cooking shows with their videos shared on social media.
Chef Tim at Oakmont of San Jose loaded the team member break room with all sorts of snacks and goodies to express gratitude and keep everyone energized. All of the chefs were busy preparing an amazing Mother's Day dinner featuring Chef Carved Rotisserie Chicken & Oven Roasted Lobster Tails to celebrate everyone's wonderful moms.
At Waltonwood Lake Boone in Raleigh, NC, the community's associates dressed up as flight attendants and stocked a beverage cart high to bring cold beverages and a bit of delight to residents in their apartments with flight paths in each hallway. They safely offered refreshments in disposable containers and cups while wearing face masks and gloves during this fun and creative happy hour.
Jonathan Pinsker, regional director, culinary and nutrition services, South East Region, Acts Retirement-Life Communities, frequently shares ways his region's communities are brightening residents' moods with fun culinary creations.
At St. Andrews Estates, an Acts Retirement-Life Community located in Boca Raton, FL, the culinary staff surprised residents on Earth Day with chocolate brownie "flowerpots."
It was truly a team effort for staff to bake and hand-decorate more than 300 terra cotta pots that held the chocolate brownie with icing, Oreo dust and an edible flower.
Other recent surprises included a green juice station complete with signage about the health benefits of green juice on the digestive system and benefits for the immune system. Residents picking up to-go dinners could grab a cup of juice. On another evening, a milk and cookies station was set up.
At Edgewater at Boca Pointe, an Acts Retirement-Life Community located in West Palm Beach, FL, Executive Chef Steven McCracken developed a Gourmet Dinner Raffle. Residents dropped off menus at a designated area. After menus were compiled, the buildings that were able to submit all meal tickets were declared winners. A drawing was done for the winning building, and 20 apartments were drawn as winners—with residents in those apartments served a four-course dinner prepared by Chef Steven. Each course was delivered one at a time, so residents were able to experience dining as close as possible to eating in one of the community's venues.
Gourmet raffle dinner menus included Shrimp Bisque with a Lemon Cre'me Fraiche, Beef Carpaccio with Yuzu Soy Vinaigrette Dressing topped with Pickled Onions, choice of Seared Duck Breast with a Raspberry Citrus Marmalade or Crab Stuffed Salmon with Blood Orange Hollandaise. All entrees were served with Wild Rice and Quinoa Pilaf and Fresh Roasted Vegetables, and for dessert, Apple Tarte Tatin with a scoop of ice cream.
At HumanGood, Cinco de Mayo has always been a cause for celebration. With the challenges surrounding COVID-19, this year was more important than ever to break the routine and have some fun.
Piedmont Gardens in Oakland, CA, delivered guacamole ingredient kits to residents, and Chef Ethan Winsby streamed a cooking video for residents to follow along. Click here to watch the video.
Las Ventanas in Summerlin, NV, passed out Margaritas and chips with salsa and guacamole to the residents, and the dining team made a delicious Mexican-inspired dinner.
At the brand-new Rydal Waters cottage community in Jenkintown, PA, Laura Berry, resident services manager, delighted residents with a mobile mimosa and brunch bar.
While ensuring resident safety is job number one, being innovative in ways to continue to deliver the highest level of customer service to support engagement and connectivity is well appreciated by the many residents who call Rydal Park and now Rydal Waters home.