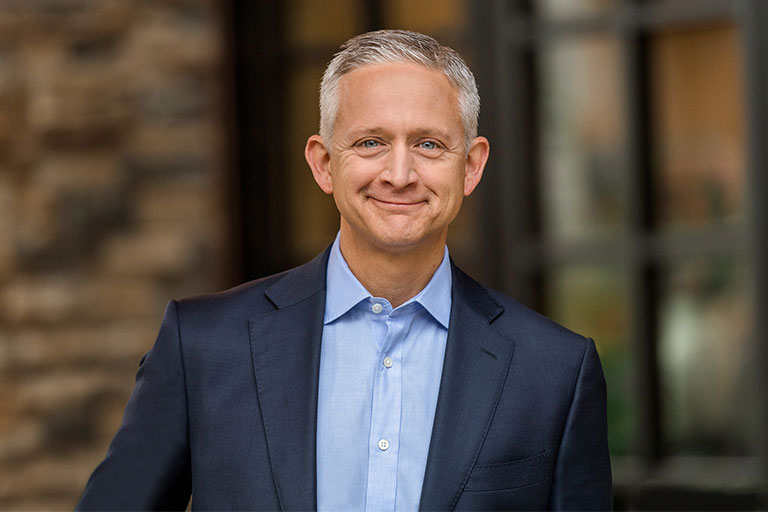 By joe | February 14, 2020
Historically, the senior living industry hasn't done a good job of telling its own story, but that may soon change if Kris Engskov, president of Bellevue, WA-based Aegis Living, has anything to say about it.
Engskov was new to the senior living industry in January 2019 when he left global coffee giant Starbucks after 16 years and succeeded retiring president Judy Meleiat as Aegis Living president.
It wasn't particularly unusual for Aegis Living to hire outside the industry as the company already had a reputation for hiring seasoned hoteliers and high performers from other industries—some looking for more meaningful work or seeing senior living as a more recession-buffered economy.
Engskov, in fact, sees the greatest career opportunity yet for many people in senior living—which wasn't even on his radar when an Aegis board member urged him to meet Aegis founder and CEO Dwayne Clark.
Engskov had successfully led a number of Starbuck's businesses in a variety of roles, including president of the company's flagship U.S. Retail business leading 170,000 employees across 8,300 stores, and president of the Europe, Middle East, and Africa (EMEA) division where he spent five years building the Starbucks brand across 30-plus countries. Most recently before joining Aegis, Engskov served as executive vice president of Business Integration.
Prior to Starbucks, Engskov had served as assistant White House press secretary and then personal aide to President Bill Clinton, "which seemed like a good opportunity at the time," he said, before working as an analyst at Madrona Venture Group. He offers some comparisons between Starbucks and Aegis in a "getting in on the ground floor" innovation kind of way.
"Coming from a large retail business, there are more similarities than differences. It's about service and taking care of people. Starbucks is kind of a mission-driven place. While it pales in comparison to what we have the opportunity to do here at Aegis—taking care of residents—you're seeing just a glimpse, scratching the surface of what's possible in how we take care of people's lives," Engskov told Senior Living News.
Having impacted all parts of the Starbucks organization—from brand strategy and marketing, to real estate development, technology implementation, customer experiences and operational excellence—Engskov brings particularly valued operational expertise to Aegis, especially as the company was moving forward with a vision of smart growth.
"What excites me is the 22-year history Aegis has of using the mission as its primary recruiting tool," Engskov said. "I get to come in and really use that platform—all those years of hiring, developing and nurturing people who are working for pay and benefits, of course, but really believing in what they do. That's a big part of the mission. That has afforded us an opportunity to grow but also do things not imagined yet—take care of people in an entirely different way.
"I'm most excited about the culture at Aegis and the opportunity to take that culture and mold it and be ready for boomers coming into our market, who are clearly different than those we've taken care of in the past," he added.
Aegis currently has 32 communities along the West Coast and recently announced plans to double in size over the next 10 years. Over $500 million is being invested in eight new assisted living communities with memory care under development—six in Washington and one in California. While Washington state will continue to be a priority, much of the company's future growth is anticipated to take place in California, where its first community was built.
The predicted explosion of senior living to meet future healthcare needs, with innovative memory care an even greater focus, spells opportunity for Engskov as he talks about the industry as a career.
"This reminds me of the retail industry 20 years ago in terms of recruiting the right people," said Engskov. "Back then, one of the things that was attractive was that if you wanted to work hard, hustle and believed in what you were doing, you could get responsibility quite quickly. I look at senior living in the same way.
"There's a huge growth curve. You'd be hard pressed to find an opportunity that is like senior living today—mission driven, healthcare and housing—that is the nexus of a giant opportunity, particularly if you are interested in building a career," he emphasized.
Engskov said he looks at his nine-year-old daughter and knows she is going to work in healthcare, just because of what it will take to take care of older people.
"There will be a huge economic shift in the U.S. like has never happened before. Whether you want to or not, you better be getting ready for healthcare. That's where the opportunity is going to be. Things are really changing from a few years ago. I know from Starbucks that millennials are interested in work that matters—not that others weren't—but they have to have work that matters. To help them understand why this work matters and makes a difference every day is a huge opportunity for us," he commented.
Engskov looks at Aegis as a healthcare provider and wants the company to be seen more as that, rather than as a housing provider.
"We want to be at the healthcare table. We deserve to be there," Engskov concluded. "We want to be part of that long-term solution, because we can take care of people that are highly acute at a fraction of the cost of hospitals—but do it in a way that will create an experience for people at this point in their lives, and it will be far more lifestyle-oriented."