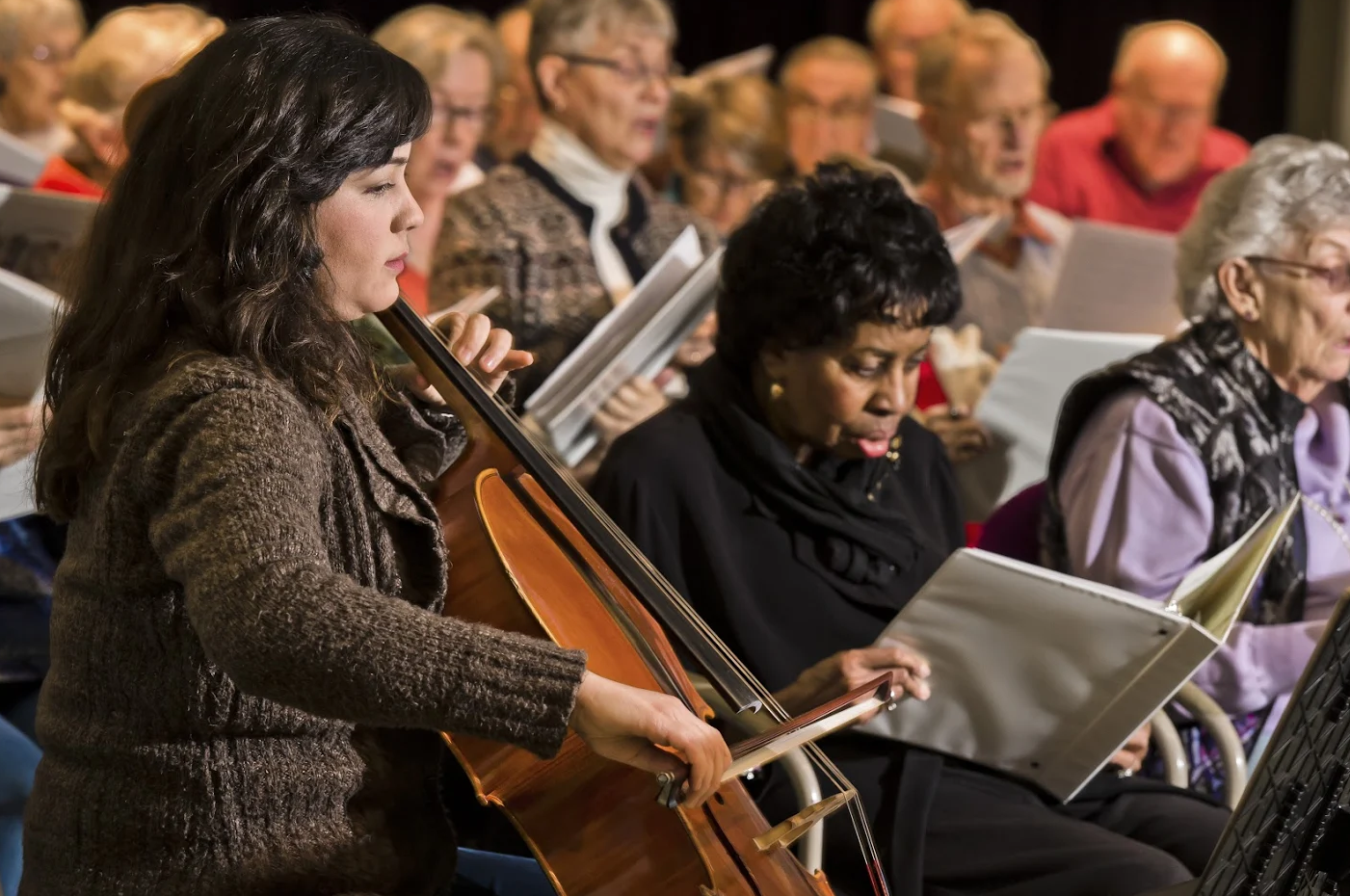 By Kerry | December 2, 2021
It's no secret that the need to quarantine during the Covid-19 pandemic left many residents of senior living communities feeling isolated and lonely. But improving vaccination rates are changing this. According to data from the Centers for Medicare and Medicaid Services for the week of Nov. 14, 2021, 86.4% of nursing home residents per facility nationally are now vaccinated while 74.3% of nursing home staff per facility nationally are vaccinated. A survey conducted by Argentum in July found resident vaccination rates continue to remain high at over 90% and staff vaccination rates continue to improve with more than seven out of 10 workers vaccinated. Covid-19 vaccination rates within senior living communities are higher than 99% of all U.S. counties. To put that in a more granular context, Unisen Senior Living told the Tampa Bay Times in October that 100% of its residents and staff are vaccinated.
Now armed with a measure of control over the virus, a more positive outlook and the need to mitigate resident isolation, more senior living communities are shifting focus back to engagement.
Still, it's a topic typically discussed through the distinct lenses of encouraging residents to return to dining rooms, wellness because there's so much data around the subject and of course, the technology that helps facilitate more resident engagement. These aspects are, of course, valuable considerations. But they shouldn't overshadow the residents themselves, many of whom are making direct contributions to their local communities.
In fact, Healthy People 2020, the federal government's prevention agenda for building a healthier nation, cited civic participation as a key issue of Social Determinants of Health. Produced by the Office of Disease Prevention and Health Promotion, part of the U.S. Department of Health and Human Services, the agenda points to a relationship between broadly defined civic participation, health and well-being. It states: "engaging in meaningful civic activities can also help individuals develop a sense of purpose ….and improve health by building social capital."
Supporting the Local Community
One example of just that are Pat Thurkill and Donna Cabana, two residents of the Valencia Terrace senior living community in Corona, Calif. Since April 2021, these two women began managing the resale rack in the community gift shop, which was renovated two years ago to become a boutique specializing in clothing, décor and other items. With the transformation came an increase in donations from residents, their loved ones and staff. Thurkill and Cabana sell each item on their resale rack at a flat rate of $3. This has spurred the sale of over 1000 items from the shop in just a few months, amounting to more than $4000 in donations for the Settlement House, a local charity that supports low-income families. A one-day sale on winter items generated $900, which all went to the non-profit organization.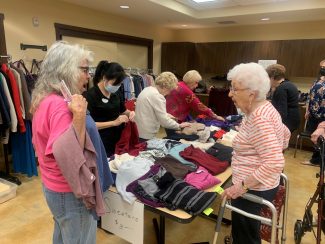 "It is amazing that in such a short period of time they have created a gem in our community and allowed us give so much to the Settlement House," said Dyan Summerell, Executive Director of Valencia Terrace.
The residents' greatest challenge is frequently running out of inventory as the shop is also open to the public. While Thurkill and Cabana can spend up to 30 hours a week managing donations and sales in the shop, other Valencia Terrace residents also volunteer to the run the shop each week.
Addressing Climate Change
Since 2015 an informal group of retired Silicon Valley professionals at BridgePoint at Los Altos, a Kisco Senior Living Community, have been analyzing opportunities to increase access to renewable energy.
Known as the BridgePoint Consortium, the group is actively working to solve the climate change crisis and recently published a report discussing the ability to halt global warming through the use of renewable energy sources, such as solar cells and wind, by 2040. This is in contrast to the "Net Zero 2050" goal of the November 2021 United Nations COP26 Climate Change Summit in Glasgow.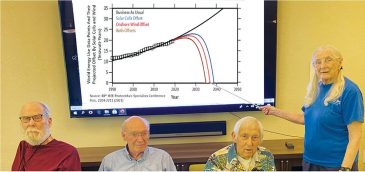 "At BridgePoint at Los Altos, we encourage our residents in all endeavors, particularly those that make an impact on the world around them," said Donna Daniel-Herr, interim executive director of BridgePoint at Los Altos. "The Consortium is going beyond our backyard and taking their efforts to change the world and making them global in scope. We couldn't be more honored to support these amazing individuals in their efforts, as they show all of us that there's no point in your lifetime where you can't make a difference."
Their most recent report, Halting Global Warming & Climate Change Before 2040, details how world energy use has doubled every 30 years since 1880 and how with sufficient rates of adoption, renewable energy could supply all the world's energy use before 2040 – a decade earlier than the Net Zero 2050 goal of the November 2021 United Nations COP26 Climate Change Summit in Glasgow.
The group recognizes that success depends on the development of acceptable energy alternatives that still work when the sun isn't shining or for when the wind doesn't blow. Their findings show that accelerated development of energy storage technologies and super grids have the potential to meet all these requirements.
Supporting Area Students
At Collington, a Kendal affliliate, in Mitchellville, Maryland, not all residents are older adults. The community is also home to two local music students who are young enough to be residents' grandchildren.
These two musicians are actually part of the community's Artist-in-Residence program or AIR, which, for the last five years, has provided room and board to two students of the University of Maryland School of Music as part of a formal intergenerational partnership between the community and the university. To date, 10 students have participated in the program, offering Collington residents private concerts as well as educational opportunities in exchange for their living arrangements. The program also calls for interaction between the students and residents, so that students are aware of residents' interests. So instead of simply delivering standard piano concerts and lessons in reading sheet music, the students' thrice-weekly programming includes unique and in-depth programming such as flute and trumpet pedagogy, focusing on the designs, history and techniques of the flute and trumpet as well as a Polka Terps Silent Movie Night, for which UMD Clarinet Professor Robert DiLutis and his film archivist wife assembled footage from the Library of Congress and curated an accompanying score that was performed live.
"Intergenerational socialization provides both health and social benefits such as providing a space for older adults to become digitally literate, helps prevents health issues like dementia and helps give older adults a sense of purpose," said Ann Gillespie, CEO of Collington, A Kendal Affiliate. "In exchange, younger generations gain role models who broaden their mindsets."