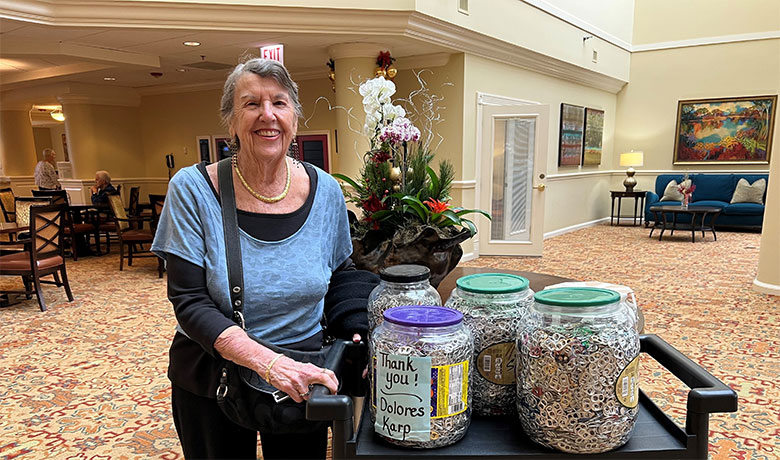 Senior Spotlight: Dolores Karp, The Moorings of Arlington Heights
Dolores Karp has been collecting aluminum can tabs for more than 40 years. She currently lives at The Moorings of Arlington Heights—a Presbyterian Homes community—in Arlington Heights, IL.
It somewhat began with her adding an in-ground swimming pool to her home. A lot of people started coming over to enjoy it, and while they were there, they'd often drink out of cans with pop tabs on them. Instead of discarding the pop tabs, Karp put out a container to collect them.
"My church was collecting them, so I brought them to the church," Karp said. "A woman who worked/volunteered at the church lived near Oak Brook, and she used to take them there."
Karp's church donated the pop tabs to the Ronald McDonald House—which helps families that need to travel to get medical care for their child—and McDonald's corporate headquarters used to be in Oak Brook, IL. (They've since moved to downtown Chicago.)
"She was taking them for a long, long time. And then she moved away and wasn't part of the church anymore, so she wasn't taking them," Karp explained. "That's when I had to take it upon myself to do it on my own and find places to drop them off."
Eventually, word spread about Karp collecting pop tabs. "People were ringing my doorbell and handing me plastic Ziploc bags full of pop tabs, saying 'I heard you collect these; I'm giving them to you,'" she said.
She also used to pull tabs off of cans that she saw on the street. "I would stop the car, get out of the car and pull off the tabs," Karp said. "At that time, I used to take the whole can. There's a place in Des Plaines, IL—not too far from where I lived—where you would take in your cans for money. So I would get money for the cans, and keep the tabs for McDonald's."
And when she got to The Moorings, she continued to collect pop tabs from her fellow residents.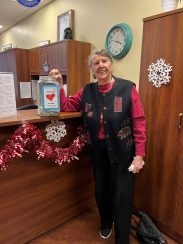 "I got here in November of 2016, and soon after that, I said [to the staff], 'Do you think you could do me a favor?' So the activity room here has a jar and people put them in," she said. "Not everybody does it, but a lot of people do."
And, like before, people will occasionally give her bags full of pop tabs. Karp shared that she was having dinner with one of her friends and her friend's cousin, and her friend gave her a Ziploc bag of beer can tabs from her brother.
Just last month, Karp made a significant donation to the Ronald McDonald House in Winfield, IL. Up until then, when a jar was full of pop tabs, she'd bring it up to her apartment.
"I had so many of them, I thought, 'The floor's going to break underneath because I have nine jars!' My daughter…looked into it and we decided to take it to the Ronald McDonald House," Karp explained. "So I went with a cart full of tabs over there because I knew they would want them."
When she got there, they weighed her donation. Karp had collected just over 49 pounds, which worked out to about 62,000 tabs! "They were so grateful," she said. These were all the tabs that she'd collected since she started living at The Moorings about six years ago.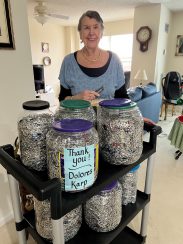 However, despite her recent sizable donation—and her ongoing dedication to collecting pop tabs for the Ronald McDonald House—Karp is so humble about it.
"It's not a big deal; I've been doing this for so long… And [especially] now, I have time—I'm 88 years old and I don't have a job," she said. "And it's such an easy thing to do—I'm not being humble about it. The people are doing it; I'm just collecting it."
She continued on. "I'm looking at the people who volunteer [at the Ronald McDonald House]… Everybody I spoke to in the Winfield, IL location was a volunteer," Karp said. "The Ronald McDonald House is wonderful."
Karp grew up in poverty, so that likely influenced her desire to give back—and her careful approach with money. When she was five and a half, her dad passed away of a heart attack on January 2, 1940, about a week after his 40th birthday.
"My mother at that time had…three children, $10, no job and didn't speak English," Karp said. "10 American dollars in 1940 was probably a half a week's wages—my father maybe made $25 a week."
Luckily, social security—which was founded in the mid-1930s—had its first payouts in January 1940. "So my mother was one of the first people in Chicago to collect social security."
Then, when Karp got married and moved out, her mother came to live with her—and she became senile. "She lived in my house; we had no money for care. She had no money, and I didn't have any kind of money like that," Karp said.
So, to this day, Karp is still very mindful of money.
"One day, I got home from the store and they [had] overcharged me $1.60. I'm talking to my daughter [about] my day, and I said, 'I have to go back to the store. I was overcharged.' She said, 'Mom, you have money; forget about it. It's $1.60.' I said, 'I know,'" Karp said. "But when you have that kind of mentality, it doesn't go away."
As for her advice to people who want to give back, but have no idea where to start?
"When you're laying down at night, just before you go to bed, start thinking about your life. Is there anything that you think you could pass on to someone?… [Is] there something that made a difference in your life?" she said. "Think about something that you like, makes a difference, makes you happy or a story that you heard. It's got to come from within."
Credit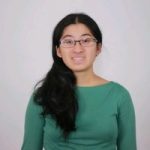 Caroline Chan
Editor
Caroline Chan is the Editor of Senior Living News, an online trade publication featuring curated news and exclusive feature stories on healthcare industry changes, trends, thought leaders and innovations. In this position, she is responsible for creating editorial content, writing regular feature articles and publishing news to SeniorLivingNews.com and distributing its e-newsletter. She is also involved in putting together the educational programs and moderating panels for the company's HEALTHTAC events. She graduated from Marist College with a Bachelor of Arts in Communications with a focus in Journalism.