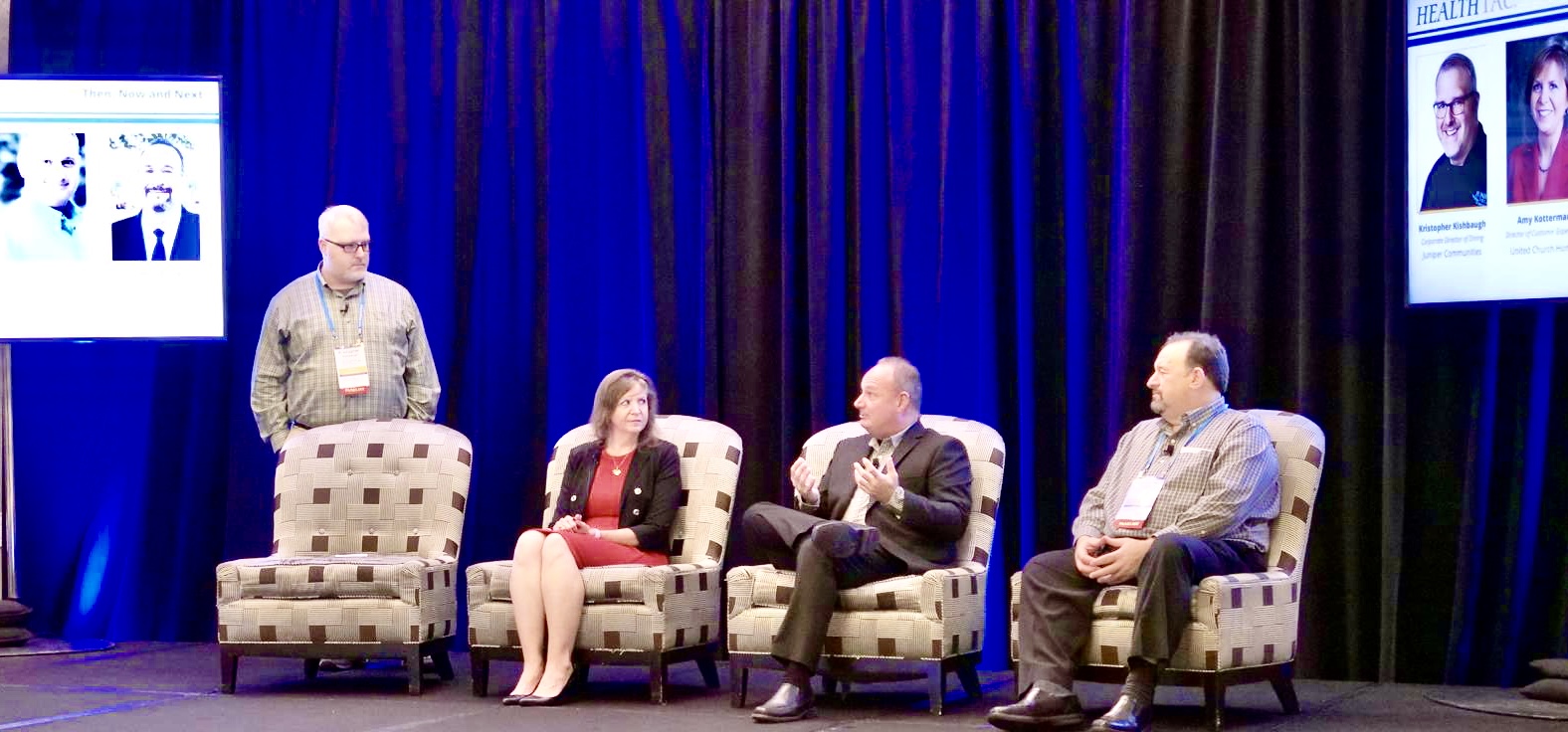 By Kerry | December 17, 2021
On Tuesday, Dec. 7, four leading professionals in senior living dining came together at HEALTHTAC Food & Beverage 2021 to talk about the sector's ever-progressive dining experience. At breakfast that morning, Kristopher Kishbaugh, corporate director of dining at Juniper Communities and Amy Kotterman, director of customer experience at United Church Homes (UCH) as well as Jim Lee, corporate director of dining services at The Arbor Company and Jonathan Pinsker, regional director of culinary and nutrition at ACTS Retirement-Life Communities, spoke on the panel "Then, Now & Next: The Evolution of the Dining Experience."
The addressed how dining in the senior living sector has been redefined, by resident demand, by overall culinary trends and perhaps most recently by the Covid-19 Pandemic. Perhaps unsurprisingly, the Pandemic's effects on dining services dominated much of the conversation.
Labor, In-Room Dining Challenges
Like so many communities, Juniper Communities lost about 90 percent of its dining staff at the start of the Pandemic. At Juniper Village at Bucks County in Pennsylvania, Kishbaugh, along with a team totaling two chefs and a college were left to feed 215 residents three meals daily –via in-room dining. The solution was to eliminate resident choice and instead serve a continental breakfast, a hot lunch and sandwiches and cold salads for dinner. Pre-Pandemic plans to launch all-day dining and a MIND diet menu were completely put on hold in an effort to make sure that all residents' nutrition needs were appropriately met and that their meals were now delivered to them.
Kotterman concurred with Kishbaugh's experience where in-room dining was concerned. "I remember being on a call with all of our senior leaders and directors and then hanging up and calling all of our dining directors to tell them 'starting tomorrow, everything is in-room dining.'"
Now, many of UCH's independent living residents have returned to the dining rooms and they're relishing the opportunity to socialize with their peers again. But some residents of UCH's assisted living and skilled nursing communities waivered over returning to communal dining spaces. "We've noticed that in skilled nursing, some of our residents have discovered that they like eating in their room and having staff deliver their meals," said Kotterman.
Continuing to Dine with Dignity
The Arbor Company, too, was forced to make all meals available via in-room dining only. Like so many senior living communities, they rose to the occasion and adapted, including the specialized Dining with Dignity program. Created for residents with swallowing or motor issues, Dining with Dignity with the same meals as all other residents, but chopped, ground, pureed or blended to suit the needs of a mechanical soft diet. However, it is then served as tapas-style finger food. In other words, Dining with Dignity is defined not only by preparation, but also presentation. Food items could be baked inside a pastry purse or layered like a vegetable terrine to encourage these residents to eat and to do so with alongside other residents who may not have the same challenges with food.
"Grinding food certainly isn't new, but we wanted to do better," Lee explained. "We developed our Dining with Dignity program in 2013 to allow residents who were eating ground foods to enjoy the same meals as residents in independent living and assisted living and to do so in a dignified manner, taking care staff out of the equation so that there is no hand-over-hand spoon feeding."
The program has increased residents' nutritional intake as much as 90 percent. So maintaining that sense of dignity for these residents was still a priority for Lee and his team during the Pandemic. Residents in the Dining with Dignity program received their meals via in-room dining like everyone else and the same presentation standards were maintained.
Lee explained that "throughout the Pandemic, we've had to do everything through in-room dining and we still have our Dining with Dignity program, but we've moved to serve those meals in cute little black boxes like you would find sushi in at your local Kroger or Publix."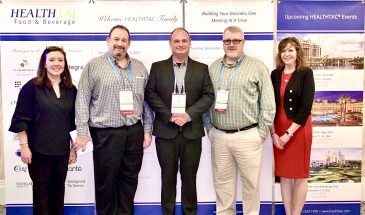 Increased Education, Training
At ACTS Retirement-Life Communities, Pinsker saw opportunity in the dining changes brought about by the Pandemic. Along with in-room dining only, menu choices were cut down from as many as 25 items in some cases to a minimum of five entrée options. Servers became delivery people and all dinner meals were out the door by 5:30pm at the latest.
"The reality for us was that at the height of the Pandemic, providing food to our residents became the easiest job in the world," Pinsker said.
Culinary teams had hit their stride and Pinsker seized the opportunity to offer them more training. With long-term employees –some of whom have been with the organization for upwards of 30 years, they've experienced the gamut of cooking and serving styles that have marked senior living communities. Using fish as the example, Pinsker noted that there was a time when 50 pieces of fish went into the oven at 4:30pm and once cooked, straight into a warmer before they were simultaneously served to residents as quickly as possible.
Fifteen years later, just a single pan of fish was cooked at a time. Now, residents are not limited to order fish dishes as they appear on the menu. They have the option of ordering grilled, poached, broiled or blackened fish. For the culinary team, the advent of cook-to-order dining can be challenging. Pinsker explained that additional staff training focused not only on employees' skill sets, but also on technology and cold equipment although staff education was prioritized. "We put together a lot of training and invested a lot of time into our chefs and our frontline staff," he added.
Contending with Supply Chain Issues
Executives leading UCH communities also put an increased focus on education. However, they were unexpectedly educating residents about menu changes that resulted from supply chain issues.
Kotterman told HEALTHTAC attendees about the executive director of one UCH community in Tennessee who met with a resident upset by menu substitutions and explained that because of the quantities ordered, the community was suffering from the same supply chain issues that laid bare the shelves at local grocery stores. But Kotterman also pointed out that although supply chain issues are affecting UCH as an organization, "they are not passing along the price increases that they've seen this year to resident meal packages."
 A More Resident-Centric Dining Experience
Juniper Communities also turned their Pandemic-born dining challenges into a benefit for residents. Kishbaugh's team came to realize that residents were saving the hot meal, intended for lunch, to be their dinner meal instead. This was a complete contrast from how Juniper served meals traditionally, with cold dished featured on evening menus so that dinner would be a smaller, lighter meal. "The labor shortage gave us the opportunity to go away from the things that we wanted as an organization and really focus on the residents and what they wanted for their meal service," Kishbaugh said. "It changed the way we developed our menus now."