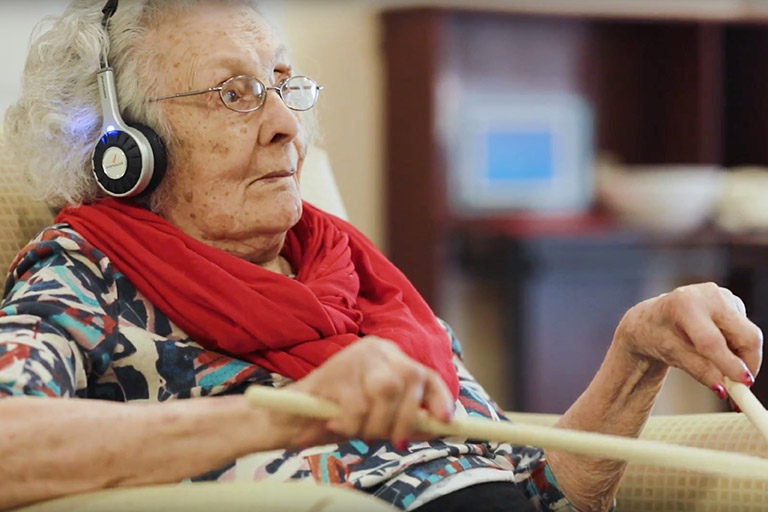 By joe | January 11, 2018
Senior living providers are increasingly embracing technology that is helping improve the care experience for residents and their families, as well as aiding in the recruitment, engagement and retainment of staff. Here are just a few making a difference.
Commonwealth Senior Living introduced Eversound to all 23 of its communities in 2017 following a trial partnership at Commonwealth's Front Royal, Virginia community. Eversound is a patented wireless audio enhancement system designed to help seniors engage more deeply in activities by combating natural hearing loss.
"Research indicates that half of seniors over the age of 70 suffer from hearing loss," said Bernie Cavis, Commonwealth vp of resident programs. "That makes it difficult for them to actively participate in programming or other social activities. Eversound breaks down barriers by re-connecting our residents with the world around them."
Eversound headphones block out extraneous and distracting noise, allowing individuals to focus and engage fully on tasks and activities and hear better and interact with associates, fellow residents and family members.
The biggest surprises seen during the trial were in memory care neighborhoods, where several residents had a hard time focusing during meals because of ambient noise distractions. As soon as the Eversound system was tested on them, they relaxed, engaged in the meal process and began feeding themselves.
K4Connect, a Raleigh, NC-based mission-centered technology company that brings together the latest advances in technology to create solutions to serve and empower older adults and individuals living with disabilities, collaborated with Garmin International, Inc. to integrate wearable devices as part of K4Community, K4Connect's "connected-life" platform.
The collaboration provides senior living residents with tools to track their wellness and fitness information through the same K4Community application they use daily, encouraging residents to live a more active and social lifestyle.
Key metrics that residents can monitor include steps, activity level, heart rate, sleep and many other health and fitness metrics. With an inside view of real-time resident analytics demonstrating activity and wellness trends, staff members can better help their residents in achieving their personal goals.
AARP reported older adults are highly interested in using technology to help them track and improve their own health, and over 75 percent of participants in one study reported activity and sleep trackers are useful.
"K4Community is designed with a senior resident centric perspective, eliminating any potential barriers of enjoying the benefits of a fitness tracker," said Scott Moody, co-founder, CEO and chief client advocate of K4Connect. "Moreover, residents walking together and comparing daily step counts helps foster socialization, and recent data shows that isolation in seniors increases the risk of heart disease by 29 percent."
CarexTech, based in Palo Alto, CA, has deployed its SMILE cloud-based technology in more than 500 senior living communities. The integrated communications platform, featuring an easy-to-use portal to facilitate "true engagement," has improved meaningful caregiver family-resident engagement by 80 percent or higher within three to four months of implementation, according to the company.
SMILE also provides activity planning tools and powerful data analytics, which has helped users realize increased program offerings by 25 percent with more than 80 percent resident engagement.
At the core of SMILE's family engagement feature is a private portal that exchanges real-time, encrypted personal information between families and caregivers. Families can continuously contribute information about their loved one's life experiences, likes, dislikes and unique habits.
Caregivers leverage these insights to deliver more personalized treatment, activities and wellness care to each resident. They can provide more detailed reports of their loved ones' care, including real-time updates of activity involvement with photos or video, and do it via mobile devices.
"Our understanding of the importance of the 'human touch' for long-term care of senior adults and our own personal experiences with our aging parents inspired us to develop SMILE," said Sarv Devaraj, PhD, and Duda chair professor of management at the University of Notre Dame, who co-founded the company with Kalli Devaraj at the university's Innovation Park.
"Evidence suggests that engaged family members can offer triple value—improved quality of life for residents, less stress for caregivers, and greater satisfaction for families—all of which are measurable.
"Based on our expertise in senior living and evidence-based research, SMILE empowers the human touch, it doesn't replace it," explained Devaraj.
When used for residents with dementia or Alzheimer's disease, SMILE is an especially powerful tool. Having quick access to a depth of a resident's biographical information and life story enables caregivers to deliver highly personalized responses in efforts to redirect a resident's attention such as during manic episodes.
SMILE is HIPAA-compliant with capability to integrate with all EHR platforms. Last year, it successfully integrated with PointClickCare, a leading EHR provider in the senior care market. SMILE's easy-to-use activity calendar management functionality and powerful analytics enables users to measure and qualify activities at the community level or companywide and capture meaningful data used to derive actionable insights.
"At corporate, the dashboards and analytics gives us an overview that greatly helps in our program management across all of our communities," said Allison Law, vp of operations at Iowa-based Senior Housing Companies.
Life Enrichment Director Kelli Oldfield at Holy Cross Village in Indiana says the activity logs and STAR report changed the way she communicates with families. She used to verbally tell families during care plan meetings what their loved one was doing based off handwritten logs.
"With SMILE, I can present them with a professional looking pie chart and spreadsheet," Oldfield explained. "It lends credence to what is verbally being said and reflects nicely on what Life Enrichment is doing."