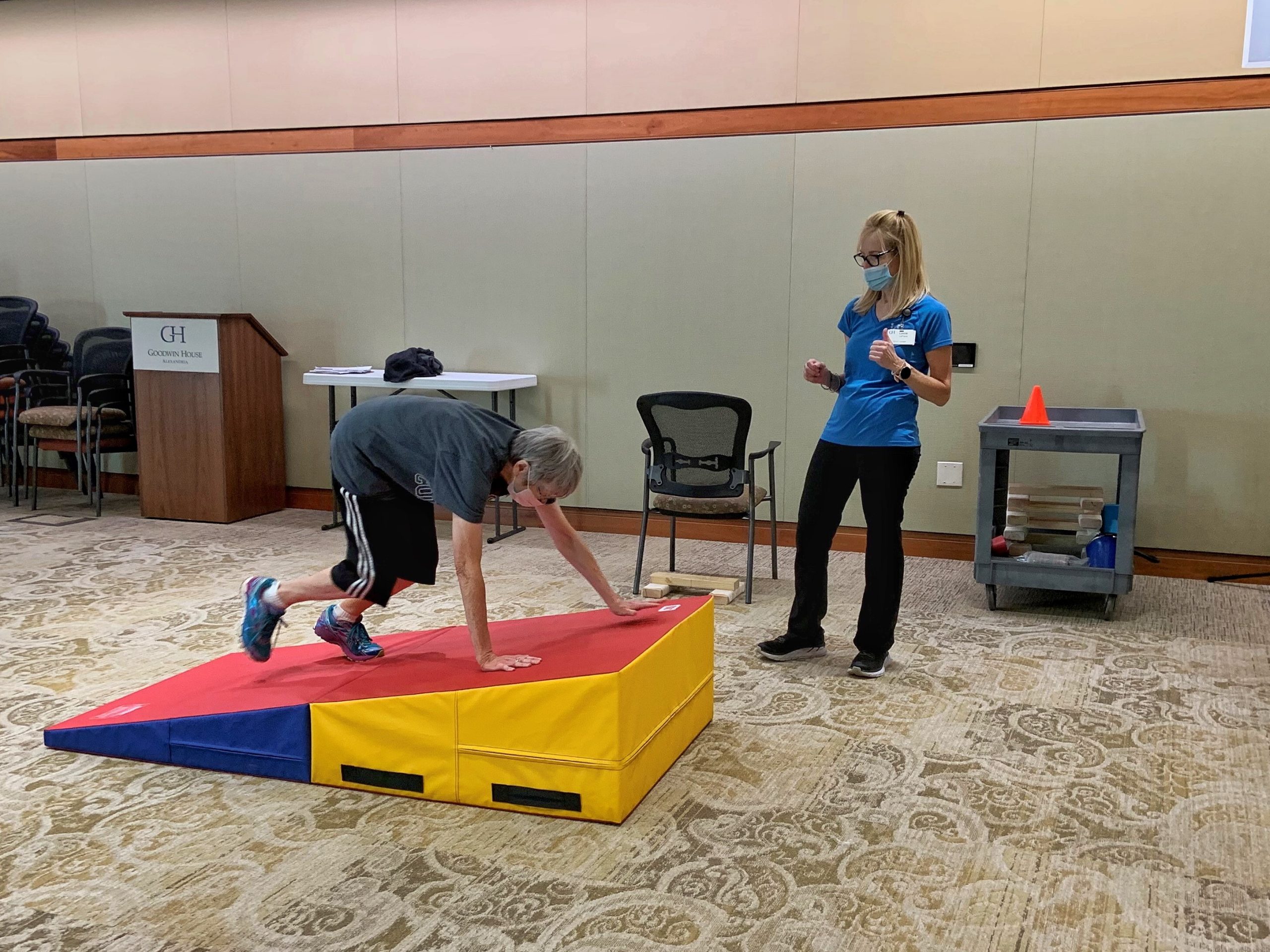 Editorial
Goodwin House Alexandria offers "Parkour" to Encourage Fall Prevention
By Olivia Beaton | May 19, 2021
Leslie LaPlace, fitness manager at the Goodwin House Alexandria, introduced a program called PK Silver to the older adults they serve, the goal being to provide the seniors will skills and drills that keep them active and ultimately decrease the likelihood of severe falls and injuries.
PK Silver is an eight-week program that takes place once a week, each session has a focus that builds on the skills the residents developed the previous sessions. LaPlace explains that the program starts slow and with the basics, such as squatting, which is crucial to help the students create a foundation of balance and stability. "The goal of the program," she says, "is to get the residents more comfortable moving through their environment and every-day lives." The "Parkour" style movements incorporate cardio, strength, and endurance, movements that aim to prevent falls in the future.
Carson Fralin, Recreational Director, says the key component is teaching the residents how to discover and maintain their center of gravity, the program provides the seniors with coordination skills that they will be able to put into practice should they ever need to. They teach residents how to brace themselves and how to grab onto rails, walls, etc., so should a moment of panic arise, they already have the skills to respond. "We are creating a condition response so their natural reaction in situations is to find their center of gravity," says Fralin. He also notes that it isn't just a physical challenge, but a mental one as well. Many older adults fear falling, and the PK Silver program puts residents in common fall scenarios and teaches them how to regain confidence in vulnerable shapes.
LaPlace and Fralin have seen residents build confidence through this program which has been extremely rewarding. They are currently in the middle of an eight-week session that is targeting residents with lower mobility, especially welcoming those with assistive walking devices to come learn and incorporate those into the training as well. PK Silver is more than just a work- out, it also adds a social component to the residents lives that is essential to their overall wellbeing. This isn't your typical older adult fitness program, it's fun, challenging, practical, and gives seniors the confidence they need to thrive while aging.