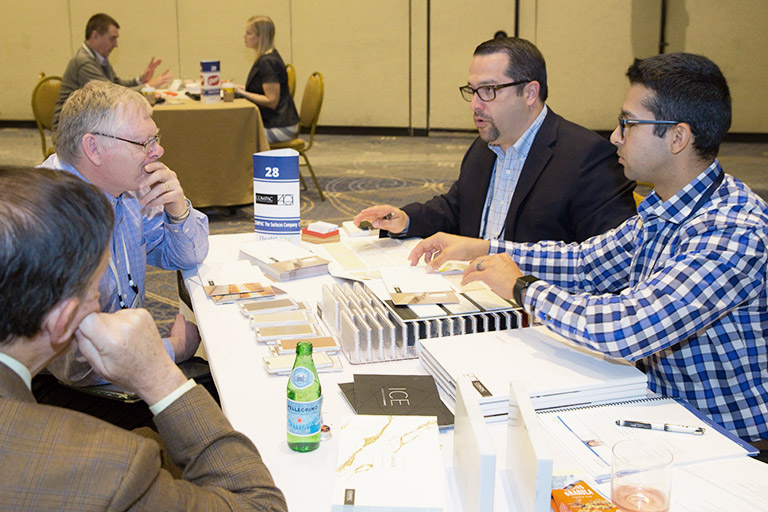 Editorial
HealthTAC Is Right Size For Relationship Building
By joe | April 13, 2017
The recently concluded HealthTAC event produced by Senior Living News in Nashville earned high marks from attending executives, who praised the event's assortment of suppliers, educational sessions and overall format.
"HealthTAC did it right," said David Kirkland, principal of Anthem Lakes, a new senior living community in Jacksonville, FL, and a participant in "The View From the C-Suite," one of 13 panel discussions. "Finally, a conference right-sized for relationship building and a format that really works. I highly recommend."
Billed as a high-level relationship-building event bringing together top senior living industry decision-makers and suppliers in an environment designed to maximize productivity, HealthTAC fulfilled that promise, executives said.
"I felt that no time was wasted, and that many relationships were made that will last for a long time to come," said Richard Armstrong, director of facility services and capital projects at Maranatha Village, Missouri's largest retirement community. "HealthTAC is a first-class operation. The moderated educational sessions were point on, covering hot topics in the industry with a lot of different views discussed."
David Negri, SVP of purchasing at Solaris Foundation, agreed, saying, "We are all very busy; however, the time I took to participate in this year's HealthTAC event was time well spent. It's an organized, professional and a well thought-out event offering great contacts and networking opportunities."
Many attendees commented on the professional, yet relaxed, comfortable nature of the week's events.
Shannon J. Alvey, executive director, Dominion Senior Living of Athens, called the discussion panels "relevant, lively, entertaining and incredibly informative" and especially liked their "conversational feel and the close proximity, granting access to industry leaders—all of whom were friendly and open to conversations.
"The mixers were the perfect venue to meet colleagues, make connections and have conversations in a comfortable, relaxed setting. I'm confident the education received and professional connections made will be beneficial for years to come! I'm already looking forward to HealthTAC 2018 in California and making plans to attend."
Dr. Alina Dawson, DPT, GCS, wellness and fitness director at Lansdowne Woods of Virginia, a 55+ community, said she really enjoyed the panel discussions "as a way to truly discuss seniors and living versus selling your service or product. Much more my comfort zone. I look forward to more connections and events."
Both senior living leaders and suppliers appreciated the event's format that extended from appointment-based meetings in the first part of the week and a trade show at the end of the week to other events providing numerous networking opportunities.
"HealthTAC combined vendor connections with much-needed industry education," said Tammy DeCaro, executive director, Barrington Terrace of Naples. "I loved the format of 'speed-meetings,' and the broad base of vendors ensured that I met with several companies that I am interested in doing business with in the future. The best way to do a conference of this type!"
Michael Zuelly, food service director and chef, at The Lantern at Morning Pointe of Independent Healthcare Properties, had some of his own questions answered by fellow panelist Bill Furnas, regional food service director, Carillon Senior Living, during the "Pleasing the Senior Palate" discussion.
"HealthTAC is a great place to exchange ideas and network with other executives in the healthcare field. It is a very professionally organized event," Zuelly said.
Representing RCARE, Gary Jones, director of national sales, said, "I networked with executives at organizations that I would not normally have access to and was able to develop a lasting relationship with them. HealthTAC 2017 was a huge success!"
Jessica Jaynes Tipton, life enrichment director and a certified dementia practitioner, The Crossings at Independence, participated in the "Assessing Advances in Dementia Care" panel and said, "I received great informative information, saw some amazing new products and made wonderful connections."
Attending HealthTAC for the second time, Ian Reynolds, director of operational support, LV Senior Living, said, "I learn so much each time. The networking opportunities are endless (face-to-face meetings). Everything about the HealthTAC conference is outstanding, from the educational panel discussion, off-site tours and, of course, the meals."
Adding another perspective to the topic of meals, Jamie Thorn, national sales manager, Forbo Flooring, said, "Besides the meetings, I love the sit-down meals with some sort of education and that it's relaxed and very comfortable, not rushed. It gives us time to network and build relationships."
Thorn added, "HealthTAC is doing so many things right. I also like the fact that HealthTAC gives back to the community and having the team-building competitive events built into the event. Many of us want to give back in some way but don't always have the time or a way to do it."
Next year, HealthTAC will be held at Monarch Beach Resort, Dana Point, CA, August 19-21, 2018.
For more information please visit www.healthtac.com