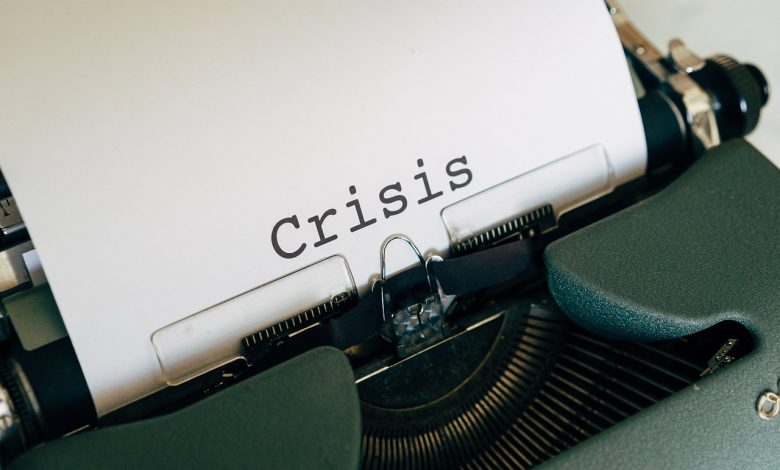 Editorial
New CDC Report: Health Workers Facing Mental Health Crisis
By Jim Nelson | October 26, 2023
This year's worst-kept secret is the shortage of healthcare workers. It's been an approaching problem for some time that got dramatically worse over the past three years or so.
In 2018, pre-pandemic, one-third of health workers across the board planned to find a new job. According to a report just released by the CDC, that number vaulted 11 points to 44 percent just four years later. This corroborates other data that show as many as a third of nurses are actually thinking about leaving health work altogether.
And it doesn't stop there.
The CDC's report also says that there has been a greater-than-100-percent jump over those same four years in the number of health workers who reported being harassed (from 6 percent in 2018 to 13 percent in 2022). And just under half of all health workers (46 percent) reported feeling burned out often in 2022; that number was 14 points lower (32 percent) in 2018.
You don't need us to tell you that health workers have stressful and demanding jobs. Dangerous even at times. They risk exposure to infectious diseases, the hours can be interminably long, and patients and their families don't always make the job easier. And that was before and separate from all the Covid-related issues that may still be lurking in senior living communities from sea to shining sea.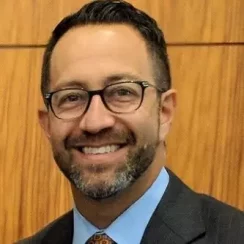 "The heightened rates of burnout and turnover intentions among health workers, as indicated by the recent CDC report, is sadly not surprising," Aaron Fenberg, director of human resources for all divisions of Singh — including Waltonwood senior living communities, told Senior Living News.
"I am not surprised at all," concurred Dr. Carrie Ditzel, director of geropsychology & neuropsychology at New Jersey-based Baker Street Behavioral Health, when we spoke with her.
It's no wonder that health workers "are reporting feeling fatigue, loss, and grief" at greater levels than four years ago. What is a wonder is how the number of those who plan to look for a new job is only 44 percent.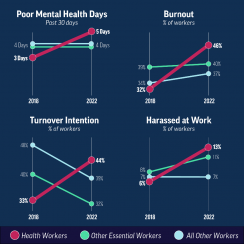 The CDC's report includes analysis from its own Quality of Worklife survey that focused on well-being and working conditions, and it compares data collected in 2018 and 2022 — pre- and post-pandemic. In addition to comparing the data for health workers, the report also showed health workers data relative to essential workers and to all other workers across industries.
Again, not surprisingly, poor mental health symptoms increased more for health workers than for the other groups, according to the report.
It's no secret that health workers dealt with some horrible working conditions during the pandemic, which certainly helps explain the increased burnout reported in the 2022 survey, but somehow the survey showed that essential workers and all other workers were burning out at a "similar" pace.
Meanwhile, when it came to harassment the health workers' experience of it jumped 117 percent, while essential workers' experience went up by the much lower rate of 38 percent from 2018 to 2022. Trust in management dropped a bit for all workers, though slightly more for health workers than the others, and as mentioned above the number of health workers looking for greener pastures increased 11 points, but that number decreased for the other worker groups.
While it might not explain all of disparities in the CDC's comparative surveys, it's not difficult to recognize the 800 lb. gorilla in the room. "We had such an impactful stressor," Dr. Ditzel said, "not only an acute stressor, but a prolonged, acute stressor, especially for healthcare workers in various settings."
So what now? Even if we're not surprised by what the report tells us, the question remains: How does the senior living industry turn this around? One option would be to wait a few more years and see whether dissipating pandemic-related burnout allows the ship to right itself.
Or, if you're interested in a quicker solution, last summer in the New England Journal of Medicine, Surgeon General Vivek Murthy presented a five-point plan to address the pandemic's toll on healthcare workers. Also, the CDC report offered insights. As did Waltonwood's Fenberg.
"We believe that open and effective communication is fundamental to creating a nurturing work environment,"  he told us.
A great start. What else?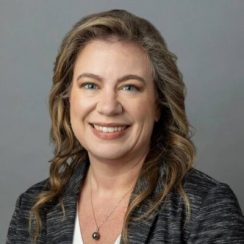 "I think it goes beyond what direct managers or direct administrators can do," Dr. Ditzel said from her vantage point as a clinical psychologist who previously provided mental health services to skilled-nursing facilities, assisted-living residences, adult day care, and rehab centers. "It's a larger systemic issue that has to do, in part, with regulations and what's required, and what's available in terms of resources. But what I think I would do if I were in a managerial position would be to really make a concerted effort to target the mental health needs, which could just be stress management needs, of my workers and prioritize it, call it out, let them know that it's there and available; it's something that we're just going to provide and take it if you want it. I'm almost reaching in and giving it before they're even asking for it. There's a concept of reaching in versus asking somebody to reach out. I would, if I could and have the resources, be very proactive in terms of being able to reach in and provide inward some of the support that might help them with [something] as simple as stress management [or] ready access to mental health resources."
When asked about ways in which his company is managing these issues, Fenberg offered several valuable insights from the community level.
"We take proactive steps to listen to our associates. We use OnShift Engage to conduct weekly pulse surveys and carefully analyze the results to derive actionable insights.
"Through OnShift Engage," he continued, "we also offer a unique rewards system that allows associates to convert points into additional Paid Time Off, above and beyond our existing PTO program. This is available to all associates, irrespective of their employment status, including part-time, full-time, or contingent associates. We do this because we recognize that the job can be stressful and believe in rewarding associates with paid time to spend with friends and family and/or to recharge to combat burnout."
Fenberg was just getting started.
"We have undertaken a comprehensive wellness survey that looks at multiple facets of well-being including physical, financial, and mental health. The results will guide us in fine-tuning our current programs and rolling out new initiatives tailored to meet our associates' needs.
"Our philosophy," Fenberg emphasized, "is that well-being is a multi-dimensional concept that extends beyond just physical health, which is validated by the survey responses we've received indicating that financial, mental, career, and social well-being are instrumental in combatting burnout."
Waltonwood also has retention on its radar, Fenberg told us.
"To specifically address retention and mitigate burnout, we are in the process of setting up a dedicated retention committee. This committee will focus on nurturing trust, enhancing communication and alleviating workplace stress among other key factors contributing to the employee experience."
The CDC's report may have just come out, but Aaron Fenberg was clear that Waltonwood wasn't waiting for it to take its own action.
"With these collective efforts," he concluded, "we are committed to not only maintaining but enhancing the well-being and job satisfaction of our associates, thereby addressing the concerning trends highlighted by the CDC report."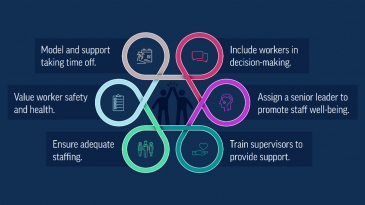 The CDC report also included suggestions for reducing health worker job burnout and walkaways. To wit, it said that health workers who said they work in supportive environments reported fewer mental health issues, and presented ways to engender more supportive workplaces, like letting staff participate in workplace decisions; strive to enhance trust between management and workers; proactive and helpful supervisors that promote stress prevention, psychological health, support for productivity, a harassment-free workplace, and plenty of time to complete tasks.
Beyond that, the report said, understanding which working conditions harm mental health can give employers a chance to better promote worker well-being. For instance, support adequate staff levels (a concern in and of itself); prevent harassment of employees; reduce stigma related to seeking help by eliminating intrusive questions for credentialing; and provide and encourage use of paid leave for illness, family needs, and rest.
Supervisors can "talk together about how to improve workplace conditions" and "discuss the benefits of better workplaces for everyone's health and well-being," the report said.
And the CDC report even pointed out something obvious that everyone can do: express appreciation for health workers and treat them with understanding and respect. Then again, that's good advice regarding the entire staff.