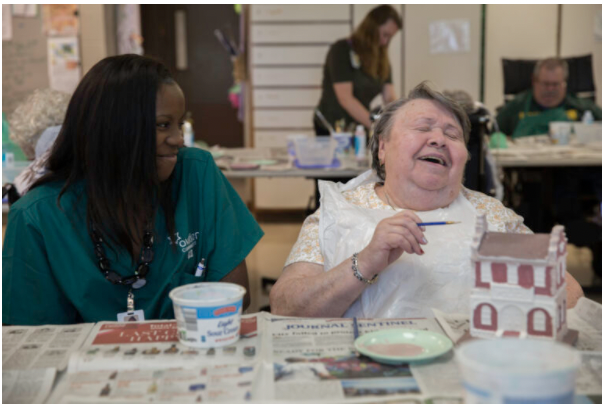 Senior Living Communities That Serve As Local Talent Incubators
This is Part 2 of a 2 Part series. The companion article, published earlier this week, addressed how three senior housing operators, separate from those featured below, are approaching their search for workers without senior living experience.
During a LeadingAge Minnesota press conference held earlier this month, leaders from across the state's long-term care businesses announced that resignations in the industry are outstripping new hires, with 23,000 caregiver positions currently open. As a result, 70 percent of senior housing facilities in the state are limiting new admissions, according to a survey by LeadingAge Minnesota and Care Providers of Minnesota.
As with Minnesota, this situation was already grave for the industry at large. The Covid-19 pandemic only intensified it to the point where it is today.
But with necessity comes invention. There are also senior housing communities in the Midwest and beyond that are taking creative new approaches to creating a new workforce. Rather than looking for job candidates with elder care experience, these businesses have broadened their definitions of talent and created job opportunities designed to strength the local communities where they operate.
In the LeadingAge article "Putting Out a Red Carpet to Recruit New Employees," published in September, Des Moines-based Life Care Services detailed how their human resources team uses the same approach to attract new recruits as they do new residents.
Similarly, the following senior living communities are also taking unconventional approaches to hiring and recruiting that leverage readily available resources.
Looking Beyond Job Candidates with Industry Experience
Essential Senior Living and Health in Anderson, Ind. took a more out-of-the-box approach to attracting new talent when it partnered with the Indiana Office of Work-Based Learning and Apprenticeship (OWBLA) and Alexandria Monroe High School to launch Health & Science Pathways.
The two-part program first consists of classroom studies and clinicals that lead to qualification as a CNA (Certified Nursing Assistant). That is followed by a second semester of health science studies, including heath care career options and medical terminology.
Despite launching the in-person program in August 2020, 14 students enrolled, six of whom went on to work at Essential Senior Living and Health's three area campuses.
For students, the ultimate objective of the program is to obtain an apprenticeship after successfully earning the program certificate. But landing an apprenticeship also requires 185 hours of time worked in a relevant job. The financial return for Essential Senior Living and Health comes when students choose to join the company and complete that 185 hours of work time. Only then can the company request reimbursement for a percentage of those wages from the OWBLA.
But students can also choose to work elsewhere after completing the program, rendering Essential Senior Living and Health's participation in Health & Science Pathways somewhat of a community service.
"We've made a little monetary return on the program, but the truth of the matter is that if we can capture a quarter of the class for our workforce, it's a success for us," said Essential Living and Health CEO Beth Harpe.
But that hasn't been the company's sole success metric. Essential's Long Term Care (LTC) Staffing Director Michelle Ball also heads the CNA portion of the Health & Science Pathways' curriculum. Her work with the high school students helped to land her a spot in the Indiana Business Journal's Health Care Heroes 2021.
The group also produced a video about the work with Alexandria Monroe High School's Health & Science Pathways program, which has garnered Essential Senior Living and Health greater attention within their local community.
"The video alone has helped open some doors for us and make new connections in our area," said Harpe.
Building a Local Workforce
Like Essential Senior Living and Health, Milwaukee-based Ovation Communities also has a hiring and training program for high school students.
As a member of the Association of Jewish Aging Services, President and CEO Michael Sattell learned about the Geriatric Career Development (GCD) program while attending a presentation on Innovations in Senior Care at Obama's White House. The program had already proven a success for The New Jewish Home in New York City.
In 2018, Sattell brought the GCD program to Ovation. Despite an annual price tag of $5,000 per students, applicant numbers have grown year-over-year. During the 2020-21 academic year, 18 high school sophomores, 13 juniors and six seniors were enrolled in the program. Ovation raises all program capital through fundraising, which Sattell said is not much of a challenge.
"It's easy to talk about helping local students to have a pathway for their future and training future workers to respect and care for our elders the way we want them to rather than hiring workers that we might not have trained," he said. "It's a quality control program and it's multi-layered as far as what our donors are looking for."
Financial contributions have come from individuals as well as the corporations, local government entities and foundations. A well-defined syllabus also allows donors to support specific aspects of the program such as $1,800 for one student's Community Based Residential Facility (CBRF) course work –Wisconsin certification for workers in assisted living facilities—tutoring and licensing exam fees.
This summarizes the second year of the curriculum, designed for high school juniors. In the GCD program's first year, sophomores learn soft skills such as answering the phone and responding to email in a professional manner. These are intended to be lifelong work skills that they can take with them anywhere. In the third year of the coursework, high school seniors can select an independent study program aimed at either enrolling them in college the following year or landing them a full-time job.
Ashanti Tate is a GCD success story. She began the program four years ago as a shy high school sophomore with a winning smile who struggled to make eye contact with Sattell. Today, she's a CNA at Ovation Communities.
Program participants also work with a resident mentor. The mentorship provides an open forum for students and residents to learn about each other, but not before students first undergo training on interacting with their elders in a manner that is both professional and friendly.
"The resident mentorship is another way of fostering communication and interaction between our residents and our students," Sattell added.
Targeting Great Customer Service Associates
JCI Senior Housing's Edwards applauds the Texas Assisted Living Association's progressive work to promote the senior living industry as a great place to work. She also plans to local junior colleges, trade schools and area job fairs to further attract new staff to JCI's three Austin-area senior living communities.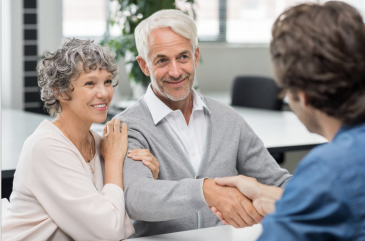 But that Chick-fil-A sign offering starting wages of $14 to $20 really got her thinking. She's found Chick-fil-A employees to be happy and courteous during her experiences as a customer of the fast food chain. In short, they have the right attitude as do many other employees working in other service industries such retail.
Consequently, Edwards is planning a gorilla marketing campaign. She's having slightly oversized business cards printed that specifically say "Thank you for providing me with great customer service. Please contact me to learn about the possibilities of joining our team and share my card with someone you know who might also be interested in working with us."
When she personally enjoys an exceptional customer service experience with a worker at a retail or hospitality business, she plans to invite them to contact her and to have her JCI colleagues do the same.
"I am convinced that we have to ask people to join us on the career path to senior living," Edwards said.
Credit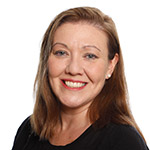 Kerry Medina
Senior Editor
Kerry Medina is Senior Editor of Senior Living News, parent company of Senior Community Forum. With a journalism degree from NYU, she has more than 20 years of experience as a journalist and content marketing professional, continuously focusing on B2B marketing and communications. In her current role, Kerry covers the senior living sector for SeniorLivingNews.com and SeniorCommunityForum.com and also moderates executive-led panel discussions at industry leading events.